Malaga in winter enjoy sunny days, enjoyment is not limited exclusively to summer but also when visiting Malaga in December.
Winter is coming…but do not worry in contrast to the popular tv show in Malaga you will be safe.
What is the weather like in Malaga in December?
Thanks to Malaga's location in the south of Andalusia and protected by the mountains, the temperature ranges between 8ºC at night and 18ºC during the day.
If you were wondering if you could go to the beach in December in Malaga, the answer is that it depends on your tolerance to the cold. The temperature of the water is about 16ºC, quite cold for a Spaniard but suitable for a German bath, so as I said it will depend exclusively on your preferences.
What clothes to take in December to Malaga?
It is very common to wonder about the clothes needed to visit Malaga in December if you have never visited it during this month. Let's tell you what elements can't be missing in your suitcase when you are packing it up.
Closed shoes
Jacket and long-sleeved shirts for the evening.
Waterproof jacket in case of raining.
Long pants.
Although the above should not be missing, I recommend you bring summer pants and T-shirts, because even if during the night can refresh the day may be sunny. I forgot, if you're planning on taking a bath or trying it, you can bring a bathing suit.
Is it raining in Malaga in December?
It may rain in December, although it is less likely than during November. When it rains, it usually doesn't last longer than 2 or 3 days, but it's an impossible situation to predict.
Typically, a week is not completely sunny, clouds or rain can be interspersed throughout the week. Rainfall is usually low intensity and is not characterized by its duration.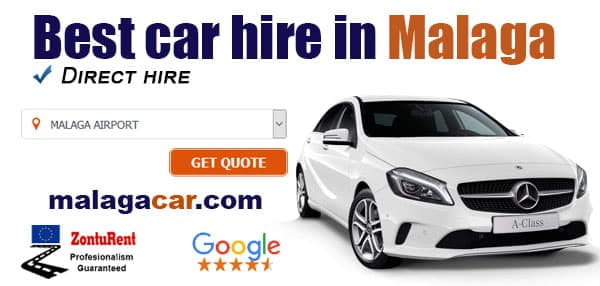 ';
Is it raining in January? What's the weather like in January?
January does not vary especially from the month of December, the rains during this month usually last a short time and are of low intensity.
The month of January differs from December due to the drop in temperature that already occurs at the beginning of the month. At 7 in the morning the thermometer can mark up to 3 degrees, although throughout the day the temperature stabilizes around 15/17 degrees.
From mid-January (variable date) and until the beginning of February it is possible to see snow over 900 meters of altitude.
In addition to the recommended clothes for December, I would add a thermal t-shirt if you are coming from mid-January to early February.
You can consult information about the cold wave snow in Malaga, if you like snow is a good time to go to the mountains. Don't forget to come prepared if you want to.
If you are caught unaware of the cold weather or if you are planning to go to the mountains, you can visit the Decathlon shop in Guadalmar, where you will find everything you need to enjoy the snow or warm yourself.
Anyway you can have a look at the things you can do during a rainy day in Malaga.
Malaga in Winter: Things to do in December or January
Actually, many tour operators and travel agencies offer very good price-value flights to Malaga Airport in the months between October and March. The same applies as well for the Malaga cruise port which is one of the principal scales in the winter routes of cruise ships through the Mediterranean Sea.
Visiting Malaga in December or in January is still a good choice, even more when we consider the cheaper price comparing to summer. There are many things to do those months, do you want to read our top recommended activities?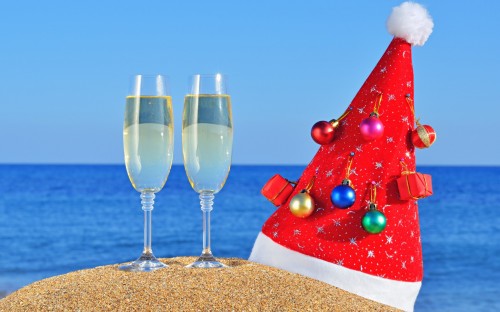 1. Golf, hiking and other outdoor activities in winter
Definitely, Malaga in winter has an unique climatic characteristic that contribute to the practice of Golf. Actually this sport has become one of the most attractive activities along the Costa del Sol meanwhile the rest of Europe is shivering with cold.
Other outdoor activities you can practice throughout the year are boating and fishing.
Autumn to Spring is a great time to explore the inland and mountainous regions of one of the 5 Natural parks as the landscape around December gets covered in the first fresh green. If you plan visiting Malaga during the Spring you can read my latest post about Malaga in February.
Hiking, climbing or horse riding are some more options.
You can also check for information about Christmas in Malaga and other activities for New Year's Eve, December is a great month for visiting Southern of Spain.
Autumn to Spring is a great time to explore the inland and mountainous regions of one of the 5 Natural parks
2. Spas and natural thermal pools in December and January
All these activities combine greatly as well with wellness holidays in some of the best Spas and centres for Thalassotherapy. There are some recommended free thermal pools that you can enjoy when visiting Malaga in December.
In the main resorts along the Costa del Sol there are very good municipal sports installations:
Indoor swimming pool, steam bath and even jet pool in Torremolinos.
The municipal sport club in Benalmádena has a permanent ice rink of 900 m2 and cafeteria service next to it.
Those visiting the Corte Ingles mall in December can also try the ice rink, it is the last stop of the suburban train and you have to take the left stairs exit.
3. Strolling the city centre of Malaga in Winter
Once you are in the historic centre of Malaga, you might want to combine your sightseeing with a relaxing bath in a Hammam (Turkish steam bath). You don´t have to bring anything with you, they will provide a bathrobe and disposable underwear. The Hammam is close to the Picasso Museum in the Calle Tomas de Cozar 13.
The typical and most touristic Hamman is called Spa Al-Andalus and is at Plaza de los Martires. (https://malaga.hammamalandalus.com/en/)
Maybe you feel like a coffee break after your bath? Then you can head for some Chocolate and Churros in the city centre.
Asking for coffee in Malaga can be quite difficult for newcomers, there are at least eight different types of Coffees. For instance:  they call "sombra" (shadow) to the half coffee-half milk; "nube" (cloud) is a lot of milk and less coffee. If you want a only a little milk with a lot of coffee, you have to ask for "cortado" (cut).
You can also check for a guide and monument map, those can be useful items for visiting the city centre.
When visiting the city centre in December don't forget to check the Christmas lighting in Malaga, one of the most beautiful in Europe. Remember there is the so called 3 kings parade the afternoon of January the 5th and many Christmas activities.
4. Eating roasted chestnuts when visiting Malaga in December
In winter you will find in the square and streets of the city centre posts with roasted chestnuts (very typical here) and potatoes.

Another great thing to do is a stroll through the market square Mercado de Atarazanas. Do not forget to buy some marinated olives and Mangoes from Malaga (they are ripe in winter!).
5. Winter shopping in December, you love it and you know it
An additional leisure time option (for bad weather for example) is the Plaza Mayor Commercial and Leisure centre, check a post about shopping Malls in Malaga. It is close to the airport, with bowling, restaurants and bars, cinema, gym with heated pool, nightclubs and children´s corner. The centre is easily accessible with the suburban train.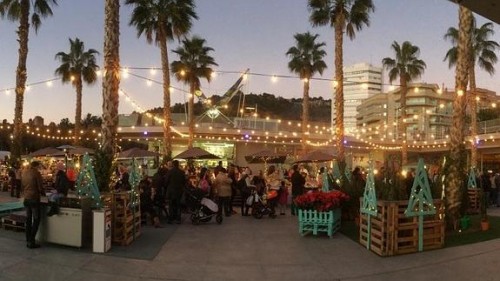 When visiting Malaga in December you can also find some Christmas markets in Malaga and other municipalities.
6. Theme parks when visiting Malaga in winter
There are several attractions in Malaga, below are some of them:
Are you planning your holiday to Malaga in winter season or already did and want to share your experience? Let everyone know how was your visit to Malaga in December and November.
Comparte este artículo: