January brings cold temperatures from the past Monday 8 until; this cold bring snow in Malaga to lower altitudes.
Snow in Malaga is an exceptional situation that you can take advantage of. How about a snow getaway this weekend?
Continue reading for an update at the bottom of this page…I will continue posting the latest information about cold and snow Malaga this week.
Snow in Malaga in 2018
Snow can be found above 900 meters. Excepcionally hail covered Fuengirola beach in the Monday morning.
There was an intense snow on Malaga mountains.
Antequera is under yellow alert. The snow in this municipality and Torcal caused a closure of some roads.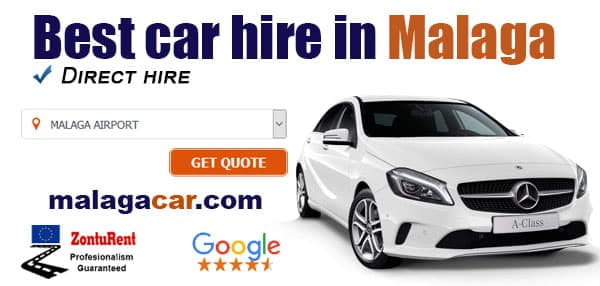 ';
Low temperatures this week
The lowest temperatures expected in Malaga are between 4ºC and 6ºC while the maximum temperatures are between 14ºC and 16ºC.
In towns like Antequera or Ronda temperatures at night can reach – 1ºC and snow can even reach those or other areas like Malaga Mountains.
Temperatures are too low and it is not the normal weather in the south, in the incoming days temperatures are expected to be back to normal.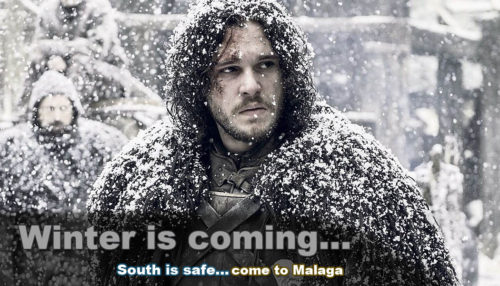 Snow in Malaga
The famous snow in Malaga the 3rd in February in 1954 is in the memory of many locals. One day when they woke up with snow covering the streets up to 1 meter deep.
This situation is very strange to happen and before 1954 the only notice about this happening again goes back to 1882. The temperature registered the famous snow day was between 0,5ºC and 5ºC.
Those who were young by that date have very funny memories of the day. A free school Wednesday by surprise when they could enjoy the day by throwing snow balls and a cinema afternoon without homework.
Snow reached other municipalities in Malaga like Marbella and Estepona.
Is it likely to snow in Malaga again?
It would be a very strange success that the snow weather from 1954 happens again. This week could it snow but from 300m above the sea level.
It does exist the possibility of snow over the Malaga Mountains during the next days.
In an exceptional situation there could be snowy roads connecting the interior villages with the coast. I recommend to pay attention to the weather forecast if you are driving this week.
It is going to snow in Malaga, although it is a very strange success to happen it did in the past. Logic makes us think that at some point the event will happen…but we don´t know when.
Snow in Malaga is an exceptional situation that you can take advantage of. How about a snow getaway this weekend?
Weekend getaway with snow in Malaga
This weekend could be perfect to enjoy the beautiful snow landscapes in the province.

Although this is not the great snowfall produced in 1954 on the city and the coastal zones, snow has been produced at low altitudes. If you go by car you will not have to drive long to enjoy a snowy day in Malaga.
If you are looking for snowy places in the province for this weekend you should head to Ronda and Sierra de las Nieves or Sierras de Tejeda, Almijara y Alhama. As the weekend progresses the fallen snow will melt, although it will be conserved in areas close to 1000 meters of altitude.
Don't be afraid if coming for holiday in January or February to Malaga
Don't be afraid, news about the cold wave coming to Malaga and lower temperatures are more related to the night than to the day and this situation will last not long, only until the Sunday or Monday.
You can check the actual weather and temperature in Malaga from our website.
If you are looking for snow activities you can go to Sierra Nevada, very close to Malaga by car.
Comparte este artículo: