Andalucia information
Andalucia is the region of Spain with the largest number of inhabitants. With a mild climate and a wide variety of sceneries, it's one of the most popular places as a tourist destination in Spain.
The Andalusian region has 8 different provinces: Huelva, Seville, Cadiz, Jaen, Cordoba, Granada and Almeria, you can check our information about those provinces on the left menu.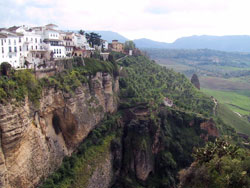 Andalusia not only offers us great weather, but also has long beaches that cover from Huelva to Cadiz (Costa de la Luz) on the shores of the Atlantic, then the shores of the Mediterranean from the Stretch of Gibraltar up to Almeria (Costa del Sol, Costa Tropical and Costa de Almeria), places that have a microclimate thanks to the protection of the mountains and the warmest waters of the Mediterranean Sea.
Some of the most popular places amongst the tourists that visit Andalusia each year are: Ronda, Marbella, Seville or Sierra Nevada.
The White Villages of Andalucia are world famous, so a visit to them is a must if we are visiting Andalucia.
Ronda sits about 60 km inland. Perched on a breathtaking gorge, the town is picturesque and perfect for amateur photographers. It is possible to drive from Malaga or Marbella, the latter being the easy and prettier drive. The winding road gradually climbs inland and there are many beautiful viewpoints along the way.
Lying slightly inland is the quiet village of Coin. Divided from the sea front towns of Torremolinos, Benalmadena and Fuengirola by the mountain range that runs parallel to the coast line, Coin has escaped most of the development that has occurred in many other villages; life goes on at its normal steady pace.
In southern Spain, in Andalucia, is situated Seville, probably the most Spanish city of all Spanish cities.
Andalucia Tours & Excursions
It is recommended to rent a car in Andalucia instead of using public transport for your holiday toursin Andalucia, for those who are interested in coming for holidays to Andalucia we recommend coming to Malaga first and then visiting the rest of the province by car or booking guided tours in Andalucia; there are fantastic and beautiful road routes you can do by using our recommended car hire in Malaga companies, however if you are planning to go to any other destination of Andalucia or Spain first, then the websites below worth the visit. Andalucia holidays is an experience you should not miss!
Coming to Andalusia without making a tour is almost a crime. There are many things to do and to see, bus trips from Malaga are not expensive but cheap, even more if you are coming with a group of friends and the expenses are shared. Bus hire in Malaga is by far the best option to discover the most charming places in Andalucia.
Don´t you feel like making an excursion to Granada, a charming city...and discover the Alhambra.
Maybe you prefer a tour to Cadiz or Puerto de Santa Maria and eat some of the best seafood in Spain.
Tourist tours in Andalucia worth every second you spend, bus chauffers are friendly and so are the prices, and bus tours are very comfortable. We do not want a 2 hours trip in a common bus...belive me, I did once and I will never do it again!.
Andalucia history
The region of Andalusia is culturally very rich, its history dates back to the first prehistoric inhabitants that left us traces of their existence over 40.000 years ago in places like the Nerja Caves. Different civilisations have passed and were the origin of its current cities: Tartessians, Phoenicians, Romans, Arabs and Christians, all of them have left us a cultural legacy that have made up part of the current Andalusia with its gastronomy, its monuments, archaeological remains and the special way its people live life.
Andalusia, from its beginnings, has been a unique region and with its very own cultural roots that have learn to stay away from the different conquests over the centuries and that still today it maintains its cultural independence from the rest of Spain.
Many of the festivities and fairs in Andalusia are inherited from the upper middle ages, originally from the cattle fairs that were celebrated in the different cities, they have reached our days converted into celebrations where the mechanical rides and the popular dances act as a tourist attraction.
Andalucia Tourism
Andalusia's tourist offer is varied and offers the visitor different touristic options:
- Sun and sea tourism
Covering the south of Spain, the tourism of sun and sea is one of the main ones in Andalusia that attracts thousands of tourists each year. Provinces like Cadiz or Malaga offer the visitor an ideal place to sunbathe and enjoy water sports such as surfing or windsurfing in Tarifa.
- Rural tourism
If you like trekking routes, the natural parks, the equestrian routes or the interior white villages, Andalusia is perfect for your rural vacations. -Sun and snow tourism Granada and Sierra Nevada offer the visitor the opportunity to ski in Andalusia, not many kilometres away from the Costa del Sol.
- Costa del Golf
In Andalusia and specifically in Malaga, we'll find the most important golf courses in the already recognised as "Costa del Golf".
The Junta de Andalucia is the organ responsible for organizing the sectors of tourism in Andalucia, health care, transport, economy and education in Andalucia (and for the remaining sectors). It offers information about this self-governed region, including job offers, competitive examinations in Andalucia, courses for further training offered by the Junta de Andalucia, etc.
Find further information about Andalucia tourism:
Conserjeria de Turismo (Council for tourism)
Address: Avda. Juan Antonio de Vizarrón s/n. Edif. Torretriana, Isla de la Cartuja 41092 (Sevilla)
Phone: 0034 955 065 100
Fax: 0034 955 065 164
Web site: https://www.andalucia.org/
Wikipedia Andalucia
tourist tips
Travelling through Andalusia outside the traditional tourist circuit can be a unique experience, but does not have as many amenities as the coastal route: there aren't as many service stations or stores, and opening hours are shorter. Therefore it is desirable to have some basics on hand such as water, mobile phone, and a GPS unit or maps of the area. Some car hire companies equip their vehicles with GPS systems, including cheap car rental companies.
Don't forget to share!