All the information you need to know about the Carnival in Malaga, the dates and calendar of activities, schedules of parades and competitions. Want to know more about what to expect this year?
---
The procession of the Three Kings is a mainly Spanish tradition. The first parade which is recorded took place in 1876 in Alicante and thanks to its success it was expanding rapidly to other cities. In 1917 took place the first Parade in Andalusia and today is a typical established tradition throughout the province.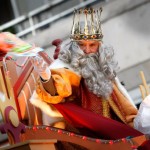 ---
Another new year comes, time flies! While in most European countries the sun gradually gives way to clouds, rain and the earliest snow, in Malaga the sun still shines brightly in a blue sky. Do you want to know how we celebrate New Year's Eve in Malaga and Spain?
---
The Nerja Fair is an important event in the eastern Costa del Sol. If you have extended your summer holidays or planning to visit Nerja in October you may be interested in the festivals and concerts that take place by the beginning of the month. Which day is the cheapest to go to the Fair or when does it start?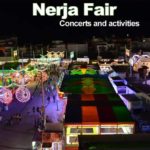 ---
The extraordinary setting of the Caves of Nerja becomes for another year the host of special summer nights where to enjoy an evening of music and art. The Nerja Caves are not only interesting due to their fantastic rock formations, stalagmites and stalactites. Years ago has been enabled one of the great caves with suitable seating and lighting, creating a fantastic and impressive space dedicated to receive the Festival Cueva de Nerja during the summer months.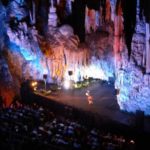 ---

As every year during March comes the celebration of San Patricio in Malaga, an event full of activities. Read everything about San Patricio, its history, which municipalities celebrate it and what activities they propose for this green dyed day.
---
Discover the best viewpoints in Malaga with our guide and enjoy the breath-taking views of the Costa del Sol and its natural surroundings. Ideal places from where you can take spectacular photographs of Malaga such as those shown here. Would you like to?
---
The Cave of Nerja is a recommended visit that will not leave you indifferent. Whoever visits it ends up talking about the great beauty it offers, you can also venture into an underground world that has accompanied humanity since immemorial times. Do you want to know everything about the Cave of Nerja?
---
The transport companies adapt every summer to the increase in tourists. The bus from Malaga airport to Almuñecar is one of those that see its lines increase from 1 to 3 daily departures. Also included are stops at other important destinations on the eastern Costa del Sol such as Nerja, La Herradura or Rincón de la Victoria among others that I will detail below.
---
If you still don't know where to go on holiday you might find inspiration in this blog post. No matter if you plan your winter or summer vacation, some tourist destinations are popular all year round. Want to know more about where to go on vacation?
---