Points of interest and attractions in Malaga
If you are reading this you might be thinking about coming to the south of Spain. We are going to explain what are the main points of interest in Malaga, monuments and ideas about top things to do in Malaga.
Visit the links on the left side of this website for reading about highlights in the city centre and other municipalities. Check also our website to know when are held major festivals and events for planning your visit.
Autumn, ideal for cultural tourism
October, November and December
The months of October and November are perfect to discover typical Andalusian villages. If nature and outdoor exercise sounds good to you then hiking or trekking is an option to take in consideration.
Other recommendations about top attractions to visit over autumn months are: Gibralfaro Castle, Picasso Museum or Roman Theatre among others...
The climate in autumn is good enough for you to enjoy any activity, remember that there are many activities available also for Halloween.
Winter...what can you do?
December, January and February
Even though in the middle of winter it is usually cold, the weather and temperature is mild when compared to the North of Spain and Europe. Consider Malaga for your city break as a weekend getaway or a long-term holiday.
You can enjoy Malaga region at any time. While this is true consider bringing some winter clothes if coming for New Year's Eve or around that date. It can be cold throughout the early morning or the night.
During the winter many streets markets are available, feel and breath the Christmas ambiance. Christmas lights from Calle Larios are is one of the most beautiful in Europe, an event not to miss.
Winter months are colder than the rest so what about visiting monuments and museums? A superb plan is to stroll the city around and enjoy a warm tea or coffee at the old town.
Spring, mild temperature and exploration
April, May and June
Flights to Malaga increase by June but in April and May there are already visitors looking for the good weather.
Spring is a perfect season for doing outdoor activities such as hiking or golf at any golf course on the Costa del Sol. Spring season is perfect for practicing any sport as it is not too hot yet.
Mild temperature in spring invites to practice active tourism. Driving to white villages or strolling through the city centre is a nice option. Those who like beach can rent a hammock and spend a relaxing day next to a beach restaurant with drinks and seafood, doesn't it sound nice?
Don't forget Easter festivity and the feast of San Juan with bonfires and celebrations along the coast.
Summer activities: Beaches, nightlife and theme parks
July, August and September
Malaga is a very popular holiday destination all along the summertime. If you require a quiet destination in summer we recommend July or September. The excellent weather conditions invite the visitor to the beach at daytime and the promenade with restaurants and places where having a marvellous dinner at night.
Are the kind of person looking for festivals and nightlife? Then summer is your best choice, check our guides to find where is the vibrant nightlife in Malaga.
There are beaches in Malaga for every taste: Natural and quiet beaches without services or well-equipped shores with restaurants, hammocks, umbrellas and many water activities.
If coming with family or friends maybe the water park and the zoo sound tempting to you.
In august you can't miss the popular fair of Malaga , check more festivities in summer.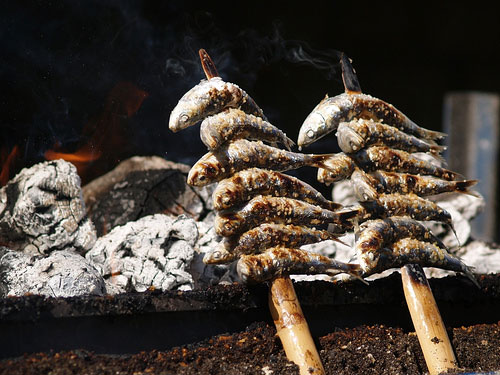 Grilled sardines, typical of Costa del Sol beaches
When to visit Malaga or which month is the best?
After reading this page you can have an idea of activities to do or the area you would like to visit. There is not really a best month to come as it depends on your planning, it doesn't really matter what month you pick as there is always something to do and a new place to discover.
There is a wide entertainment offer throughout the year, summer or winter, rainy or sunny...Malaga, a place where there is always something to do.
Points of interest in Malaga and attractions
Gibralfaro is one of the main attractions and also the symbol of the city. Once inside there is a viewpoint, use it for taking a representative picture of Malaga to show your friends. The photo will feature the port and the bullring in the bakground. This fortress is a monument not to miss.
Picasso museum and Plaza de la Merced, both related to Picasso as at the square is located the birthplace home and where Picasso used to play when he was a child.
Enjoy the gastronomy of the region, there are restaurants and bars for everyone. White villages are an excellent location for trying a typical Spanish dish...good food is always welcome, don't you think so?
Botanical gardens and parks: Malaga cares very good of its parks and natural spaces so they are a worthy visit. Among the parks are Jardín de la Concepción botanical garden, Parque de la Paloma in Benalmádena or Parque de la Bateria in Torremolinos.
Strolling Ronda and discover the old district, you can finish the day having a drink at the main square and taking a beautiful photo of Ronda bridge from the viewpoint.
Hiking and trekking routes: In the area and in Andalucia there are many hiking routes inside the Natural Parks. Beautiful walking routes where enjoying the natural beauty of southern Spain.
Don't forget to share!