The Christmas lights in Malaga are switched on the last Friday of November. You can continue reading to find out what's new this year. There are activities and events taking place during these dates in the capital and in the main municipalities.
The street Calle Larios in Malaga is where you will find this show of light and music at Christmas. This year the inauguration of the lighting should take place on the last Friday of November.
This year the lighting structure will be the same as past year; the name of the lighting structure is "The Christmas Forest" (Bosque de Navidad) and you can visit it during both day and night.
The lighting decoration and switching date change every year, however in 2021 is the same as in 2020. In past events they used up to 600.000 led lights in Larios street, the most centric street in Malaga, nevertheless this city is one of the best places to enjoy the Christmas lighting in the world.
Above you can see the 2019 lights. This year they are ready to be switched on the last Friday in November. There were light and sound shows between 6:30 pm and 9:30 pm every day until the 5th of January. This year, the shows are not announced, to avoid crowds.
In 2021 the Christmas lighting and the light and music show was the same as the year before. In 2019, there was a new lighting and the decoration budget was increased.
Lighting for Christmas in Malaga
In 2018  the design was inspired by the Cathedral of Malaga.
We can expect snow cannons in the main squares of the city like Plaza de las Flores or Soho district as they did the last past years.
The company responsible for Christmas lighting in Malaga (Iluminaciones Ximénez) which is also responsible for providing lighting to different companies and cities around the world. You can find its LED lighting in New York on Fifth Avenue, Las Vegas, Dubai or even in Hong Kong among other locations.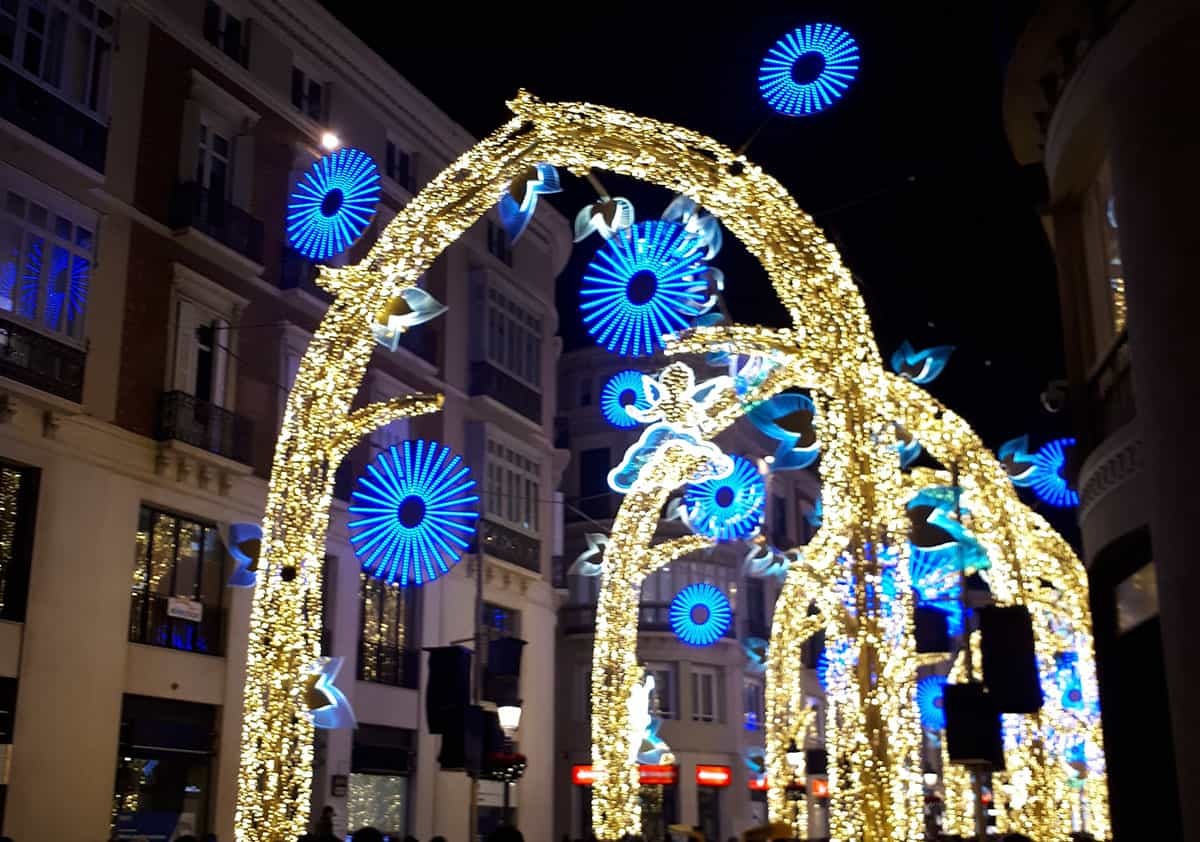 Many visitors come from Europe not only to see the Christmas lights in Malaga, but also to enjoy a festive atmosphere unique in the city.
There were light and music shows daily at 6:30 pm, 8 pm and 9:30 pm until the 5th of January, inclusive. This year, the shows are not announced, to avoid crowds.
This year the typical Christmas songs and each show lasted a few minutes:
Hark! The Herald Angels Sing
Jingle Bells
Campana sobre campana
Gatatum
Una pandereta suena
There will be new streets in addition to Calle Larios where you can enjoy the illumination: Calle Marqués, Sagasta, Souvirón, Plaza de Camas, Calle Herrera del Rey, Puerta del Mar, Calle Moreno Carbonero, Calle Álamos and Calle Granada.
The Christmas lighting will be turned off on January 5th, with the arrival of the Night of Kings, so you better visit it before it is too late.
This central square in Malaga is decorated for Christmas with a beautiful illumination offering a show that you should not miss.
Christmas trees in Malaga
As a new there will be a visitable Christmas tree in the Plaza de la Constitución. You will be able to visit the inside of the tree and take photos.
During Christmas in Malaga six giant Christmas trees (6 to 18 meters high) will be placed. One of them in Huelin Park, two almond trees of 8 meters, one in the square of the Cervantes Theatre and another in Alcazabilla street. A giant Christmas tree with a metallic structure in the Plaza de la Marina; also another one of 18 meters in the Plaza de la Constitución, that you can visit the inside; a Christmas tree in the Plaza Enrique García Square and finally one in Molina Lario Street. All of them illuminated with leds and decorated for the occasion.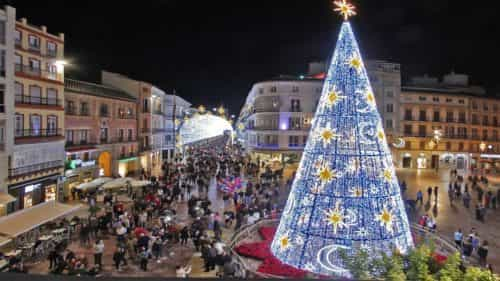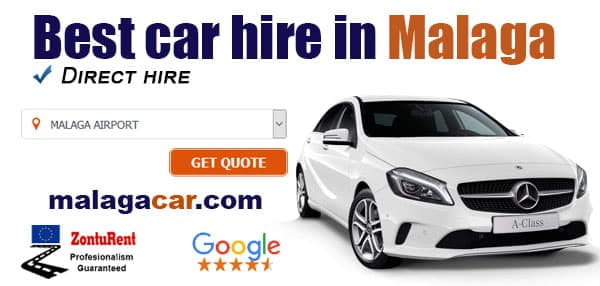 ';
Christmas activities in Pier One

The leisure centre of the port of Malaga celebrates its tenth anniversary with a new space that recreates a polar refuge with igloos, a lake, polar bears, snow and many lights.
There will also be other Christmas events: follow the link to find out about the Christmas activities that take place both in Muelle Uno and all the province; you may find one event near you.
Switching on Christmas lights in Malaga in video
In case you've missed it, this is the last video of the Christmas lights being turned on and some of the main attractions of the city this winter.
Christmas lighting in other municipalities
Although the dates may vary slightly each year, it is common for lighting to begin in late November or early December in different municipalities.
Torremolinos Chrismas lighting on the 3rd of December at Plaza Costa del Sol.
26 November at 7.30 pm is the inauguration of the Christmas lighting in Fuengirola at Plaza de España from 6 pm to 10 pm.
The inauguration of the Christmas lighting in Estepona will feature a large fir tree of 60 metres in on 25th November.
In 2019 it was the 29th of November when the Christmas lights were switched on in Benalmádena at 6pm in the Plaza 3 Culturas in Benalmádena Pueblo. At 7.30pm at Plaza de la Iglesia in Arroyo de la Miel and at the roundabout D. Fermín Aguirre at the entrance to Puerto Marina. This year there is no official information.
On 25th November is the Christmas lighting in Marbella. The lights will be installed in Avenida Ricardo Soriano, in Marbella; and in Calle Marqués del Duero, in San Pedro.
Visiting Traditional Nativity Scenes

Every year they organise nativity scenes, some of the nativity scenes can be found inside Malaga Cathedral or in the Diputación. This year there is a nativity scene competition from 16th November to 7th January. (+info).
Place: Avda. Sor Teresa Prat nº 15 Edif. E1 (Map)
Best Christmas Market in Europe
In 2018 more than one million visitors visited the Christmas lighting in the city centre. In addition, Malaga won first place as "Best Sunny Christmas Markets in Europe", from the organisation "European Best Destinations" which presents Malaga as an ideal destination to celebrate a Christmas with good weather.
This year 2020 the Malaga market will be opened on 30th November with a total of 70 stalls. It will be open until Epiphany and will have security measures. The stalls must close at 6pm to respect the time restriction until further notice.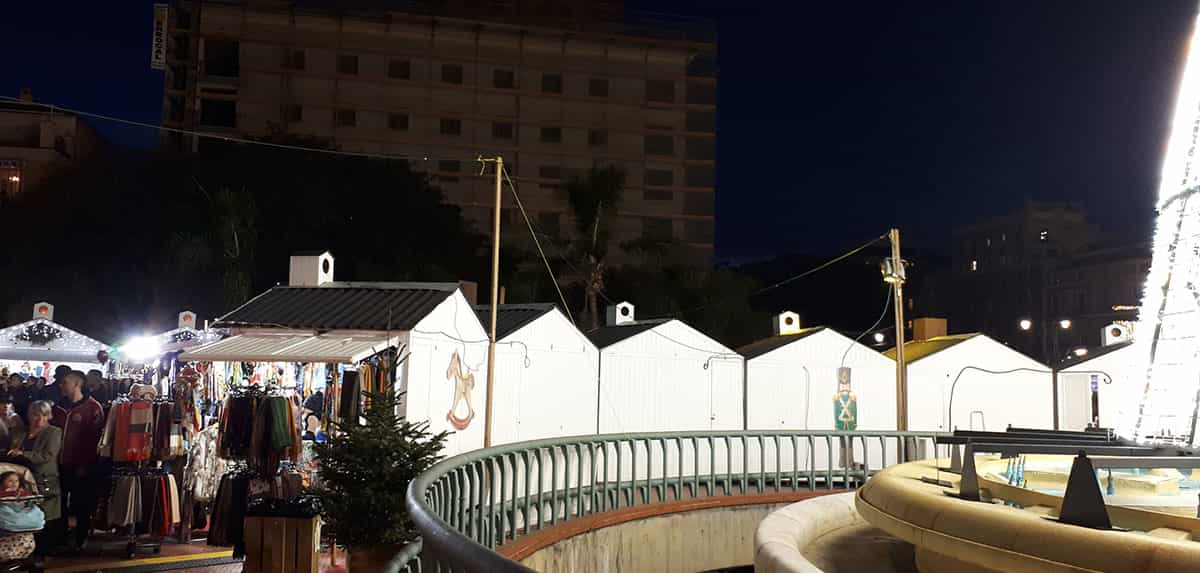 Many locals enjoy the Christmas in Malaga by visiting any of the many Christmas markets in the province. Those markets in the city are usually in the area of Soho and the Alameda park, but there are many other in the province.
Initially I think the list will not be much different than the previous year, you can check our current list of Christmas Markets in Malaga.
After Christmas: New Year's Eve in Malaga
You can find a wide variety of hotels for the New Year's Eve party with dinner included . You can celebrate in one of the main squares of the cities of Malaga; there typically meet a large number of people to celebrate the arrival of the New Year. This year, and due the excepcional situation with the Covid-19, we don't expect great celebrations in Malaga.
In addition if you want to celebrate New Year's Eve in Malaga with more people you can visit my other article with the incoming events for that night.
Malaga: Plaza de la Constitucion and Calle Larios
Torremolinos: Plaza de la Nogalera
Benalmadena: Plaza de la Mezquita
Fuengirola: Plaza de España
Marbella: Plaza de la Iglesia
Procession of the Three Kings 2022
The Three Kings in Malaga have spent the night in the Alcazaba in past editions. They leave the town hall on Monday 5th January.
The parade use to begin at 5 pm on January 5th and the route is as follows*:
Paseo del Parque
Plaza de la Marina
Alameda Principal
Puerta del Mar
Atarazanas
Plaza de Arriola
Pasillo de Santa Isabel
Carreteria
Calle Álamos
Plaza de la Merced
Restrictions for Covid-19 at Christmas and New Year's Eve
It seems that there will be no major restrictions during Christmas or New Year's Eve. Logically, you do not need a Covid passport to enjoy the different Christmas activities, as you can get infected whether you are vaccinated or not, so common sense and keeping safe distances is recommended.
Private or public transport during Christmas
During Christmas in Malaga the public transport is still working as usual and it is one of the recommended options for getting to the city centre.
Evening is a far more popular and crowded time than afternoon, just letting you know.
Public buses
Usually they add special offers during these dates and there is more availability on weekends. Other years they sold a 15 trips card for 9.95€ which you can buy at kiosks or tobacco shop.
This transport campaign use to finish the 30th of December.
Commuter train
The commuter train in Malaga continues being an excellent choice for those living near the train station. The last stop will get you next to the city centre; remember to check the timetable for the train in our guide.
Driving a car
If you plan to rent a vehicle on your arrival, then you might prefer just driving to Malaga. You will have to park in a public parking; it is more than possible that you will experience traffic jam in some areas.
I used to drive to Pier One at Malaga Port and park in that parking lot. Sometimes and depending on the time, I experienced some traffic jam near the city centre; evening is a far more popular and crowded time than afternoon, just letting you know.

Taxis and transfers
Taxis usually extend the fleet during the 24, 25, 31 of December and 1st of January.
You can also book a private transfer, I can recommend malagatransfer.co.uk as I always had a good experience with them and the price is fair.
---
Do you plan to spend this Christmas in Malaga? We hope you enjoy and don´t forget to share your experiences and questions in the comments below.
Thank you for reading and Merry Christmas!
Comparte este artículo: