This year there are many Christmas activities in Malaga for both children and adults. I am going to review some of the most popular activities in December, so that you can enjoy Christmas with family or children.
There is a large Nativity Scene, music, workshops and a children's theatre in addition to the well-known and popular Christmas lighting that is inaugurated on 30 November.
Nativity Scene in Malaga
If you are one of those who can't spend Christmas without a Nativity Scene at home, you can't miss the one they have made this year in Malaga. This Nativity Scene has an area of 220 square meters and shows a Christmas composition with 1000 figures, some of them moving, and more than 10,000 miniatures for the enjoyment of visitors.
For the creation of this Nativity scene has been taken into account biblical scenes and the representation also has some of the main monuments of Malaga such as the Dolmen of Menga, the Cave of Nerja, the Lighthouse of the Pier, come to find them all!
Location:
Exhibition Hall Entre Edificios of the Diputacion de Malaga (Map)
Schedule:
Available until 5 January from 10:00 am to 9:00 pm.
24 and 31 December from 10.00 to 5.00 pm.
25 December, 1 and 6 January closed.
Nativity Scene in Malaga Cathedral
In addition to the previous Nativity Scene, there is another one since 2 December in the Cathedral of Malaga. This Nativity Scene occupies 45 square metres and has a marine approach.
It has 200 figures and about 150 animals, all a craft work that has taken more than 35,000 hours of work. If you pay attention you will be able to see some monuments or spaces of Malaga.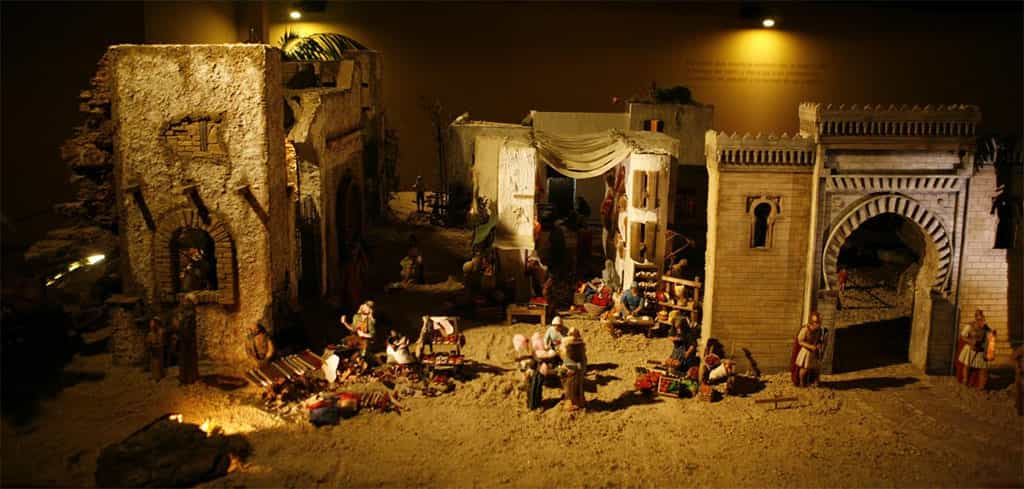 Schedule: From 10 to 2 pm and from 5 pm to 8.30 pm.
Place: Malaga Cathedral (Map)
From 2 December.
Closed on 24 and 31 December and 5 January. Closed in the mornings on 25 December, 1 and 6 January.
Living Nativity Scene in Almayate
This other Nativity deserves to be among the most popular in Malaga because it is performed with people and animals. It's a magic Nativity play that aims to locate on the Christmas map this small town of Velez-Malaga.
Among the features of this Nativity Scene there are more than 150 characters wearing historical costumes, dozens of animals, large sets and a whole team of technicians behind.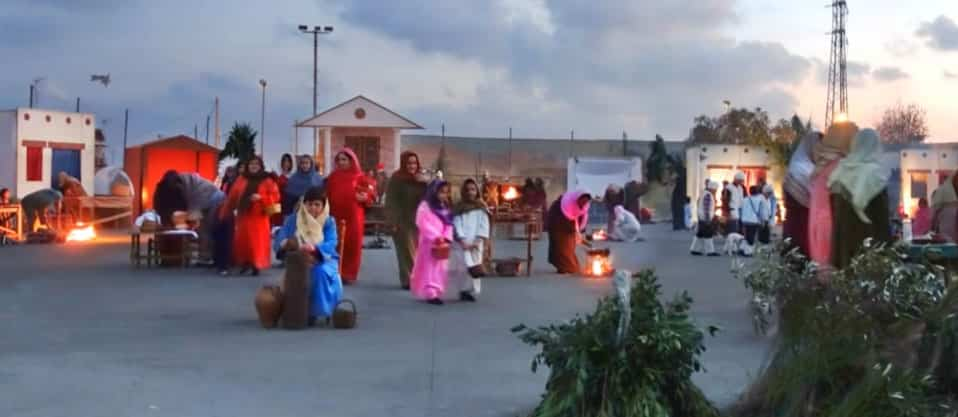 The duration of this Nativity play is just over 2 hours.
When: December 28th and 29th at 6pm.
Where: Juan Paniagua Public School, Almayate (Map)
Nativity Scenes map
There are other Nativity Scenes organized in the different municipalities of Malaga. Continue reading to know them or have a look at the map we have prepared with the most popular.
The dates or times of some may change from one year to another, so it is an indicative map: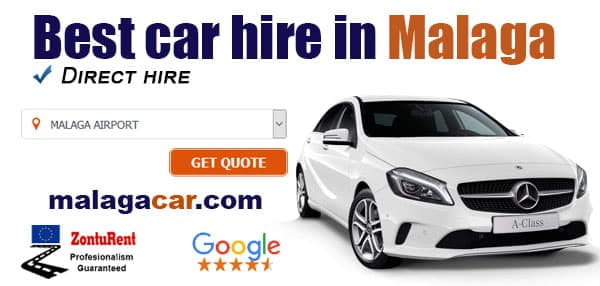 ';
Christmas activities for children and families
During these Christmas days there will be many children's and family events in Malaga, let's see some of the activities this year:
Ice skating in Malaga
During the month of December and until the 5th of January there are several ice skating rinks in some municipalities. There are also Christmas villages with a multitude of attractions for children.
If you want to practice this sport any other month of the year you can always do it in the permanent rinks that are in Benalmadena. You can read more following the link above.
Christmas at Pier One – Muelle Uno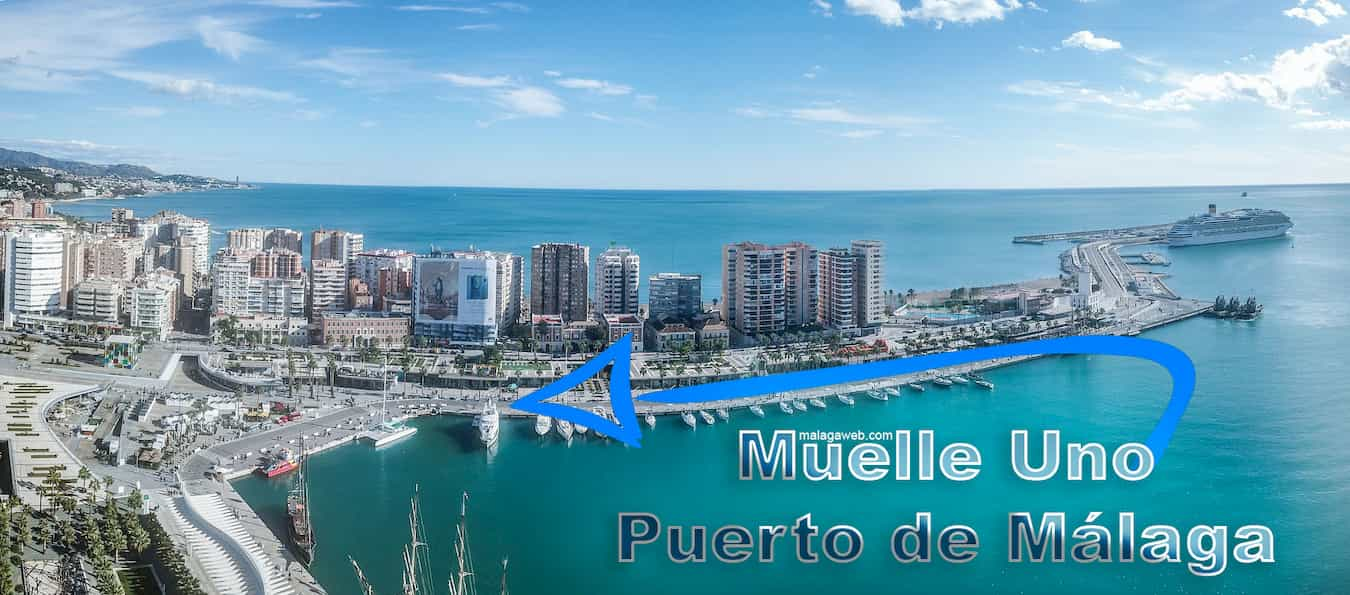 Muelle Uno in the Port of Malaga is usually every year the venue for various activities for all audiences during the month of December.
Santa Claus and the Three Kings
After the arrival of Santa Claus his house is inaugurated where he will receive all the children with the following schedule:
During the month of December and on days 1, 6, 7, 8, 9, 14, 15, 21, 22, 23 from 12.00 to 2.30 pm and from 5 pm to 9 pm.
On 13 and 20 December the timetable will be from 5 pm to 9 pm.
On 24 December the timetable will be from 12.00 to 2.30 pm and from 5 to 7 pm.
In addition there will be the Royal Jaima that advances the arrival of the Three Kings with the presence of the Royal pageboy and whom the children will be able to visit:
From 26 to 30 December and from 2 to 4 January: 12.00 to 2.30 pm and 5.00 pm to 9 pm.
31 December and 5 January: 12.00 to 2.30 pm and 5 pm to 7 pm.
Light show
Every 5 minutes and during the week until the 5th of January this videomapping show takes place over the Chapel with music and lights in Muelle Uno.
Monday to Thursday: 6.30 pm to 9.30 pm.
Friday to Sunday: 6.30 pm to 11 pm
Christmas Village in Malaga
Corte Ingles mall organizes the so-called Christmas Village in the centre of Malaga which has several typical Christmas attractions for all ages:
Children's Ferris wheel
Children's adventure circuit
Slide and trineo
Christmas train
Ice skating rink
Snow city
Carousel
These attractions are available from 22 November to 7 January in front of the Corte Inglés (map).
Deliver the children letters to the Royal postman
There will be a multitude of places where the children will be able to deliver their letters to the Three Kings, one of the most typical and of which I still have memories of my childhood is in the El Corte Inglés shopping centre.
When 14th, 21st, 22nd, 23rd, 26th, 27th, 28th and 30th of December. It will also be available on 2, 3 and 4 January.
Schedule: From 12 to 2 p.m. and from 6 p.m. to 9 p.m.
Place: Second floor (Map)
Workshops and activities for children
On the sixth floor there will be workshops for children from 3 to 12 years with a limited capacity from 20 December to 4 January.
You can find official information here.
Christmas storytelling for children in Malaga
Among the Christmas activities this year you will find some typical representations in the Interactive Museum of Music from 12 to 1 pm. These activities are especially suitable for children aged 3 or over, although children under that age have free admission and will surely enjoy it too.
Among the performances you can attend are Treasure Island, Peter Pan, Nutcracker, Queen of the Snows and the Ugly Duckling among others.
When: From 1st in December
Where:
Malaga Interactive Music Museum (MIMMA)
Calle Beatas, 15 (Map)
Price: 5.9€ (children under 2 years old with free entrance)
You can visit the official website and buy tickets from there. I recommend doing it online and not using the expensive 902 telephone number.
http://www.mientrada.net/eventos/categoria/malaga/
International Christmas Meeting in Benalmadena
On Saturday 8 December from 11:00 am to 11:00 pm you will be able to taste a selection of typical Christmas international food from several countries.
There will be stalls with typical Christmas products, music and many other activities that everyone will enjoy, both children and adults.
When: 13, 14 and 15 December from 1 am to 11 pm.
Where: Plaza de la Mezquita in Benalmadena (Map)
The Christmas programme in Benalmádena is extensive, you can consult it here.
Estepona Christmas Program
Christmas comes to Estepona in December with activities for all ages. Most of the events will take place in the Plaza Antonia Guerrero (map).
13 December 7.30 pm: Christmas Story by Charles Dickens in Auditorio Felipe VI.
13, 14 and 15 from 12 to 8 pm: Stalls with cheese, nuts and other local products at street Calle Terrace.
16 December at 8 pm: Municipal Bethlehem in Orchid Botanical Park.
20 December at 8.30 pm: Christmas Concert at Plaza Antonia Guerrero.
21 December: Santa Claus and Artificial Nevada Night on Terraza Street at 7.00 pm, 8.00 pm and 9.00 pm. Children dressed as Santa Claus will receive a gift.
December 21: Living Nativity Scene at 7:00 pm in front of the Association.
28th December at 8.00 pm: Moscow Nutcracker Ballet. Advance tickets at tafestepona.com and Viajes Carrefour.
31st December: The party and fun are moved to the Plaza del Reloj (map), where the New Year's Eve Party will take place. There will be fireworks and musical performances.
Full programme in Spanish here.
Marbella Christmas Program
Marbella has organized a very complete Christmas program with many activities for family and children. It starts on the 30th of November.
You can find a link to the official Christmas program if you continue reading.
Children's activities and shows
From November 30th, Christmas has already begun in Marbella with children's parties on the Paseo de la Alameda and parades through the old town.
The Royal Postman (of the Three Kings) will be available in the Plaza de la Iglesia from 28 to 30 December from 11 am to 1.30 pm and from 5 pm to 9 pm. On 31 December from from 11 am to 1.30 pm and from 2 to 4 January, from 11 am to 1.30 pm and from 5 pm to 9 pm.
Christmas Parades and Living Nativity Scene
There will be a multitude of Christmas parades where the children will undoubtedly have fun.
27 December at 17.00: Welcome to the Royal Postman of the Three Wise Men with a parade through the streets of the Old Town and departure from the Plaza de Santo Cristo.
There will be a Living Bethlehem in the Paseo de la Alameda with the following visiting hours: between 12.30 and 4.30 pm.
New Year's Eve in Marbella
Children can celebrate New Year's Eve i Plaza de la Iglesia at 12.00 with children's grapes, a show and the release of balloons. The New Year's Eve party for adults will be in the same place but at midnight with the bells.
The Christmas program is extensive, so I prefer to include a link where you can check the activities planned for every day in Spanish: https://www.marbella.es/images/jevents/5ddd1c3a270901.65833566.pdf
Torremolinos Christmas Program
In Torremolinos, Christmas begins on 7 December with the lighting of the Christmas lights. In addition the Nativity Scene will be available until January 6.
Before the lighting on December 5, at 5 pm there will be music shows and many other activities in the city centre that are ideal for the family.
Nativity Scene of Torremolinos
Located on the ground floor of the town hall of Torremolinos is this Nativity Scene that has more than 500 small figures and a neat decoration.
It can be visited from Monday to Friday from 9.00 am to 1.30 pm from 5.30 pm to 7.30 pm (24,31 and 6 January) and is closed to the public on 25 December and 1 January.
On 12 December they sing Christmas carols in front of the Nativity Scene on the ground floor of the Town Hall from 7 pm.
Christmas Concerts will take place on 17, 18 and 19 December in the auditorium of the School of Music. Students and teachers will perform concerts with varied programs.
Fuengirola Christmas Program
Although the program may vary slightly each year, it has many elements in common. To learn more about it you can visit this year's official program here; English is at the bottom of the linked PDF.
Some of the most popular days are listed below:
December 13th
6 pm – Storytelling at Plaza Anabel Conde or Lope de Vega Library in case of rain.
8.30 pm – Zambomba flamenca and free tasting of Christmas sweets in Plaza de España.
19th December
5 pm- Christmas party with free chocolate and churros tasting in Plaza del Rosario.
8 pm – Christmas performance at Plaza de la Constitución.
Friday 20 December
5 pm- Children's workshop in Casa de la Cultura. Price 10€ and registration at latermicamalaga.com for children between 4 and 12 years.
19.00 horas – Delivery of the Light of the Nativity Scene in the Parish of the Rosario Coronada.
19.30 – Storytelling in Plaza de Reyes Católicos or Miguel de Cervantes Library in case of rain.
20.30 – Zambomba malagueña in the Auditorium of the Park of Spain.
24th December
7.30 pm – Procession from the Chapel of Santa María del Mar to the Parish of San José for the Midnight Mass.
December 26th
8.00 pm – Zambomba Flamenca with popular Christmas carols in Calle Juan Breva.
December 27th
11.00 – Fiesta Medieval en Plaza de los Reyes Católicos
December 28th to 29th
8.00 pm – Zambomba and Christmas performances in the Auditorium of the Parque de España.
31st December
3rd January
6.00 pm – Three Kings Gala at the Palacio de la Paz until full capacity.
5th January
Christmas Village and Ice Rink
Children will enjoy the Christmas Village on the Fairground, which also has an ice rink.
Cuando: From 29 December to 6 January.
Monday to Friday from 5 pm to 10 pm. Weekends and public holidays from 12.00 to 3 pm and from 4 pm to 10 pm.
Lugar: Fairground
Emissary of the Three Wise Men in Bioparc Fuengirola
From December 21 to January 4 in Bioparc Fuengirola will be the royal page ready to receive letters from children. In addition to receiving the letters and knowing if they have been good, this year they will give away an annual pass for the children to have access to the park throughout the year.
Hours: 11.30 to 2.30 pm and 4.30 to 9.00 pm. 24 and 31 December from 11.30 a.m. to 2.30 p.m. 25 December and 1 January closed.
Place: Bioparc Fuengirola.
Nativity Scene Exhibition in Fuengirola
Visit this exhibition of Nativity Scenes in Fuengirola that will be available until the arrival of the Three Kings.
When: From 5 December to 5 January from Tuesday to Sunday. Timetable from 5pm to 9pm.
Where: Museum of  Fuengirola. (Map)
Other Christmas activities
If you want to go Christmas shopping and enjoy the Christmas atmosphere of the province you can take a look at the list of Christmas markets in Malaga this year.
However if you prefer to find some typical Christmas activity outdoors you may prefer ice-skating in Malaga. It is an activity for everyone, although you have to be well prepared , in the article I'll tell you more.
You can also visit MIMA Malaga, a children's fair with all kinds of activities for children of all ages. From what they have told me they love to enjoy in this space where they will make many new friendships of their age.
During one week in December (15th to 21st) there will be a traditional andalusian patio competition with musical performances and a festive atmosphere for all audiences. From theatre performances for children to flamenco evenings and tasting of typical products.
Remember in Malaga the Night of the Three Kings with a parade and much fun for children on the 5th of January.
Transport during Christmas
If you want to visit any of the events and Christmas activities then you can use the public transport or another means of transport. Due the popularity of those places during this season, I can recommend malagatransfer.co.uk; it is a private transfer service that will pick you up when you decide and return at the time you request for a fair price. You can have fun without transport worries.
If you are driving your car, you can use any of the public parking available.

More useful information
If you are planning to visit Malaga in winter you may find the next article useful. We offer you other activities not related to Christmas and a guide on everything you need to know about the months of December and January in Malaga.
Comparte este artículo: