The getaway to Malaga in December becomes more popular every year due to the excellent microclimate present in the city. In addition, prices are much cheaper comparing to the summer, which makes this province an attractive destination for tourists looking for a cosy place to spend the winter. Want to know more about the month of December in Malaga?
---
Wondering about Christmas activities and attractions in December? I will be updating this list but there are already many things to do in Malaga. From visiting the typical Nativity Scenes to children´s fairs. If you are looking for special Christmas events I will suggest some.
---
Another new year comes, time flies! While in most European countries the sun gradually gives way to clouds, rain and the earliest snow, in Malaga the sun still shines brightly in a blue sky. Do you want to know how we celebrate New Year's Eve in Malaga and Spain?
---
Children and adults can enjoy a fun time on the ice, with a new ice rink installed in Andalusia Avenue, next to the entrance of the department store El Corte Ingles Malaga city, offering a new form of entertainment during the Christmas holidays. Find more ice rinks in the Costa del Sol where practicing winter activities and having fun on Christmas.
---
Children can enjoy as every year with MIMA, a fair of Christmas activities that takes place in the Palace of Fairs and Congresses in Malaga. If you want to know more about this Fair and what it offers you can visit our article where we tell you everything. All these activities sound great.
---

Winter is coming...but do not worry, Malaga and the Costa del Sol are blessed with sunny days throughout the years and enjoyment is not limited exclusively to the summer months. Actually, many Tour operators and travel agencies offer very good price-value flights to Malaga Airport and Hotels in Malaga in the months between October and March. The same applies as well for the Malaga cruise port which is one of the principal scales in the winter routes of cruise ships through the Mediterranean Sea.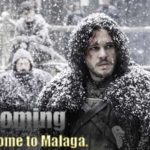 ---
Autumn is coming, a season that on the Costa del Sol does not bring cold but pleasant temperatures that invite you to visit the province in depth. Find out what the weather is like in Malaga in autumn, what clothes you should bring if you are on holiday and if it usually rains during these months.
---
What should be taken into account when choosing the right accommodation in Malaga for New Year's Eve? First of all, of course, there must be the question of where you prefer to spend your holidays: Do you prefer an increasingly fashionable holiday in nature or do you prefer the people and the hustle and bustle and enjoy the culture of Malaga?
---