The getaway to Malaga in December becomes more popular every year due to the excellent microclimate present in the city. In addition, prices are much lower, which makes this province an attractive destination to spend the winter.
Looking for a cheap holiday destination this winter? Then continue reading about Malaga in December.
What is the temperature during December in Malaga?
You will be surprised by the temperature in Malaga if you have already visited other places in Andalusia, as there is a big difference between, for example, Malaga and Cadiz.
December in Malaga is mild, temperatures tend to range between 13ºC (56ºF) and 18ºC (64ºF) during this month. Keep in mind that the lowest temperatures refer to those you may meet at dawn.
December, in terms of temperatures, is the intermediate month between November with warmer temperatures and January, the month of the year in which temperatures tend to be colder.
Malaga is protected by mountains that surround the Costa del Sol and prevent the arrival of low temperatures. If you visit the interior of the province you will notice a drop of several degrees in the thermometer, so it is advisable to be prepared in case of visiting a village inland.
If you want to know more about the weather in December you can visit the following link:
https://www.holiday-weather.com/malaga/averages/december/
Does it rain in Malaga in December?
December is one of the rainiest months in Malaga together with November, although that doesn't mean it's going to rain all month long. The average is between 5 and 7 days, so be prepared.
In any case you can always have a look at our other article where I tell you what to do on a rainy day in Malaga, which is valid throughout the year.
What clothes to bring in December?
Although December is not the coldest month of the year in Malaga, it is a good idea to bring some warm clothes so that the temperature does not catch us by surprise throughout the day.
If you still have doubts about what clothes you should bring in December, take a look at the following list before packing up:
Sunglasses; yes, it's still sunny in December.
Pants and T-shirts, both short and long.
Cotton undershirt in case it cools down.
Warm clothes; you will wear them especially during some mornings and evenings.
Comfortable shoes.
As an example, it is perfectly possible to go out on New Year's Eve with a coat, jeans, shoes and a simple long-sleeved shirt; you don't need any more.
Can you bathe in the sea during December?
Although you "can" bathe all year round, December is not a popular month to do so. The sea temperature during December is about 16.6ºC (61.9ºF) with maximums of up to 17.7ºC (63ºF), which allows bathing without suffering from hypothermia for more than 2 hours.
The ideal temperature for swimming in the water is between 21ºC and 27ºC. (70ºF and 80ºF approximately)
If you're planning to take a bath, ideally you should do it little by little. A cold shock can cause adverse effects such as an increase in heart rate and blood pressure during the first few minutes. If your physical condition is not optimal, your health could suffer and this can happen to anyone.
Personally I have bathed during this month as a teenager because I practiced surfing, and at first I did without a wetsuit. There are some expats who swim every morning all year round; I knew a German couple who used to in the pool, every day at 7 am I could see them swimming, although I repeat again, it is not a month that invites you to do so.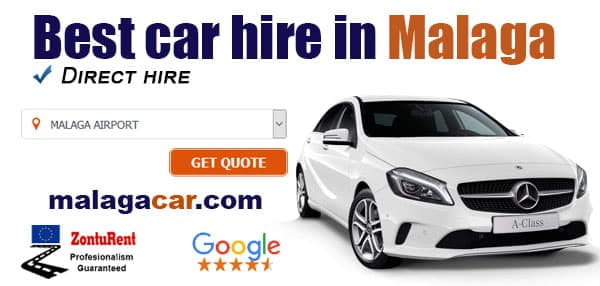 ';
Activities in Malaga in December
When do you plan to visit Malaga during the month of December? The whole month, the first or second fortnight? If in doubt, it may sound good to celebrate New Year's Eve in Malaga or visit the Christmas Lighting in the city.
There are many cultural monuments to visit in Malaga in December and the fun is here all year round and even more during New Year's Eve.
In another blog post about December activities in Malaga, it's worth taking a look if you're not sure what you can do this month. You might also be interested in visiting one of the 10 places you shouldn't miss in Malaga.
These are just a few of the many options we have available and we can still visit Sierra Nevada or eat a fried fish at one of the many beach bars along the promenade.
Fairs and festivals
There are many activities and events that might interest you. The dates are approximate, so it is advisable to consult the website of the municipality if you plan to visit when closer to the date.
Transport Options
Malaga has a great variety of public transport means ranging from the ever-popular bus to the subway or the suburban train. Depending on where you have to move you can use one or the other. While the suburban train makes it easy to get to places on the western Costa del Sol, the bus will do the same with the eastern Costa del Sol.
this month is the best time to make the most of your money.
If you just want to enjoy a sporadic visit to the centre of Malaga, public transport may be sufficient. If you want to discover more about the province or visit an event, then you should better consider some transport alternatives at low season prices; this month is the best time to make the most of your money.
Car hire: When planning our trip to Malaga we can consider a car hire in Malaga; prices for the winter season are low and affordable. We can find cars from 7 Euros per day if we rent them for a week.
Private transfer: The private transfer or taxi in Malaga is perhaps a fairly comfortable and useful option. Recommended especially for those people who can not or do not want to drive but still want mobility and comfort. Some of the uses are for a transfer from the airport to your resort, to party on New Year's Eve without worries or for Christmas shopping; If interested on this kind of transport I can recommend malagatransfer.co.uk.
Perhaps you have only considered visiting Malaga, but with a rental car or a transfer you could visit Sierra Nevada and return on the same day at a reasonable price, even more if the price is shared among friends.
Comparte este artículo: