The coast of Malaga has a well-preserved a tradition of good life which is the so-called Chiringuito. These Beach Bars are very popular among locals and visitors to enjoy a great variety of fresh fish (fried fish, paella or a Grilled sardines), for a drink next to the sea front or to watch the sunset.
During the last decade a new trend of beach bars, called Beach Clubs, has appeared. These are ideal places to have a drink on the beachfront and enjoy the sunset.
What is a Chiringuito and what are its features?
Those beach bars are generally made of wood, trying to harmonize with the environment. Many of the oldest ones today are excellent restaurants specializing in fish dishes. It's very nice to eat in a nearby Chiringuito feeling the sea breeze or the murmur of the waves at night. Keep in mind that their special location comes at a slightly higher price.
But what is a Chiringuito? This model of beach terrace combining bar and restaurant is one of the emblems of Malaga and the Costa del Sol since in the 60s and 70s when began to arrive the first tourists to Torremolinos.
The beach bars have evolved over the years. What used to be small wooden structures have now become establishments with all the comforts, from air conditioning to bathrooms.
Hammocks, Balinese beds and prices for a day on the beach
The beach bars usually have a large space where they rent hammocks for a day. The price of a hammock may vary depending on where we consult it. If you go away from exclusive places you can get up to 10€ a day per hammock; very far away is 5€ for the couple of hammocks from years ago. Prices can skyrocket near Puerto Banus, with hammocks up to 100€ a day.
If you prefer a Balinese bed in a privileged place like Nikki Beach, the price is around 65€ per day. Add to that the drinks you're going to have later, you're not expected to pay 65€ to lie under the sun and drink the water you bring from your portable fridge. This price will be around 30 euros if you prefer to rent a Balinese bed in Benalmadena or Torremolinos.
The price list is a guide only. The last time I used one many years ago it cost 6€ on a beach in Fuengirola, before that I paid less than 2€ per hammock in Torremolinos. I prefer the closeness to the water and the feeling of sand when I go to the beach.
Sardine espetos, the star of the beach bars
Several sardines pierced with great art and care on wooden sticks and roasted slowly in a wood fire are the stellar dish in Malaga´s Beach Bars. This well-known and popular dish is called Espeto de Sardinas, which many choose to take with a cold beer or Sangria. It's easy to find them in the Chiringuitos situated along the sea promenades and they are also easy to smell, by the unmistakable aroma of hot coal, wood and good fish. Its smell has absolutely nothing to do with grilled sardines in a kitchen.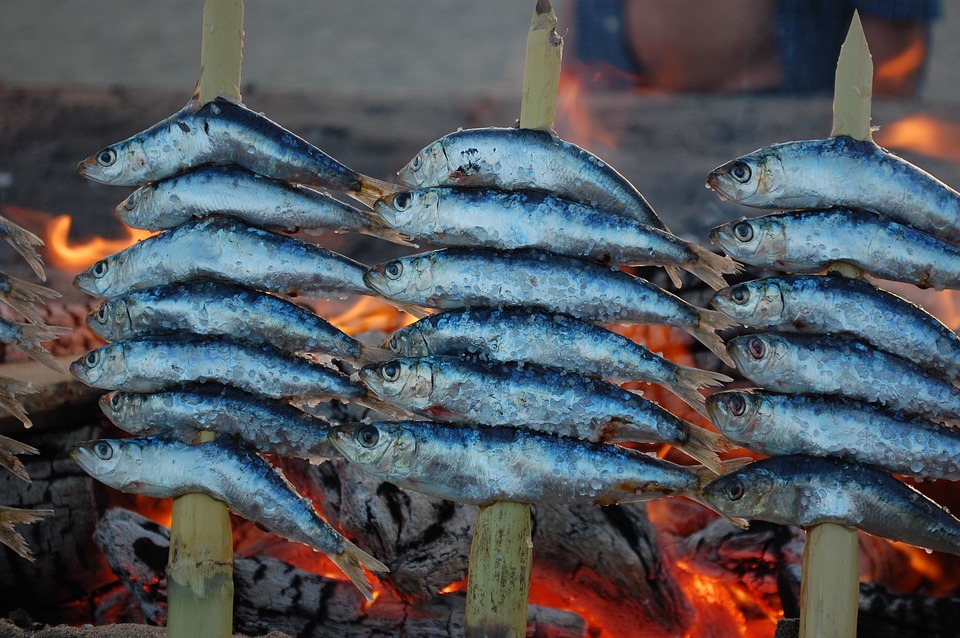 Another major attraction in the Beach Bars is the pescaito frito (fried fish). The best way to accompany this typical dish og Malaga is with a salad of roasted peppers, but some also prefer hearts of lettuce.
Types of beach bars
There are basically two types of Beach Bars: The typical, traditional Chiringuito, an easy going place without great refinement, frequented by families and locals eating out on the weekends, with a down to earth andalusian flavor.
The second type, although as well a Beach Bar in its characteristics is getting increasingly fashionable in certain circles: The Beach Club.
You're not going to Uncle Paco's Chiringuito in your brand-new Ferrari, are you?
All about fashion and luxury beach clubs
These establishments have little or nothing to do with the common beach bar. They are aimed at a much more exclusive audience: Balinese beds with parasols, swimming pool, chairs, white umbrellas and DJs. There are massages, live music and all kinds of services and entertainment.
These luxurious establishments offer fun and spectacular views of the Mediterranean with swimming pool and VIP beds. If you usually frequent them, it is not difficult to meet a celebrity in summer.
They usually require a minimum amount that you must spend on consumption. Don't worry, prices are usually at least 10 times more expensive than you would pay anywhere else, so you'll quickly reach that minimum.
You're not going to Uncle Paco's Chiringuito in your brand new Ferrari, are you? That's what these exclusive beach clubs with private parking are for. The most glamorous are in Marbella.
Nikki Beach and its White Party
Nikki Beach is one of the oldest and most luxurious beach clubs in Marbella. It is possible that you have heard the name before as their empire extends all over the world. In Spain you will find 3 Nikki Beach clubs, outside our borders you can find one even in Dubai.
The beginning of the summer season and celebration party takes place on May 24th with the well-known White Party that takes place every year. To attend this event you must be dressed in white.
Nikki Beach offers a large swimming pool, Balinese beds, restaurant and a large terrace with sea views.
Depending on how much money you can afford to spend the offer is wide. From pool beds or poolside beds to boat pick up, massages or giant bottles of champagne at exorbitant prices. Undoubtedly another way to demonstrate your economic strength to those around you.
Prices vary depending on the season and the event. For the White Party the entrance fee for a small drink is approximately 160 euros. If you like to relax by the pool, the price of a pool bed for three people is 500 euros.
Ocean Club and Champagne Party
Ocean Club is another international brand that has been present in Puerto Banus for many years.
It has a large saltwater pool and beds for large groups of people overlooking the sea. Services include a spa, massages, beauty treatments and a full programme of parties with international DJs.
Among the highlights that every year take place at Ocean Club, the Champagne Festival on June 24th is one of the most popular.
The price starts from 120€ per person at the Champagne Party to 165€ for a bed for three or 395€ for a second line location. If you don't care about the money, the VIP bed by the pool costs 475€ but it requires an additional 500€ and the Super Vip (12 people) costs 1250€ with 3 bottles of champagne, you will also have to spend 1500€.
Playa Padre
A new club opened in 2017 and located in Marbella, right on the beach of El Cable. The little experience plays against them, but more and more people are determined to visit this place.
There is a massage service, car park, events and boat pick up service.
Every year they open the season with a celebrity. In 2017 it was Pamela Anderson, in 2018 Katheryn Winnick of the Viking series opens the season in Playa Padre.
I don't have details of the prices, but you can already imagine that even if it looks less glamorous it won't be cheap.
Opium Marbella
One of the executives of F.C Barcelona and his brother have opened this luxurious club on the beach of Marbella.
Its inauguration in 2018 opens the doors to a new luxury leisure location in Marbella. It has beds, swimming pool, bar and is located on the beachfront.

Purobeach
Another of the traditional clubs in the area that has an international brand behind it. It has 3 stores in Spain and another two in Mexico and Portugal.
Purobeach is located in Estepona and offers beach, swimming pool and luxury restaurant. There are themed parties and other custome services such as a spa or even a shop where you can buy clothes and jewelry.
Among the most exclusive beach clubs on the Costa del Sol, this is perhaps one of the most affordable options. The minimum cost per person is 45 euros with a 35€ hammock for one day; if you decide on a pool hammock the price is from 45€ plus 75€ minimum cost per person. For groups prices start at 900€ for 6 people.
Whatever your choice, you will have insured a good time under the Mediterranean sky. Enjoy your summer!
Comparte este artículo: