September is the month of Fairs and Festivals in many municipalities along the Costa del Sol celebrating Pilgrimages, fruit harvest, patron saints… and many more.
The autumn equinox is around 21 September.
These are days of joy where is mixing the profane with the religious. People enjoy colourful events full of music, culture and dance. If you are visiting Malaga and the Costa del Sol at this time, come and join us!
Fairs and Festivals in September in Malaga
September is a particularly popular month in terms of Fairs and Festivals typical of Malaga. If you plan to visit the province during this month, you can plan what activities you would like to visit.
Considering the situation of the Covid-19 in Malaga this year, it is likely that some events will be cancelled this year; others however will take place with the necessary security restrictions so that they can be carried out in complete safety.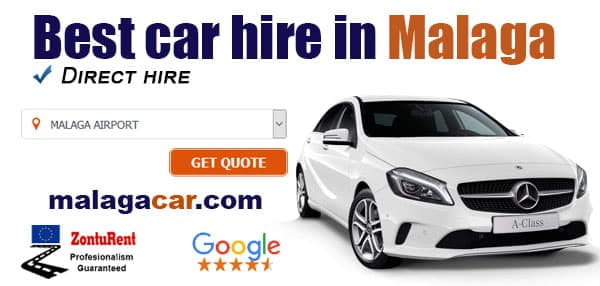 ';
First fortnight of September
The month of September begins with various Festivals and Fairs in different towns of the province.
Grape Harvest Festival in Manilva
The first weekend of September from Friday to Sunday you have an appointment in Manilva. There will be wine tasting and other events such as a Flamenco festival and the Virgen de los Dolores parade.
The event takes place in the centre of Manilva and starts on Friday with cultural and folkloric activities. From 10 pm onwards there is a flamenco festival.
Check our website to know how to get to Manilva by car or public transport.
Where: Manilva (Map).
When: In 2019 it will be from 31 August to Sunday 1 September.
Ronda Fair and 'Goyesca Bullfighting'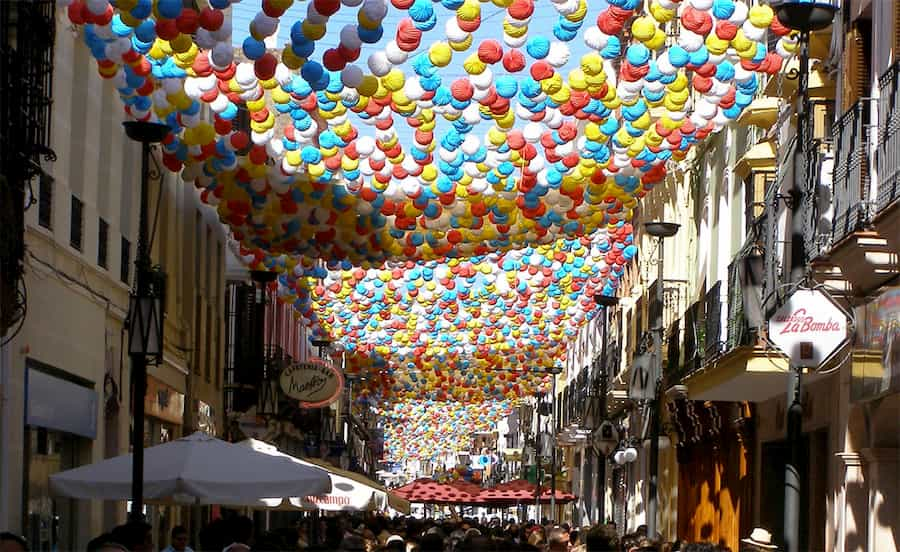 The traditional Fair in Ronda known as the Pedro Romero Fair is held between the last week of August and early September. Not to be confused with the Real Feria de Mayo in Ronda.
It is an event declared a Festival of National Tourist Interest of Andalusia and it  highlights especially the traditional' Corrida Goyesca' in the Plaza de la Real Maestranza de Caballería de Ronda.
Check our website to know how getting to Ronda by car or public transport.
Where: Ronda.
When: In 2019 it takes place from Tuesday 3 to Sunday 8 September.
Popular Vervain in Alhaurín de la Torre
This popular festival takes place at the beginning of the month and begins on the first Friday of September with an inaugural parade of vintage cars.
Friday 6 September
8 pm – Parade with vintage cars from Avenida Barrio Viejo, passing through Avda. España to calle Ermita.
10 pm – Folk dances in Calle Juan Carlos I.
11 pm – Election of Queen and Ladies of Honour of the Vervain.
Saturday 7 September
9 am- Municipal Band.
11 am – Vintage music and photographic Exhibition at Juan Carlos I Street with vintage images.
11.30 am – Children's activities with popular vintage games.
Midday – Charity Tombola.
5 pm – Karaoke and photocall set in the old Alhaurín.
9.30 pm – Folk dances.
10.30 pm – Concert by Karina.
Sunday 8 September
9 am – "Los Cocobongos" Musical Association
11 am – Charity Tombola; Photographic Exhibition at Juan Carlos I Street with vintage images; exhibition of vintage vehicles and music..
Midday  – Parade of vintage cars.
1 pm – Musical Association "Los Cocobongos".
2 pm – Popular Paella.
6 pm – Collection of ribbons through the old town.
7.30 pm – Race of ribbons on motorcycles along Juan Carlos I street.
9.30 pm – Folk dances.
Luna Mora de Guaro (Moorish Moon Festival) in September
For two days (usually on the second weekend of September) this white village is a meeting point for the medieval Andalusian culture with the light of 25.000 candles in the streets.
During the Luna Mora festival there are performances, craft stalls and gastronomy stalls. Highly recommended I enjoyed much the food in my last visit.
When: In 2019 it will be on 6th and 7th in September.
Where: Guaro (Map).
Embrujo Andalusí Carratraca
Discover the Andalusian culture that impregnates the streets of this town and transport yourself to the past in Carratraca in early September for three days.
You will find a medieval market and activities of all kinds for visitors; from exhibitions and workshops to theatre, dances, activities for children and parades through the streets of Carratraca. There will also be jugglers, tea and Arab sweets and fireworks shows.
The streets of the municipality are lit with 25,000 candles during this festival.
Cuando: From 6 to 8 September.
Where: Carratraca (Map)
Program and further information:
Mijas fair
Fair in Mijas begins the first half in September. From then there will be events and performances for the entire week.
On the first day of the fair, at nightfall, the Fair lighting will be switched on. The next day the daytime fair officially begins.
When: In 2019 the Fair is from 6th to 11th September.
Where: Mijas Pueblo (Map).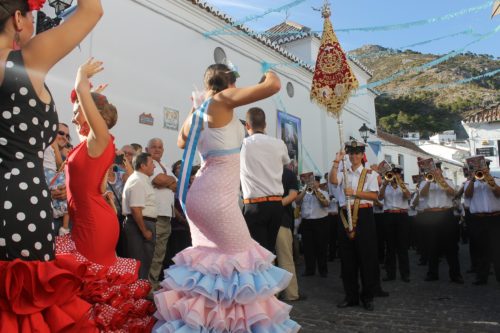 You can check in our website how getting to Mijas by car or public transport.
Ajoblanco Festival in Almachar on the first Saturday of September
Gastronomic event celebrated since 1968 and of free entrance with many activities the first Saturday in September.
The festival includes of course ajoblanco (typical dish made of almonds juice), a gastronomic route and many events for all audiences. There will be regional dances and an Ajoblanco Flamenco Night, for those who like to enjoy Flamenco in Málaga.
When: In 2019 the first Saturday in September, so it should be the 7th.
Where: Almachar (Map).
Ardales Fair
This fair is during the first week of September, the exact date may vary every year.
It is a popular festival with band and pilgrimage of the Virgin of Villaverde, figure that is transported to the Guadalhorce Reservoir.
Where: Ardales (Map).
When: Generally from the first Thursday to Sunday, in 2019 it would be from September 5 to 8.
Olive Fair in Alozaina
Between 12 and 15 September is celebrated the collection of the olive in the municipality of Alozaina Malaga. It is celebrated with beer, pork and cheese from the village.
The fair was first held in 1929 and offers visitors an opportunity to learn more about the traditional harvesting of green olives in Alozaina.
Check this map to know how getting to Alozaina.
Wonder Fair in Maro, Nerja
The Feria de las Maravillas or Wonder Fair in English, usually takes place around the 8th of September, but there is no official information yet.
It is an old popular Fair with origins in the sixteenth century and has a parade of the Virgin of Las Maravillas with many activities and a fireworks show.
There are many activities with music, barbecues on the beach and much more.
When: Around 8th September.
Where: Maro, Nerja (Map).
Pasarela Larios – Fashion Week Malaga 2019
This year, many high fashion designers, stylists and exclusivity meet again in the city of Malaga. There will also be a creative fashion contest that aims to promote the youngest talents.
Calle Larios will be adorned with a large carpet where the models will parade in this popular event that each year attracts more than 15,000 people.
Fair of Santo Cristo in Casares
On the second weekend in September the Santo Cristo Fair takes place in Casares. Traditionally celebrated to commemorate the end of the harvesting season in the summer.
The festival features processions, music, dances and fireworks.
Location: Casares (map).
When: Second weekend in September.
Second fortnight of September
The second half of September also offers numerous activities for the visitor. You will find fairs and activities for the whole family.
Anchovie Day in Rincón de la Victoria
The last weekend of September there are free anchovies tasting at Rincon de la Victoria in an event called Anchovy's Festival or Day.
The event begins at 12.30 pm next to the promenade and close to the old train station.
World Tourist Day
The World Tourist Day is the 27th September and there are events to welcome the tourists visiting Malaga.
Depending on the municipality where you are there will be different events. In Mijas, the main square had in the past events Flamenco performances and a free sweet wine tasting.
Other municipalities offer free food tasting.
Raisin day in El Borge
They celebrate the Raisin Day the third Sunday in September.
Typical dancing performances, wine, cold meat and typical products from the area. Along with rocieros and verdiales choirs, visitors can enjoy raisins, muscatel wine, sausages and other typical products of the Axarquía. You will also be able to learn in a visual way how the different products are elaborated, from the harvest to the packaging and crushing of the Muscat grape. The must produced can be tasted by visitors.
Istan Fair and San Miguel Pilgrimage
The Istan Fair and San Miguel pilgrimage are celebrated the first Sunday closer to the 29th in September and lasts 5 days. It begins with a pilgrimage to the hermitage of San Miguel, located in a cave, dressed in the traditional costumes of Istan. Once at the hermitage, all participants gather for a day of fun.
Where: Istan (Map).
When: In 2019 it will take place from 26 to 29 September.
Almond Day in Almogía
During this day the aim is to promote local products and traditions in the farming of almonds.
There are activities for all ages, performances and desserts made with almonds. The children can take part in animation workshops to learn all the work related to the almond.
Torremolinos fair and San Miguel Pilgrimage
The Torremolinos Fair lasts 5 days. On the Sunday before that date, the San Miguel pilgrimage takes place to Los Manantiales, a pine forest on the outskirts of the municipality.
Day Fair features dancing, music and other events at the main squares and the centre of Torremolinos.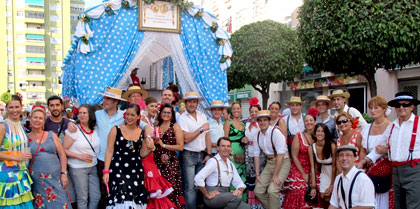 At night, the Fair moves to the fairgrounds with booths, musical shows, mechanical attractions and lots of fun.
Check our website to know how to get to Torremolinos by car or public transport.
When: From 25 to 29 September 2019.
Where: Torremolinos Fairgrounds (Map).
Nights of Bella Jarifa in Cártama
If you want to know Cártama during the weekend illuminated by candles and immersed in a medieval atmosphere of magic, parades and activities you can not miss the Nights of the Bella Jarifa in Cártama.
When: From 27 to 29 September 2019.
Where: Cartama (Map).
Transport options
Visiting us in September? Then you should be ready for joining any of the activities above. Most of the municipalities with Fairs and events have no easy access by public transport means, so continue reading to know other options.
It is recommended to drive your own vehicle, so if you are planning a visit during September you can rent a car in Malaga and enjoy any of the activities or Fairs taking place.
Another option is a transfer; this transport means is a very comfortable choice that will take you to your desired destination and pick you up for returning at the requested time. I can recommend malagatransfer.co.uk, but you can check the most popular and trusted websites for transfers in Malaga here.
Comparte este artículo: