The May Fair event known as Romantic Ronda (Ronda Romantica) is an encounter with the romantic past of this town in Malaga. It is a sign of identity that takes shape during this recreation of the historic fair of Ronda on 27, 28, 29, 30 and 31 in May 2020.
Romantic Ronda is a tourist initiative that places visitors during three days in the historical context of the Ronda mountain ranges. Become part of the eighteenth and nineteenth centuries with bandits and smugglers, craftsmen and writers who came in search of adventures to relate them in their works.
Andalusia was back then a romantic destination, awaiting dangers and uncertainties along its paths to those who travel them. Many adventurers came hoping to meet some of the famous bandits on their trips. They were even ready with a small amount of money or valuables; not meeting those famous bandits would become a disappointment.
If you want to know more about the vision that pretends to give the Romantic Ronda event you can read Washington Irving, one of those adventurer writers who visited Andalucia and wrote 'Tales of the Alhambra' (free e-book), he managed to capture on paper the feelings that produced a trip of this kind on the paths of Andalusia during these years.
Royal May Fair and Romantic Ronda
This fair, once one of the most famous in Andalusia, began in 1501. A cattle fair was requested to sell the excess stock.
During the 19th century the fair had its greatest splendor and was a meeting point for European and North American travelers in search of adventure. The Ronda Romantica event seeks to historically recreate that atmosphere with the typical costumes and markets that were then celebrated.
Ronda Romantica is nothing but the union of the ancient Royal May Fair and a Historic Recreation. A great cultural festival to discover Ronda in all its fullness.
Before we talk about some of the activities during these days we are going to get into situation. Let's meet some of the most famous bandits of Andalusia and their stories.
Many adventurers came hoping to meet some of the famous bandits on their trips. They were even ready with a small amount of money or valuables; not meeting those famous bandits would become a disappointment.
Bandits of the Serrania de Ronda
Very well-known in Andalucia and throughout the world were the bandits of Sierra Morena, Despeñaperros and of the Serrania de Ronda, who stumped in an aura of mystery hidden from the main path awaiting for some wealthy victim to assault or kidnap.
Bandits in Andalucia have managed to mark their stories and names with fire in our memories, building a legend that will still last over time.
Although there were many bandits, I will write about 3 of them. Read below some of the most popular bandits in Andalucia, some still have living descendants.
Why did they become so popular and usually loved by the people? Because most of them only assault wealthy people and used to give tips or help to the less advantaged.
El Tempranillo bandit
'El Tempranillo' (1805-1833) became a bandit since he was 15 years, he became popular because the good manners he showed to his victims and for his actions to help the most disadvantaged.
Stories tell that he was able to rob up to 110 travellers in a morning during his way to the fair in Ronda. However in these days it was common for bartenders to exaggerate the bandits stories.
This bandit, perhaps the most famous of the region ended up marrying and having a son. His wife died after giving birth while hidding; he had to carry her dead body and his son in tow as they were besieged by the Guardia Civil.
Near his last days he became Commander of Security and Protection Squadron in Andalusia after a royal pardon; this pardon was granted to those who swore loyalty to the king. He defended the paths against bandits for a year until another bandit known as 'El Barberillo' ended his life; this happen after a shot near the village of Alameda, he died with just 28 years.
El Pernales bandit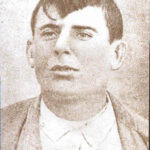 'El Pernales' (1879-1907): He was a cold, vindictive and bloodthirsty bandit who did not hesitate to perform despicable acts to his own family and murder anyone who opposed him.
He ended his days shot by the Guardia Civil on his way to take a boat in Valencia. His intention was getting to Mexico (America was the destination of many of the Spanish bandits).
He was shot dead before arriving to the port in Valencia where his last pregnant lover was waiting for him, she had to return to the town of  'El Rubio' alone.
Pasos Largos bandit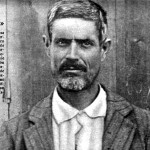 Pasos Largos (1873-1934): One of the last known bandits, lover of the mountains and gambling, he used to visit Coffee Sibajas in Ronda where he lost large sums of money gambling.
Among the anecdotes surrounding this bandit we highlight the one related to a guard from a farm who denounced him to the Guardia Civil because of illegal hunting. Once caught he was beaten severely and took up to 6 months to recover.
Looks like this success marked him, not much later he had a casual encounter with the son of the guard and killed him without hesitation. Then headed to the guard and showed the blood of his dead son before killing him too. The mother managed to hide in a room and saved her life. This was a revenge he talked about in an interview shortly before his death.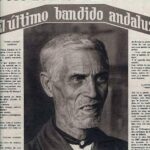 Usually devoted to the kidnapping of the wealthy, he enjoyed the sympathy of the common people.
Pasos Largos was jailed in Ronda in 1916. Once out of prison, with more than 60 years, Pasos Largos refused to leave his habits so returned to the mountains and continued robberies. He ended up cornered in a cave and shot dead by the Guardia Civil after he rejected to surrender.
Romantic Ronda activities
During this festival of great cultural value you can taste typical dishes, admire horses and cattle exhibitions. There are parades with traditional costumes known as Goyescas; you can also buy in the market among many other activities.
The Alameda del Tajo in Ronda becomes the central axis of most of the activities, shows and performances during these days.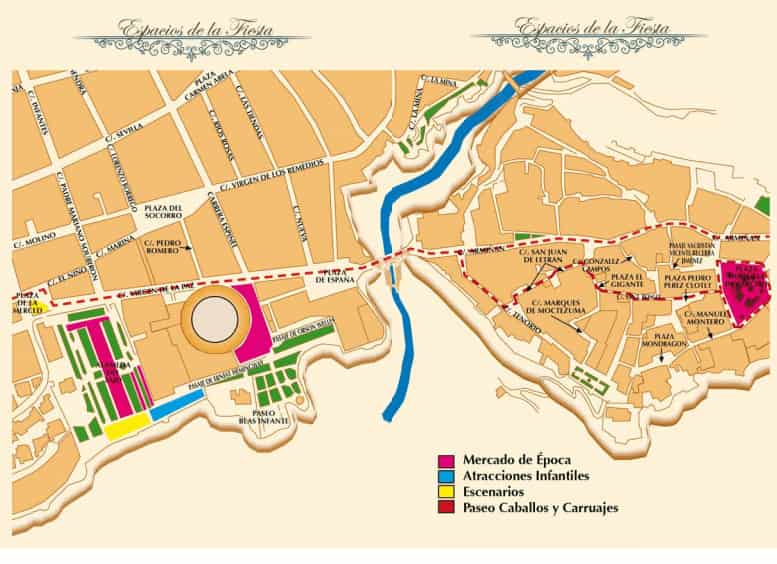 It is very common the streets and balconies of the city to be ornamented during those days.
The main festivity is around San Francisco district. There is parking on the entrance of Ronda so if you are visiting Romantic Ronda by car you will have no problems finding a parking.
There is a recreation of the old cemetery and prison in Duquesa de Parcent Square.
Theatral and musical shows at Merced Square.
Flamenco performances in the Alameda del Tajo.
How to get to Ronda
From San Pedro de Alcantara (Marbella) take the A-397 road. During the following 48 km to Ronda you are rewarded by spectacular views of the coast and the mountain ranges.
Another option is from Malaga to Ronda through Cartama and other villages or booking an excursion to Ronda.
If you decide to drive by yourself, you can hire a car in Malaga and enjoy the beautiful landscapes during the trip. Other option is a transfer to Ronda, for this I can recommend malagatransfer.co.uk, they will pick you up where you decide and at the time you require for a round trip.
Comparte este artículo: