Thinking of visiting Málaga in January and wondering about clothes to bring or if the sea temperature is good enough to swim? Usually this month is good for visiting interior villages but there are many activities you can do. Whether you are thinking about visiting us or just curious, I hope you will enjoy this article.
---
Wondering about Christmas activities and attractions in December? I will be updating this list but there are already many things to do in Malaga. From visiting the typical Nativity Scenes to children´s fairs. If you are looking for special Christmas events I will suggest some.
---
The procession of the Three Kings is a mainly Spanish tradition. The first parade which is recorded took place in 1876 in Alicante and thanks to its success it was expanding rapidly to other cities. In 1917 took place the first Parade in Andalusia and today is a typical established tradition throughout the province.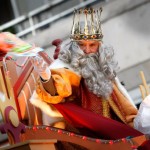 ---
Another new year comes, time flies! While in most European countries the sun gradually gives way to clouds, rain and the earliest snow, in Malaga the sun still shines brightly in a blue sky. Do you want to know how we celebrate New Year's Eve in Malaga and Spain?
---
Children and adults can enjoy a fun time on the ice, with a new ice rink installed in Andalusia Avenue, next to the entrance of the department store El Corte Ingles Malaga city, offering a new form of entertainment during the Christmas holidays. Find more ice rinks in the Costa del Sol where practicing winter activities and having fun on Christmas.
---

Children can enjoy as every year with MIMA, a fair of Christmas activities that takes place in the Palace of Fairs and Congresses in Malaga. If you want to know more about this Fair and what it offers you can visit our article where we tell you everything. All these activities sound great.
---
World Snow Day is celebrated in January and Sierra Nevada is ready for you to enjoy it to the fullest. If you are planning to visit Sierra Nevada with children you may be interested to know all the details of this event that takes place every year in Granada and other ski resorts. This event is organized worldwide and most of the worldwide ski stations participate on it, oficially it's just one day, the sunday...but they use to extend it for the whole weekend and some ski stations even offer it one weekend every month.
---
What should be taken into account when choosing the right accommodation in Malaga for New Year's Eve? First of all, of course, there must be the question of where you prefer to spend your holidays: Do you prefer an increasingly fashionable holiday in nature or do you prefer the people and the hustle and bustle and enjoy the culture of Malaga?
---