January in Malaga is the coldest month but not without interesting activities you can do if you decide to visit the province. Besides visiting Malaga in January you will find good bargains, and everybody likes to save some money.
2021 has started with rain and cold in Malaga, but it will not last long. Below you can see an average of the temperature and weather in Malaga in January.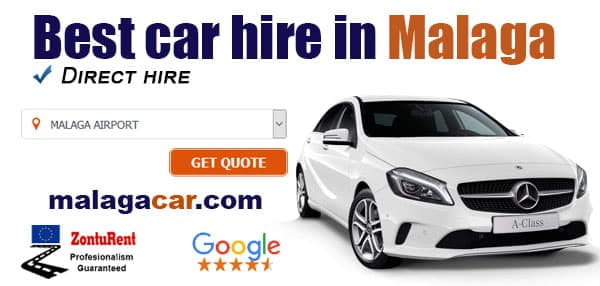 ';
Climate in Malaga in January
In addition to the January holiday, we can expect good weather and free activities. I'll talk about the latter a little further down. Let's read about the weather in Malaga in January and what kind of clothes you need to bring if you plan to spend a few days here.
Weather and temperature in January
The weather is generally continuing with the month of December. However, there use to be a sharp drop in night-time temperatures in Malaga from 31 December onwards, or even in January.
The maximum temperatures are around 17ºC with peaks that can exceed 20ºC and the minimum is 6ºC with peaks that can go below 0ºC. Bearing in mind that these minimum temperatures can occur during the night.
The average rainfall is about 6 days. Little wind and sunny or cloudy days.
What clothes to bring in January
Before the arrival of this cold January wave, the coats lasted until noon. After the drop in temperature you may want to keep them close.
There will be days when the sun will prevail and you will end up staying in a T-shirt.
Clothing recommended in January:
Warm jacket.
Long-sleeved T-shirts.
Short-sleeved T-shirt.
Thermal t-shirts.
Long trousers.
Appropriate footwear.
Sunglasses.
In addition to the above, if you are planning to walk on sunny days you may want to wear shorts. Remember that at sunset temperatures drop sharply, especially the further inland we are.
While in Malaga is low season, in Sierra Nevada is the popular month. Don't forget to come well prepared if you are going to visit Granada, it is very close to Malaga and you might want to hire a car to spend the day on the snow. Another option is to rent the needed equipment at the ski resort.
Bathing in January? Is the sea water cold?
No, bathing in January is not common and even less so among the locals. However, there are tourists who find it pleasant and end up taking a dip in the beach or pool any sunny day in January. I remember I did in cold season, but I was 16 then and my father just bought me a surf table, so I had to try it.
What is the temperature of the sea water in January? In mid-January the temperature is between 15ºC and 16ºC, or 60ºF.
Activities during January in Malaga
There are activities all year round and although January in Malaga is considered to be a low season, it offers the visitor interesting activities that they will undoubtedly enjoy.
Christmas exhibition in Moclinejo
The Christmas exhibition in Moclinejo can be visited until 8 January. A good excuse to visit this town of Málaga.
Timetable: Monday to Friday from 9:00h to 14:00h .
Monday to Sunday from 16:00h to 18:00h.
Closed on 24, 25 and 31 December.
Place: Plaza España in Moclinejo. (Map)
Christmas Book Fair
This book fair takes place in the Plaza Antonio Guerrero in Estepona and is a good occasion for reading lovers, as 90% of the books will be priced at no more than 5 euros.
What can you find? Everything from the latest novelties, stories for children and even books that have been discontinued. There use to be English books also, not only here but at the typical street markets celebrated every week.
Place: Plaza Antonia Guerrero. Estepona
When: 24 December 2020 to 8 January 2021
Timetable: From 10am  to 2pm and from 5pm to 9pm.
Magic Christmas Market
Walking around Muelle Uno is always a pleasure, and if you like to go shopping you can take advantage of the last days of the Christmas market.
Christmas Stories Villa de Ojen
This event might be interesting for residents or those who have children who speak Spanish, so they can try to write stories and win a prize.
The works presented at the Town Hall, in the library or by email must be original and based on Christmas. They should not occupy more than 2 pages on one side.
There are 3 categories: children (up to 8 years old), juniors (from 9 to 13 years old) and adults (from 14 years old).
The awards ceremony will take place on January 29th.

Almod blossom route in Guaro
The end of January is approaching and with the arrival of February there are opportunities that we will deal with in another blog entry; I leave you with a preview of what you can enjoy these last days of the month and the beginning of the next. This is the wonderful spectacle that nature offers us during the blossoming of the almond trees, a preview of what awaits us during the spring.
There are many places to enjoy this show. In other years Guaro celebrated the flowering of the almond trees on the 26th of January; you can also find routes to admire their beauty in the Montes de Málaga or from the Jardín Botánico de la Concepción. (Mapa)
A guide from the town hall will accompany us along the route. He will show us the best places to enjoy this beautiful event.
Do you want to know more about the Almond Blossom Route?
Comparte este artículo: