Previously I wrote a post about free thermal waters in Andalusia, this time it's the turn of the crystal clear natural pools in Malaga. All for fighting the high temperatures for free during the summer. Do you want a refreshing bath? Continue reading…
Do you prefer beach or mountain holidays? What about if you don't have to decide? Hiking trails are usually not recommended during the summer, except in the cases where there are natural pools or rivers you can walk through.
We recommend to check the latest reviews in google maps from each river or pool, as according to one comment from our Spanish blog some of them might be different than when this article was written.
Recommended gear when hiking through rivers
I recommend you to get ready, even more if you want to walk through any of the recommended rivers. It is a good idea to bring a waterproof backpack and the most important, shoes you can use inside the water.
There are special shoes for walking on rocks through rivers but many people prefer to use just old shoes. I guess it depends in how many times you want to practice this activity.
Natural pool in El Chorro
This natural pool is made of the water from Guadalhorce river. Amazing natural views and many water activities to practice.
This place is located near Desfiladero de los Gaitanes and Caminito del Rey, both known because the amazing sightpoints.
For getting to El Chorro from Malaga by car you must take the road  MA-5403.
Exact map location: https://goo.gl/maps/qguqW2dry5t
Hiking through Chillar river
The walking trail of Chillar river is very popular, that's why it could not be as quiet as years ago. Being a popular place is not a reason for not including it into this list as it has a great beauty and a few natural pools where you can bath.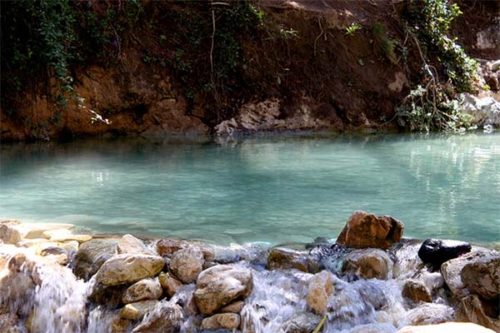 This route is in the Natural Park of Sierras de Tejeda, Almijara y Alhama. For getting there you must take the coastal road N-340 heading to Nerja and continue until you find the road signal Parque de la Naturaleza.
It is currently not allowed to walk it due to the Covid-19 situation.
Location in map: https://goo.gl/maps/mf4sr9Err3yGxpmQA
Natural slides of Río Verde (Green River)
Between the municipalities of Nerja and Almuñecar in Granada, it is the Barranco de Chorreras in Rio Verde.
For getting to the natural pool and slides you must follow the hiking trail starting at the foot of the gorge.
There are Canyoning activities you can join online. Some of the webs offering activities in Rio Verde for all ages are:  Activitiesmarbella.es (English) or barranquismorioverde.com (Spanish)
For getting there you must take the road a-4050, a mountain road with amazing views. You can get to that road from Almuñecar if you take the N-340 or from the highroad A-92 when heading to Granada from Malaga.
Location in map: https://goo.gl/maps/9A6DL8dtFFL2
El Charco Frio in Benaojan (Cold Pond)
In the mountain range of Sierra de Grazalema is the municipality with a great natural environment and hiking routes. At the beginning of the route you will find a signal post, you must head to the left for reaching the Cueva del Gato, where is the natural pool with crystal clear waters. The right path will lead you to the train station of the next municipality by following the riverbed, also very recommended.
The name of Cold Pond is because the low temperature of the water as it comes from an underground channel.
If you like speleology, there are  nice routes with underground waterfalls. It is only recommended for trained people, there are important currents that make it a dangerous place for neophytes. If you are interested there are websites that offer their services for doing these activities.
For getting there you must take the road A-343 and A-367 heading to Ronda.
Activities in Cueva del Gato (*):  Alijibe.com (Spanish)
(*) Entering the interior either as a person or as a guided group requires official permission and it is not always available.
Location in map: https://goo.gl/maps/PRWkeM3YNGw
Natural pools in Barranco Blanco, Coin
Two great natural pools you should visit are in Coin, a municipality in Sierra de Mijas mountain range.
It is not possible to get direct access to this place by car, you have to go by foot or using a bicycle. The easy way for getting there is driving to Alhaurin el Grande and then take the road A-387 to Coin. Before getting there you will see a signal post indicating the direction to Barranco Blanco. You can park the car near the bridge crossing the river.
The short hiking trail follows the riverbed of Alaminos river and will show you waterfalls and natural pools where having a good bath.
According to a comment in our Spanish blog, after the raining season the pounds are less accessible, so better to check the latest reviews from the link below:
Location in map: https://goo.gl/maps/ZgYTYsQsXPP2
Natural pool of Viñas in Ojen
Ojen is a municipality close to Marbella, there you can get to the natural pool of Viñas.
I haven't visited this pool personally but I read that is a quiet place.
For getting there from Malaga you must head to Marbella and take the exit to Ojen. The natural pool is on the foot of the municipal cemetery after descending the stairs.

Location in map: https://goo.gl/maps/i38FvCSjWk32
Charca de las Nutrias in Estepona
This natural pool (Pond of Otters) has enough depth so that even some swimmers dare to jump from the top of a rock that is at high altitude.
There are some small waterfalls and different areas where you can bath.
For getting there you must walk a rising dirt trail next to the river.

Location in map: https://goo.gl/maps/5LgdcyomNxJ2
Pozas del Padrón in Estepona
Also known as Charca de las Extranjeras (Foreigners Pond). A cool hiking route  by a river is always fancy, even more if there are natural pools where you can have some fun.
For getting there by car you have to take the highway A-7 and the exit to 'Escuela de Arte Ecuestre de la Costa del Sol'. After 6 kilometres you will find a place where parking the car, the first natural pool is around 300 metres far from there.
Location in map: https://goo.gl/maps/Bf9BsvjmjtF2
Charca de las Mozas in Benahavis
The main pool is more than 4 metres depth, that's why some visitors dare to jump from the higher rocks into the water. There are other 2 smaller ponds where swimming next to the main one.
The river itself is part of a nice hiking route you can try.
It is close to the urban area and a busy road so it might not be a quiet place.
Location in map: https://goo.gl/maps/G55wdofshWG2
Charco del Canalón en Istán
This natural pond is in the Rio Verde Valley. Visitors can enjoy also a refreshing hiking route though the river.
There are several pounds, some of them with small currents while others are quiet, ideal for relaxing. No doubt this is a good place to enjoy with friends or family.
For getting there you must take the exit to Istan from the highway A-7. You can park near the hotel Altos de Istan.
Location in map:  https://goo.gl/maps/mTEQu41YZ7x
Charco Redondo (Round Pond)
Between Algatocin and Jubrique municipalities you will find a bridge crossing the Genal river, very near there is a natural pond with a shore that feels like a beach.
They have made a small dam for making the pond larger and keeping the water inside. Very near of this place there is a camping area and a typical restaurant where you can eat.
Location in map: https://goo.gl/maps/p4jLkCEY9tw
Higuerón River Trail
In Frigiliana (near Nerja) you will find several hiking trails. One of them is the recommended Higueron River Trail.
A 8 kilometres trail where you will find waterfalls and crystal clear waters.
You will need shoes and a waterproof back-pack or similar where storing the electronic devices.
Infierno and Paloma ponds
Infierno Pond is a very singular place with great natural beauty. There are a few small waterfalls and it is surrounded by rock formations.
The hiking trail is in most areas through the river, because a great part of the route is within canyons It could be dangerous if the forecast says it might rain. Very close of this location you will find the Hedionda termal baths and the Paloma pond.
Location and reviews: https://goo.gl/maps/AXeU97ykX6wM2t7D8
If you want to know everything about free thermal water pools in Andalucia, check my other post in the blog.

How to get to these natural pools easily
If you want to visit one of these places the best option is to go by car; if you are still planning your holidays you may be interested in having a look at the rental cars in Malaga.
Another option especially suitable for those who are going to visit one of these places in a punctual way can be a private transfer. I personally recommend malagatransfer.co.uk for having used it and had a good experience. Anyway you can have a look at our recommendations of websites where they offer transfers in Malaga at a good price.
Comparte este artículo: