Caminito del Rey (King's Path)
The known as Caminito del Rey is a walkway that was originally built as a transit point for operators and maintenance staff from Saltos del Gaitanejo and El Chorro, although later it would be used by the villagers of the surrounding areas. Currently it is fully reformed and adapted for tourist enjoyment offering visitors a breathtaking view of the area from more than 100 metres heigh.

History of Caminito del Rey (King's Path)
The construction of Caminito del Rey began in 1901 and lasted four years, it was used by maintenance workers from Saltos del Gaitanejo and El Chorro. The name of King's Path was given after the visit of King Alfonso XIII who used this walkway to inaugurate the dam Conde del Guadalhorce.
Original builders were sailors hanging from the cliff, they built a very primitive walkway made of wood planks in a quite insecure way, they were used to make some similar works hanging from their sailing boats.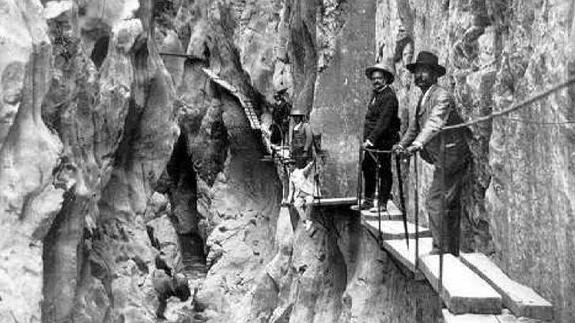 Between 1940 and 1950 it was an habitual transit walkway among residents of the area, even unsupervised children used this dangerous path for going to school.
After countless years with plans to reform and adapt this path as a tourist attraction, it was finally done and today is fully accessible for almost everyone, unfortunately not for those with reduced mobility.
This place attracts thousands of tourists every year and is a very recommended tourist attraction. The entrance is located in Ardales and the exit at Alora; the second is the indicated for those arriving by train or parking there, a shuttle bus will take you to the entrance.
The reform of the Caminito del Rey had a cost of approximately 4.6 million of euros. Inexplicably after the reform the government privatized the exploitation. The Caminito del Rey generates 3 million annually (the maximum capacity is 300,000 people annually and the maximum price for each ticket is 10 €)
Accidents & Fatalities
Over time this place deteriorated until reaching a point where it was too dangerous to walk it; after the deaths occurred by reckless adventurers it was closed and the entry banned in 1999 under penalty of a fine for those who were caught using it....they blowed both entrances to this walkway but it still did not prevent of adrenaline lovers to bypass the restriction.
Numerous accidents have occurred in the Caminito del Rey throughout its existence because landslides and no maintenance at all after it was stopped being used by villagers and workers. Two of the many deaths are the most known because the media:
- A 12 years old girl who was walking it with an organized tour of children from La Rinconada (Seville) rushed through one of the holes in the pavement a Friday in 1993. I could hear from first hand the accident from a school friend of that girl who was there and saw her fall hopelessly.
- On Friday 12 August in 2000 a group of 4 friends were in the early morning at somewhere near the middle of the path with the idea of using and old and rusty iron cord connecting the bridge area with the train tunnel as a zip line (an activity which was popular among the visitors of the area despite the risk). The journey through that zip line stopped always in the middle, from there the person using it had to finish the zip-trip using their arms. That time 3 of those friends dared to use the cord at the same time with the bad luck the weight caused the side next to the rail to brake and give in. One of them did not dare to use the zip-line as he had vertigo, so was able to look for help in a near village; unfortunately it was late as the fall caused instant death to the three of them.
Anyone curious about this activity can still find videos about that zip line being used shortly before the accident.
King's Path requirements and recommendations
There is a limit of 1100 visitors per day and 300.000 visitors per year.
This walkway is 8 kilometres long and there are stairs and slopes so it is recommended to be in good shape and do not suffer from vertigo since much of the path is above 100 metres from ground with hanging bridges.
Children from 8 years old in advance are allowed and there is no age limit but it is recommended people to apply common sense.
It is mandatory to buy a ticket online or from travel agency in advance.
Helmet is mandatory and they give them out at the entrance.
Insurance is included with the ticket entrance.
You must be present at least 30 minutes in advance for organizing the walking tours.
You must walk on your right and with special care when meeting another person walking on the opposite direction to yours.
Bring comfortable footwear and water, do not forget to bring appropriate clothes depending on the season you visit the King's Path.
There are no baths along the walkway, remember it.
It is strictly forbidden to lift anyone in arms, including children.
It is not allowed to smoke or light a fire.
Main attractions
Along all the walkway you will find amazing places, we highlight:
Hanging bridge:
Maybe the most impressive place, situated near the entrance from Alora and at 105 meters eigh. You will feel the movement of the bridge while walking and the water at bottom trough the wood boards, a feeling that will cause dizziness to more than one and a feeling you should not miss.
Fossils
It may seem incredible but while you walk near the hanging bridge you will be able to see some marine fossils on the wall as it was millions years ago part of the ocean ground.
Remains of a tragedy (accidents and deaths in Caminito del Rey)
If you walk from Alora, shortly after crossing the bridge you will see a plaque and an old steel rope hanging to the bottom of the cliff...this was used by some people as a zip line for many years despite the danger of being an old remain. It is a reminder of three young people who found death after the rope got broken from one side due excessive weight.
Crystal floor viewpoint
Nothing better for those brave enough to sightseeing the surroundings and the bottom of the cliff from a crystal floor viewpoint.
Do you want more ideas for things to do in the area? Visit our section about El Chorro or Gaitanes Gorge, enjoy an amazing natural environment in Malaga of incomparable beauty.
Caminito del Rey in Youtube
In Youtube you will see many videos about the old and the reformed Caminito del Rey, some can be as fearful and dangerous as below:
Actually it looks like this:
How to get to Caminito del Rey
The road route is very scenic and you will probably take longer than is strictly necessary to take your time enjoying the beautiful landscape. For getting there I recommend using the train, by car or a transfer from Malaga, the last one will deliver and pick you up back at the time you ask when booking.
If you get there by train or by car it is better to take a bus from El Chorro area to the Ardales entrance; if you get there by transfer you can ask them to deliver you at the entrance and pick you up on the exit.
It is a nice and pleasant tour with beautiful views, please take special care as there are areas where there is a big drop.
From Alora (closed, just used as exit)
If you get there by train or by car you should have to take a bus from here to the main entrance in Ardales. After finishing the walkway you can take back the train from El Chorro or the car to your place. In case you came by private transfer then the vehicle should be waiting here to take you to your place.
From Ardales
On the other end the entrance from Ardales could be the most recommended since most of the walkway goes down and will be less tiring for the average visitor.
If you do not have a car there is a bus line that connects both entrances for a small fee.
Further information
If you are willing to know more and read deeper about Caminito del Rey you might find useful the following links:
Official website and tickets at:
http://www.caminitodelrey.info/en/
Wikipedia
https://en.wikipedia.org/wiki/Caminito_del_Rey
Google street view
You can now walk virtually Caminito del Rey
Don't forget to share!