Skiing and freestyle lovers can enjoy a wide variety of slopes and facilities for the enjoyment of snow sports as well as hotels, restaurants and so on to make pleasant your stay at 2,000 meters above sea level. The nightlife in Sierra Nevada is also very famous. The area also offers many activities for non-skiers and children, thus the whole family can spend a fantastic day in the snow.
With 3 international airports nearby, Granada is a very well-connected city.
Where is Sierra Nevada?
Sierra Nevada is the Europe's southernmost ski resort; with its imposing mountain peak Mulhacén (3.482 m) it's a wonderful combination of sun, snow and Mediterranean Sea.
Although Sierra Nevada might not compare to the slopes in the Alps, its affordability and accessibility turn the resort into a great destination for families that are rather less experienced in slope etiquette, providing a delightfully welcoming atmosphere that is sure to be enjoyed by all ages.
Below we have collected some useful up-to-date information for skiers and boarders of all levels and leisure time activities for children and those who are not so much into skiing.
The resort base Pradollano is located at 2100 metres over sea level, just 45 minutes from Granada and only 80 minutes from Almuñecar on the Costa Tropical.
Sierra Nevada is a 2 hours drive from Malaga Airport on the Costa del Sol and about 2 hours and a half from Marbella, for those who want to combine beach and snow.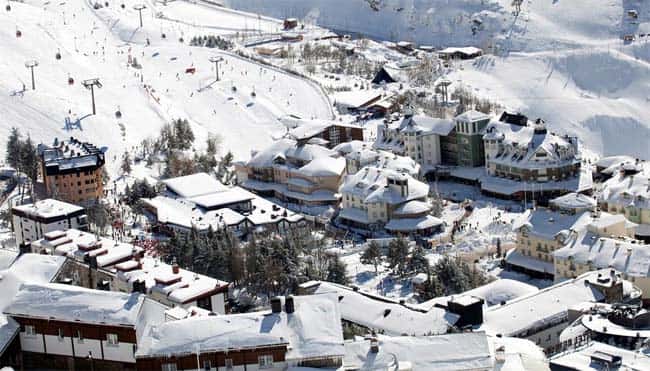 The ski season starts on November 25th and ends on May 6th.
Curiosities and facts of the ski resort
The top station in Sierra Nevada is on the Veleta peak, on 3398 m. In total, the vertical drop is 1200 metres.
Pradollano is the heart of the ski resort, from there you can get access to a total of 80 ski slopes. It is a very social complex with many bars and cafes. A very lively place at night, especially on weekends or national holidays.
From Borreguiles you can get further up the mountain and cross to other areas such as Laguna de las Yeguas and Lomar de Dilar and Veleta. From Veleta, the highest point, you can enjoy on clear days spectacular views of the Mediterranean coast, Gibraltar and even Africa.
Every year you can find new facilities, such as the 'magic carpet' to help beginner skiers. It is located in the Mirlo Blanco recreational area along with other attractions such as snow slides and the roller-coaster.
The pass system is like a credit card, a plastic card that is scanned when using the elevator or lift doors.
350 snow cannons are available for those days when required.
For beginner skiers and snowboarders coaching is generally available in many languages throughout the resort.
In the centre, around the Plaza de Andalusia, you can find ski equipment rental and repair services.
Curiosities about the ski slopes
126.8 practicable kilometres distributed along 125 ski slopes. 19 green tracks, 42 blue tracks, 50 red tracks and 7 black tracks. The longest track is `El Aguila', with more than 6 km practicable.
The total number of lifts is 21 with a capacity of 44,457 people per hour. There are 2 gondolas, 14 chairlifts, 1 ski lift and 4 lift mats.
There are 6 skiing areas with the following names: Veleta; Laguna De Las Yeguas; Borreguiles; Lomar de Dilar; Rio Monachil and Parador.
Most of the slopes in the resort are intermediate slopes and areas like the Monte Bajo are fantastic for those who want to ski for longer.
You can practice cross-country skiing along the 5.8 kilometres available.
There is a competition area, snowpark and a sledding area.
Every year, before the end of the season, a free or very reduced ski pass is offered for those who take part skiing in swimsuit.
Other curiosities about Sierra Nevada
Hungry for more curiosities about Sierra Nevada? Here we go:
With 3 international airports nearby, Granada is a very well-connected city.
When is the ski season?
The ski season starts about November 25th and ends on May 6th.
Are there snowboarding facilities?
Snowboarders are welcomed with open arms in Sierra Nevada and special facilities are available. The main run for boarders is the 'Tubo de Borreguiles', a freestyle park exclusively for boards with a half-pipe and full range of jumps and rails plus a small lift.
Is it possible to ski at night?
Night skiing is available on Saturdays from 19:00 to 21:30 hours (subject to weather /snow conditions) on the long El Rio slope, which leads directly to the village.
What other services does Sierra Nevada offer?
Sierra Nevada has numerous services available for visitors. Among the services it offers you will find ski schools, a snow garden, ice skating, discos, movies, restaurants, dog sleds….
For non-skiing adults there are available many leisure time activities such as a huge tube, husky driven sleighs and of course Shops, cafes and restaurants.
Can I take children to Sierra Nevada?
Children love snow activities so why not bringing them? If you need to rest there are nurseries with qualified staff to care of children under 6 years of age. So yes, bringing children is recommended, they will love Sierra Nevada.
Also there are several Alpine gardens for the smaller ones with fully trained staff to look after children up to six years old.
Is there anything to do in Sierra Nevada in summer?
They use to offer summer activities in Sierra Nevada, like Bike Park circuits, asatronomy, music festivals and more.
Past summer they did open Sierra Nevada ski resort  from 30 june to 2nd in September. So looks like even without snow Sierra Nevada can be funny.

Do not forget that the highest mountain in the peninsula is located just an hour's drive from the Costa Tropical of Granada and 90 minutes from the Costa del Sol in Malaga. The season in Sierra Nevada is also usually the longest due to its height and usually it is possible to ski until Easter; a time when we can see already the first bathers on the Costa del Sol. Thus Sol y Nieve (Sun & Snow) is not a media overstatement as in fact it is possible to ski and take a dip in the Mediterranean Sea on the same day.
Other advises and useful links
Situated in the Sierra Nevada foothills, lies the enchanting city of Granada, only 45 minutes away. Such close proximity to one of the most beautiful and culturally impressive cities in Europe makes Sierra Nevada rather distinctive.
For getting there from Malaga it would be a good idea to rent a car or a transfer from the airport.
From https://sierranevada.es you can check available discounts for ski pass and other snow activities.
Comparte este artículo: