The next June 23, thousands of people of all ages will celebrate along the coast of Malaga the shortest night of the year at the summer solstice known as the 'Night of San Juan' in Spain, also called St. John's bonfires or Midsummer's Eve.
According to the latest news this year 2021 the San Juan Festival will not take place in Malaga. Malaga's beaches will be closed on the night of San Juan to avoid crowds.
As you can see in the picture, the coastal beaches are floodlit at night with hundreds of bonfires and campfires to spend an evening with friends and family celebrating, eating, drinking, singing and dancing until past the midnight.
It almost doesn´t matter in which coastal town you are staying during this night; you just have to approach the sea shore and you're in the middle of the party.
Many people prepare for that night the "complete kit" for the summer solstice: A bathing suit under your clothes (important if you want to get a bath at midnight), paper and pencil for the rituals, food, drink, barbecues*. There are people who decide going to the beach for the day and don't go back to home until late.
(*) Barbecues are an excellent choice where they are allowed. In most municipalities of Malaga they are not on the beach. If interested you have to ask for permission. I guess it is because of the trash from past barbecues.
History and origin
It was known as Summer Solstice festivity. The dances around the bonfire were used to try make the day longer as from then, the days will start to be shorter until the 25th of December, Winter's Solstice.
Some of the ancient rituals are still preserved, I have included some of the Midsummer's Eve rituals if you want to try your luck. The tradition says that this is the perfect night to keep away the bad spirits, will this be true?
Actually St. John's festivity is very popular and this is something you will be able to see by yourself once you get to the promenade just before the midnight the 23th of June. Want to join?
Want to know more about the origin? Visit Wikipedia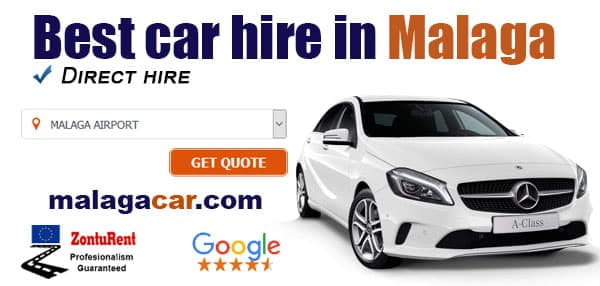 ';
Where to celebrate the Night of San Juan (St. John's bonfires) in Malaga?
They organize events and concerts at the most popular beaches of the Costa del Sol, which are also listed below:

Malagueta beach
In Malaga city, the epicentre of the fun is La Malagueta beach, in past events there were two concerts of live music starting at 11 pm. This year the activity begins at 9:00 pm and lasts until dawn.
Activities, fireworks and a good time to have a night bath.
Torremolinos
The party takes place on the beach of La Carihuela. The bonfires are exactly in front of El Remo square and you can expect a lot of activity this night along the promenade, from Playamar to Puerto Marina.
If you are looking for more activities in Torremolinos then you can visit the Montemar Fair. This fair begins the Friday 21st from 9:30pm until 4am and it extends until the Monday. There will be mechanic attractions, music, drink and fast food stands. The fair is located in the open-air sports centre in La Mancha Verde, next to the Montemar train stop.
Benalmadena
If you are in Benalmadena, the most popular beaches to celebrate the St. John's night are the central beaches of Santa Ana and Bil-Bil.
The festivity of San Juan in Benalmádena starts in the streets of Arroyo de la Miel with the Júas (dolls to be burned) and contests of adorned Balconies of the Fair at 7 pm. The burning of the dolls will take place like every year at midnight.
There will be a great pyromusical show with a castle of fireworks and music until 1 in the morning in the area of Bil Bil Castle.
It is also the Fair of San Juan in Benalmadena, this Fair takes place in the Fairground of La Paloma between Monday 24 and Saturday 29 June.
Fuengirola
In Fuengirola different events are usually organised with paella, espetos and a party that will last until dawn. During past editions there were cocktails, DJs and salsa music.
Those who come dressed in white to the chiringuitos (beach bars) on the evening of 23 to 24 June will receive a free welcome cocktail. There will be espetos plus drink for 5€.
As in other years we can expect live performances until 2 am.
Marbella
In Marbella in past events was set up a stage for a concert and DJs at Pinillo Beach, starting at 8 pm. The party this year will be held at the Cable beach with music starting from 9 pm.
In past editions there was even a children's area, inflatable attractions and animation for children. This year as usual it takes place in Magallanes Street and will begin at 6pm with bonfires from 9pm.
If you want to do something different you can enjoy a Craft Market called "The Night of Wishes". It will take place on the Terraces of the Marbella marina on the 23rd between 6pm and midnight.
San Pedro de Alcantara
Since last year this night is known as San Juan Fest. There will be live concerts in a party that starts on the night of 23 at 8 pm until 4 am on the beach of La Salida.
Estepona
In Estepona from 10:00 pm onwards, the Night of Saint John is celebrated on the beach of La Rada with live concerts and fireworks shows. The bonfires will be at midnight and there will be prizes for the best dummies.
In Estepona, in addition to the San Juan Night festival, a medieval and esoteric market is held every year, in 2019 is on 21, 22 and 23 June.
Manilva
Like every year the feast of San Juan takes place on the beach of Sabinillas in Manilva. There will be a big bonfire and you can expect many people to get into the water to celebrate this special night.
The celebration begins at 8pm with music, performances and fireworks.
Casares
The festival of San Juan takes place in Playa Ancha from 9 pm on 23 June and there will be live music. Children will have fun with the activities planned for them.
The festival of Casares is known for being a family atmosphere suitable for all audiences.
9 pm – Performance by the municipal school of Flamenco and Dance of Casares Costa.
10.30 pm – Performance by Orquesta Tumbao.
00.30 – Performance by Long Play band and its 80's music repertoire.
On the beach there will be tables, a bar and food stalls designed to serve a large number of people.
Velez-Malaga
This year Marta Sanchez singer will perform in front of El Copo at 10.30pm.
The festival will begin at 8pm with the traditional free tasting of sardine espetos and a contest for the best dolls to be burned.
The fireworks show will take place at midnight.
Torre del Mar, Rincón de la Victoria and Benagalbon
In Torre del Mar, on the eastern Costa del Sol, on the beach of El Copo, there are usually Espetos from 9 pm, entertainment and DJs.
In Rincón de la Victoria the party will take place on the beach of El Tajo. There will be musical performances and other activities for all audiences.
In Benagalbon there will be a gastronomic festival starting at noon on 23 June. At 10 pm a sardine moraga with performances and dances that put the chilli pepper to this special night.
These are the most popular and busy beaches; in fact everywhere there are fires all along the coast; if you have not experienced yet, you should join in, it is very impressive.
Other options for
Midsummer's Eve
Those who prefer to celebrate the Night of San Juan a little more distinguished by the sea, have a vast range of exclusive beach clubs (Nikki Beach or Puro Beach in Marbella) and top-class hotels offering midsummer dinners and parties.
The price is usually from 50€ to 125€, depending on the option chosen. It includes dinner and live shows.
The Melia Don Pepe Hotel is offering a special dinner by the sea during the night. There will be live performances and a special club where children over 3 years old can be left.
The Trocadero Arena restaurant in Marbella will feature live music and a traditional bonfire.
The beach bar of the Puente Romano hotel offers a dinner from 7:30 pm with flamenco show and fireworks for 75€/person.
Others like Siroko Beach, Club Villa Padierna, La Milla Marbella, Los Monteros and Olivia Valere join in with special shows for the night.
Not enough and you want to know every single detail about this night? Then keep reading.
Superstitions and rituals during

Midsummer's Eve
Fire and water are two essential elements this night. Those who dare will jump the embers of the bonfire while many will take a bath in the sea at midnight for good health or better luck during the rest of the year.
Europe was a pagan continent for a long time. The traditions of those days have come to our time as manifestations sometimes considered folkloric, although many continue to practice this type of ritual.
Fire Rituals
According to fire rituals you have to write the name of the person you love and throw it to the bonfire at midnight. It is supposed than there will be more chances for this person to notice of you.
Some people write from one to three wishes instead a name. You can try different rituals every year to see which one becomes real sooner.
Jumping the embers after the bonfire is extinct or before the flame is too high will bring you good luck. I guess that if you don't get burnt it counts as a lucky day. This is something I don't recommend, in fact I got burnt on one leg when I was 8 after trying it.
Water rituals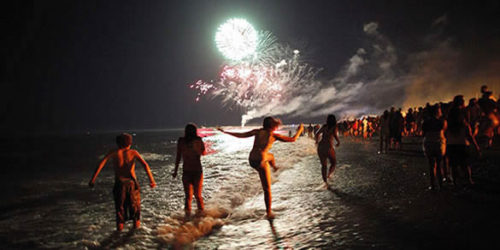 Getting into the water at midnight during the Night of San Juan will help getting rid of bad energies and women can increase their fertility. If you can't get to the sea you can try washing your face at home, better with sea water.
(*) The ritual above is supposed not to work if you watch yourself on a mirror before the following day.
Another ritual is similar to the fire one where you have to write your soul mate or wishes, but this time you have to throw the paper to the sea at midnight. Sea will take what you wrote and waves might bring your wishes.
Simple magic rituals to do at home during Midsummer's Eve
If you don't want to make too much of a fuss but want to try your luck, I'll tell you about the simplest rituals I've found to perform during Midsummer's Eve:
At bedtime put mistletoe under your pillow before you make a wish, tell us if it comes true.
If you find a 3-leaf clover during this night you should keep it as an amulet. If it's four-leaf, good fortune will knock on your door.
You want to have a premonitory dream? Place 9 flowers under your pillow and ask before going to bed that your dream reveals something concrete you want to know about your future.
Love rituals for Midsummer's Eve
If you are looking for true love, forget about horoscopes or looking for it at some chat. Here I bring you the real one!
I have told fire and water rituals, also some simple rituals; now it's time for an earth magic ritual to find love during Midsummer's Eve.

Step by step, finding love in life is quite complicated. It is not going to be that easy with magic even while the Summer Solstice. Before midnight write the name of the person you love and yours in a paper. Bend it, names inside must be one in front of the other. If you don't know of any name just write 'Soul mate'.
The next step is boiling water and adding the following: 12 red rose petals, ginger and same parts of Lavender, Verbena and Yarrow. Once mixed let it cool and put the water inside a spry (one of those used for plants is good enough)
Just before midnight spry your bedroom with the water made. Place the paper with the names you wrote under the pillow and finally light two red candles. If you made everything correctly you will have a prophetic dream about your true love.
By the way, be careful with the candles, do not put it near objects than can fire. Special attention to open windows and air streams, it can be dangerous with a flame at night while sleeping.
Have you made any of those rituals and have they worked? Are you ready for the Night of San Juan?
Comparte este artículo: