Looking for the best costume for Halloween? You're in luck, we're going to propose the best costumes, some are original, others terrifying and you'll also find fun costumes. I'll also tell you the origin of the costumes on Halloween night.
Halloween Costumes
Tonight is a good time for kids to have a blast trying to scare others with their terrifying costumes, but do you know the origin of the costumes on Halloween night?
Halloween has its origin in ancient Europe, being the Celts who boosted this celebration. They believed that during this special night was when the world of the living and the world of the dead was at its closest point, even touching each other.
Imagine the ancient and superstitious Europe; they were afraid to go out because they could be assaulted by evil spirits. Those who dared to go out at night disguised themselves with the intention of repelling or confusing those ghosts.
Now that we know why we have to disguise ourselves in Halloween, we are going to choose a suitable costume so that no evil entity approaches us. Let's see below the most original costumes and some classics:
Simple and effective costume idea: Pirate
Pirates of the Caribbean movies turned the dreaded pirates into funny characters, why not become one of them and animate the party?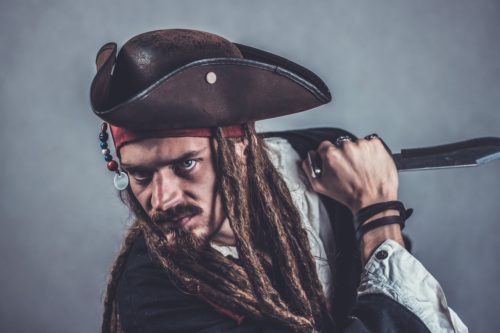 Rollercoaster Costume idea for groups
Very original if you plan to dress up with a group of friends, it doesn´t seem very complicated and you can make it yourself at home.
Costume idea of a famous cat
You probably already may know it… it's a pretty famous cat in Internet for its angry face and such a costume is easy to perform.
Couple idea in black and white for couples
Very original costume outstanding for simulating black and white with clothes of the 60s.
Zombie or vampire
Typical costumes which never go out of style and are relatively easy to do if you don´t want to complicate too much but feel like dressing up.
Costume of corrupt politician
And if you want to be a complete success you can distribute envelopes with money!
Not a very original costume idea though, we already have many of those…but still an option!
Disguise as video game character
Original idea and you can adapt your costume to a video game character with which you most identify.
Devil or angel Costume
It can be as complicated or simple as you want and is always a hit at parties.
Witch costume
These costumes are always present in any Halloween party and are very easy to perform.
Dress up your pet
If you have a pet which also likes celebrating, you can also disguise it to be the centre of attention, this year are fashionable the costumes spider-dog or pirate-cat.
Facebook profile costume idea
Another original costume idea this year is going Facebook as profile … very easy and convenient.
Most popular costumes in 2019
The list below are the most popular costumes in the United States for 2019. You can use it as inspiration for the Halloween Night.

IT: This famous clown is back to Halloween.
Witch
Spiderman
Dinosaur
Clown
Fortnite
Chucky
80's
Unicorn
Rabit
Pirate
Mouse
Superhero
Toy Story
Princess
Doll
Siren
Demon
Ninja
Vampire
Cheerleader
Bear
Angel
Joker
Fairy
Pumpkin
Zombie
Princess Jasmine
Power Rangers
Batman
Dragon
Ghost
Star Wars
Wonder woman
Skeleton
Lion
Minnie Mouse
Maleficent
Sheriff Woody
Oz
Shark
Grey Wolf
Minecraft
Powerpuff Girls
Mickey Mouse
Buzz Lightyear
But if you are in Malaga…do not worry, that list is related to the most demanded costumes in United States, so maybe that list can be used as inspiration (source: https://frightgeist.withgoogle.com/)
Scary costumes are also always demanded in Malaga, last year I could see some from the popular video game Silent Hill…and it is supposed that costumes are intended to ward off evil spirits and what a better way than scaring them.
Remember to visit our other post on terrifying Halloween events in Malaga so you can go and show your costume.
Comparte este artículo: