On October 31 arrives the terrifying night of Halloween in Malaga. Do you have any plan? Malaga is ready and features events in which you can already register.
If you have not yet decided what to do, we offer interesting activities for both adults and children so prepare to survive the terror on Halloween in Malaga. Still without costume? Check the top costumes for Halloween and get ready!
The scariest night of the year approaches in Halloween, we hope you survive as we wouldn´t want to run out of readers.
Due to the amount of events I think it will be easier to locate a event near you with the index below. I will point out those that are updated or that already have scheduled events, although most of them will repeat as every year.
Halloween at the Historical Botanical Garden La Concepción
If you want to visit the Botanical Garden, perhaps would be a good time the night of October 31; full of frightening beings from the beyond waiting to give you a good scare among the darkest shadows of the garden.
If you go in disguise you can take part in a costume contest in three categories available: children, adults and groups. Don't you have a costume yet? Check the best Halloween costumes for this year.
There are plays that are performed throughout the year during the dates indicated, such as Halloween. These theatrical performances show us a history based on the past of this place; a walk in time with legends and magic. It is possible that they include more events as in other years, if you are interested it is advisable to call or send them an email.
Price for the guided visit is 18 Euros for adults and 15 Euros for children under 16 and members.
For reservations or information you just have to call +34 951 92 61 80 or email at botanicolaconcepcion@malaga.eu.
---
Scary night at the English Graveyard
This mysterious place is open for anyone who wants to venture at night and discover some of the characters brought from the darkest corners of the ultra-world and spread throughout the English Graveyard in Malaga. Are you brave enough?
This year 2019 brings us the "Great Halloween Game" with activities to make the history of the cemetery known to both children and adults. It is necessary to register for teams of 4 to 6 people.
Price: 25€ per team
Friday 27 and Tuesday 31 October: 7:30 pm to 11:30 pm.
Reservation: Booking online here.
---
Halloween in Malaga with children
Kids love Halloween in Malaga, dressing up is an activity with which they are comfortable all year round without the need for a special day.
When this day comes they are willing to go out disguised and enjoy activities or visit the houses in search of sweets with the typical trick or treat.
If you are with family during this night you might be interested in any of the following family events for Halloween:
In Theme Parks
Theme Parks like Selwo Marina in Benalmadena and Selwo Adventure in Estepona told us in past events the habits of animals as terrifying as tarantulas, snakes, piranhas, poisonous frogs or bats among others.
In the case of Selwo, they offer free entrance for children between 3 and 10 years old who are disguised between 15 October and 3 November; to do so, introduce the code "19HALLOWEEN" when making the purchase from their website.
Although children will have fun at any of the activities from this post, the attractions below and shopping centres might be of special interest for them. There will be special workshops and activities for them to have fun during these days.
Cablecar
Benalmadena cablecar will have a special decoration in both stations of the trip. Children between the ages of 3 and 10 in disguise can enjoy free admission by entering the code "19HALLOWEEN" when buying tickets from their website.
Sea Life
Sea-Life offer free entry between 10 am and 5.40 pm for those children under 10 years wearing costumes, they use to offer handcrafts and workshops around Halloween date.
Bioparc
Bioparc Fuengirola offers free admission to children between the ages of 3 and 9 who are disguised. There will also be a Halloween gymkhana with tests and enigmas on November 1st. To win the draws you must pay attention to the clues and have knowledge about nature. We do not know the dates and times.
Tivoli World
Tivoli World will also organize a special event for this night and "El Aquelarre" The official dates are the saturdays 12, 19 and 26 in October, also the Sundays 13, 20 and 27 of October, from midday to 7 pm. During those special days, the entry is free if you come with a costume.
Aeronautical Museum
Malaga Aeronautical Museum celebrates All Saints Day on 1 November from 10.00 to 2.00 pm. During this special day all the cabins of the airplanes will be opened and the families who come dressed in costumes will receive a gift. Don't forget to book a ticket for each plane you want to visit. Both entrance and parking are free. (Map)
Automobile and Fashion Museum
An afternoon of mysteries in this museum in Malaga from 7.30 pm on 31st of October. (Mapa)
---
Halloween in Malls
In the shopping centres you will find workshops and activities for children:
Rosaleda
Rosaleda shopping centre will organize a workshop for creating tenebrous baskets between 6pm and 9pm. (map)
On Friday 4 and Saturday 5: Workshops and visit of Batman from 6 pm to 8 pm.
Friday 11 and Saturday 12: Fun cooking with Halloween characters.
On Friday 18 and Saturday 19: Workshop "ghosts for Halloween" and visit of Malefica with Snow White from 6 pm to 8 pm.
Friday 25th: Workshop "Halloween Masks".
Saturday 26th: Puppet show with a Halloween theme.
Thursday 31: Witch make-up from 6 pm to 9 pm. Storytelling with Halloween stories at 6 pm, 7 pm and 8 pm, each pass lasts 30 minutes.
---
Malaga Plaza
Malaga Plaza this year brings us mysteries and prizes.

Registration is free and participants, in groups of 2 to 4 people, should look for clues, which will help them discover the secret behind the event.
The registration can be made until the same day at 7.00 pm.
The game consists of solving with skill clues scattered throughout the mall to finally solve the enigma. At the end, a prize draw will take place among all the participants who have answered correctly.
Address: Calle Armengual de la Mota, 12. (map)
When: 31 October, from 7pm to 9pm.
Registration here or at the mall on 31st at 19.00.
---
Corte Ingles Bahía Malaga
Corte Inglés de Bahía Málaga (2nd floor, map) offers free activities for children between 4 and 12 years old before Halloween.
Children must be accompanied by an adult.
When: Saturday 19 and 26 October, from 12 to 13.30.
Where: Toy Store Section (2nd Floor)
To register call 952 909 987.
There will be also other activities in other Corte Ingles shopping centres, like in Mijas or Puerto Banus in Marbella. If you are interested in any, just follow the links from this paragraph.
---
Malaga Nostrum – Malaga Factory
All the activities are free in this shopping center, let's see what they have prepared for Halloween from 6.30 pm to 8.30 pm.
Thursday 31st October
Catrina makeup and photocall for children and adults. In the main corridor of the shopping center.
Craft workshop where children will create bags and masks for Halloween. The workshop is in front of Fifty.
Halloween pinata with sweets for the attending children. This activity will take place in front of Fifty.
Friday, November 1
Handicrafts workshop in front of Tramas.
Storytelling from 6.30pm to 6.50 pm and from 7.30 pm to 7.50 pm in front of Fifty.
Saturday 2 November
Craft workshop in front of Fifty.
Gymkana "Treasure Hunt" for children. They will have to look for clues all over the mall until they find the treasure.
Malaga Nostrum (map) and more information on the website: https://www.malaga-factory.com/
---
Ikea Málaga
Ikea celebrates Halloween in style, especially for families. Ikea members will get succulent advantages, by buying a main meal, each child wearing a costume can get a children's menu*.
You'll find games, activities for children, magic school and many other secrets for them to have fun.
When: 31 October, 1 and 2 November.
Magic school
Thursday 31 October from 2 p.m. to 9 p.m.
Friday 1 and Saturday 2 November from 11 a.m. to 8 p.m.
*The children's menu will be available on Thursday 31 October, 1 and 2 November from midday to 9.30 pm.
The minimum recommended age for children is from 3 years old.
---
In Malaga city centre
Larios street in Malaga centre will be a meeting point for people with amazing costumes, a good place for walking with the family.
Soho district celebrates Halloween with workshops and activities for the whole family from 18:00 hours until 9.30 pm. From pumpkin making to storytelling or scary face painting and a costume contest. Free registration is required in Tomás Heredia Street, 7.
Alternative tourism, learn the most mysterious stories of Malaga in a guided tour of the city centre in late October, between Friday 26 and Wednesday 31. Information or booking at https://rutasmisteriosas.es/malaga/ or by calling 634221984. The price is 12 euros for adults and 7 euros for teenagers; Unfortunately it is only recommended for those who understand fluid Spanish.
---
Halloween at Pier 1 in the Port of Malaga
Halloween party with " Trick or Treat ", visit the participating establishments and get ready to get some candy.
On 31 October from 5pm to 9pm the dead, witches and ghosts will invade the Port of Malaga.
At 6.30pm there will be a costume contest that will reward different categories and a photo session. Categories for child, adult and families.
---
Halloween party in Parque del Oeste, Huelin and Parque Litoral
The area of the Carretera de Cadiz succumbs to the siege of ghosts and ultratumba beings. There will be a Terror Passage, workshops where faces are painted in terrifying ways, cooking workshops and other outdoor activities between 5.30pm and 9.30pm.
Where: Parque del Oeste (Map), Parque Huelin (Map), Parque Litoral (Map).
---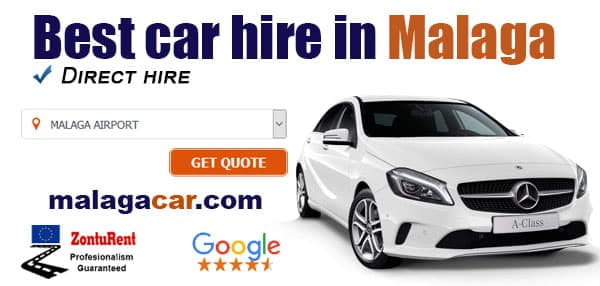 ';
Halloween activities and programs
In addition to discos and pubs with their themed decorations and costumes contests there are many other activities and programs . If this is not confirmed and you are interested, it is best to have a look at the official website of the town hall to know for sure the events they plan for the current year.
Terror in Torremolinos
The Plaza de la Nogalera in Torremolinos is enabled as a passage of terror next October 31, do you dare? There will be workshops for children, inflatable castles and costume competitions for all ages.  (Not confirmed)
When: From 5pm to midnight. (Not confirmed)
Musical performances: From 10 pm to midnight. (Not confirmed)
Passage of terror: From 8 pm and requires registration in the same square. Minors must be accompanied by an adult. (Not confirmed)
At the Inca Mill on November 1st at 6:00 pm  in 2019 they celebrate various events related to this dark night. This beautiful botanical garden will become one of the most terrifying places in the municipality for children.
---
Scary night in Rincon de la Victoria
At the Plaza de la Constitución you'll find a Halloween party with bouncy castles, wound and make-up workshops and much more fun. It will be from 5.00 pm.
From 8.00 pm you can visit the Mansion of Panic, a passage of terror for those over the age of 10.
From 10 pm to midnight there will be a big party with activities.
Shopping Centre Rincon de la Victoria
This year's Halloween celebration takes place at the mall on October 31st and November 1st from 5pm to 9pm.
Children in costume can participate for free for 2 hours. There will be crafts, costume contest, dances, horror paintings, terror passages and more.
This year's Terror Passage is based on Anabelle's character and is suitable for children from the age of 4.
Where: Multiaventura Parque Infantil del Centro Comercial de Rincón de la Victoria. (Map)
When: 31 October from 5pm to 9pm.
---
Halloween in Estepona
This year Estepona celebrates a Halloween night for charity. It is called "La Noche Negra 2.0" and takes place on October 31st from 7 pm in the Municipal Booth. (Map)
This event is open to people of all ages, a fun night to spend as a family and participate in a charitable cause. It has bouncy castles, painters, storytellers and two passages of terror, one for children. You can also buy food and drink.
Mundo Mania
This children's play centre celebrates a series of activities aimed at the youngest during this terrifying night. Tunnel of terror, facial makeup, costume contest, hot dogs and drinks.
This event will take place on 31 October from 5 pm and on 1st November from 3 pm to 5 pm.
10€ for children between 1 and 3 years old.
15€ for children between 4 and 12 years old.
10€ for children between 1 and 3 years old.
Free entrance for adults.
Prices include food and drink.
More information in English at: https://www.mundo-mania.com/events/
---
Velezween – Halloween in Velez-Malaga
With Velezween there are activities for everyone on October 31st and November 1st.
There will be the already known terrifying train at 8 pm, a terror passage, children's workshops with a Halloween theme and the projection of a film.
October 31st
5 to 8 pm in Calle Camino de Málaga
Terrifying Cooking Workshops (registration at saborestorredelmar@hotmail.com)
Terrifying makeup, crafts and scars workshop.
20.00 hours until midnight
The passage of terror as every year has 3 levels adapted to all audiences. How much do you want to scare?
Terror Train (Departure at Calle Cristo and arrival at Avda. de las Naciones)
Passage of Terror in the House of Associations.
San Francisco Market
7 to 11.30 pm – Registration for the costume contest
10.30 pm – Little Less Concert.
0.30 – Costume competition and prize giving.
Santa Magdalena Street (Casa de las Titas)
From 11 pm until 1 am there will be a scary journey through the Barrio de la Villa and into Santa María with horror stories and dark characters from Velez-Málaga's past.
November 1st
San Francisco Market
4 pm to 5 pm – Poetic Recital
5 pm-9 pm – Terror Cinema Marathon.
10.30 pm – – Live concert
Santa Magdalena Street (Casa de las Titas)
11.00 pm to 1.00 am – Night of the Scarecrows: The route of fear is repeated through the Barrio de la Villa and the interior of Santa María. Get to know the gloomy and terrifying past of this municipality.
---
Halloween in Torre del Mar
Party during the afternoon and evening of 31 October with activities for all ages. There will be parades, children's workshops and of course you can not miss the passage of terror.
7.30 pm – Children's entertainment on the southern section of Calle del Mar.
8.30 pm – Make-up with scars, handicrafts and more at Paseo Larios.
9.30 pm – Passage of terror in Paseo Larios.
9.30 pm – Parade through Calle del Mar, Calle Dr. Fleming, Calle San Martín, Paseo Larios.
---
Maroween, fear is everywhere in Nerja
In Maro, during Halloween night, you can find what has been called Maroween, a celebration in which every year they propose a good number of activities and concerts along the evening night of October 31.
In addition, there is the traditional Boniato (sweet potato) and Castaña asada (roasted chestnut) festivals.
October 31st
During this day there will be children's entertainment and performances by dance and music groups.
5.00 pm – Traditional market in Calle Real and children's show with make-up workshop in Plaza de la Iglesia.
5.30 pm – Look for the bat and get sweets at the Trick or Treat spots.
6.00 pm – Terrifying parade.
6.05 pm – Horrors Passage in Maravillas Street.
7.00 pm – Tasting of chestnuts and roasted sweet potatoes.
8.00 pm – Musical performance.
8.35 pm – Dj Toulalan.
9.30 pm – Awards ceremony for the best costumes for children and adults.
9.45 pm – Musical performance.
10.30 pm – Chotoween Sweepstakes.
Music and fun for adults continues.
1st November
During November 1st, they usually propose talks dedicated to mystery in which the national parapsychology society has participated in other years. (Understanding Spanish is required)
6.00 pm – Parapsychology workshop in the Salón de Usos Múltiples de Maro (Calle San Miguel).
This year the workshop deals with extrasensory perception and there will be practical exercises.
Maro-Nerja Bus
Bus service between Maro and Nerja from 5 pm to 2 am
---
Halloween in Churriana
In Churriana, all kinds of beings from the underworld gather. The neighbourhood of Las Pedrizas has been the chosen place for a most terrifying meeting. Beings from beyond the grave arrive to terrorise anyone who dares to walk its streets.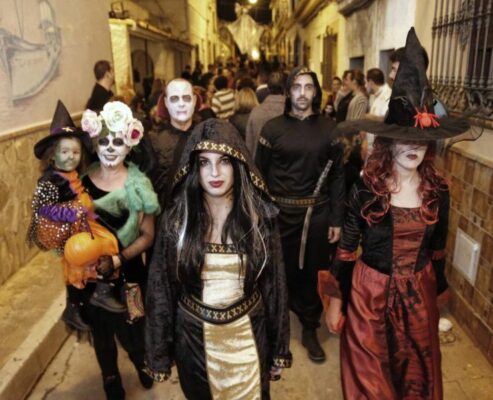 The municipality of Churriana is devoted every year on October 31st with concerts, horror stories, parades and many other terrifying activities.
A parking lot and night buses are available until 0.30 hours.
Program
The ghosts and beings of the underworld will be ready from 7:00 pm with the start of the Night of Terror.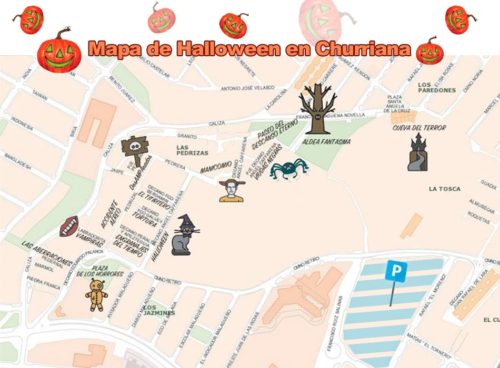 The car park is in front of the Churriana cemetery, from there you can go on foot in search of ghosts and creatures of the ultra-world. You can check the google map here: https://goo.gl/maps/azowALp63Az
---
Halloween in Mijas
There will be numerous family activities for those who want to spend a scary and funny day. Tenebrous workshops, bouncy castles and of course both Mijas Pueblo and Las Lagunas or La Cala will be decorated for the event. There is no doubt that both children and adults will enjoy visiting any of the areas of Mijas during this special night.
Schedule: From 6 pm to 10 pm on 31 October.
Where does Halloween take place in Mijas? Well, in the three main areas of the municipality:
Mijas Pueblo: At the Plaza Virgen de la Peña(Map)
Las Lagunas: Plaza de la Tenencia de Alcaldía (Map)
 La Cala: Plain in front of Supersol supermarket (Map)
This year the Children's Terror Passage will be available in Mijas Pueblo and La Cala de Mijas.
Halloween in Corte Ingles shopping centre
In the Corte Inglés de Mijas there are activities for children on 26 October from 6 pm to 7.30 pm.
You can also find activities in the Ludoteca Maravillas from 21 to 31 October from 10:00 am to 10:00 pm.
Address: CN-340, km 210. Las Lagunas, Mijas Costa. Mijas (Coast), Andalusia (Map)
Telephone: 952 669 100
---
Big Halloween party in Marbella
The old town of Marbella seems to have surrendered to the invasion of ghosts and beings from the world beyond during next October 31st.
The main places for activities will be Plaza de los Naranjos, Avenida Nabeul, Paseo de la Alameda, Plaza de la Victoria and Calle Caballeros.
In Marbella you will be able to find many activities for all ages, do you dare?
Plaza de los Naranjos
7.00 pm – Make-up and photocall workshop at the Town Hall door.
7.15 pm – Parade with vampires and werewolves through the streets of the old town.
Avenida Nabeul
6.00 pm – Animation for children.
7.00 ppm – Parade through the streets of the centre, fortune teller and make-up workshops.
7.00 pm – Labyrinth of Hell with passageways and dead-end streets.
10.30 pm – Magic show and special Halloween Circus.
Paseo de la Alameda
The activities at Paseo de la Alameda start at 7 pm. You'll find a Children's Terror passage with evil characters from some movies.
There are also inflatable Halloween castles, a free witch train and the parade that starts on Avenida Nabeul will pass through Paseo de la Alameda.
Historic centre of Marbella
There will be a Halloween information stand at Victory Square from 6.30 p.m. onwards, where you can find information about Halloween and the events that take place. Children under the age of 14 in disguise will be able to pick up pumpkins for free.
7.00 pm – Slime workshop at Africa Square.
8.30 pm – Terror Passage for those over 14 years old in the House of the Vampires at Caballeros Street.
---
Halloween in Puerto Banus
The Corte Inglés Shopping Centre of Puerto Banús in Marbella is holding free workshops for children on 26 and 31 October. It will take place in the cafeteria on the second floor, Halloween shop or Urban Decay on the ground floor.
26th October: Pumpkin emptying workshop from 5 pm to 6 pm.
26th October: Create your terrifying candy, from 5 years old. Requires confirmation on 952 90 99 64. Hours 11 am to midday.
31st October: Monstrous paintings from 5 pm to 6 pm. In the second floor Halloween Shop.
31st October: Terrifying science workshop from 6 pm to 7 pm. You will create potions and find naughty ghosts among many other surprises.
October 31st: Catrinas make-up workshop for adults from 11.30 am to 5 pm in the Urban Decay shop, ground floor.
Halloween Party for pets
The Puerto Banus-Triple A Room organizes this original Halloween party with live music, a hypnotist and comedian's performance and a raffle.
Tickets include a welcome champagne and appetizers.
When: Thursday 31 October at 7.30 pm.
Price: 20€ per person, costumes are not compulsory. Tickets can be purchased at the door or at the office.
Reservations at events@tripleamarbella.org or 622910214.
---
Halloween Night in Alora (Pending update)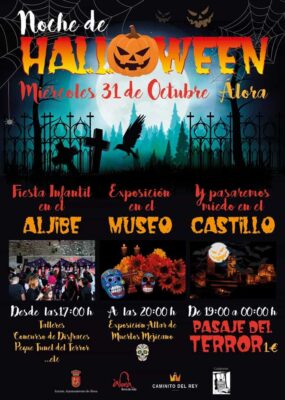 The municipality of Alora is also preparing to celebrate this night in style, there will be activities for all audiences on October 31 from 5:00 pm at Plaza Baja.
5.00 pm Children's party at the Aljibe
This party includes workshops, costume contests and a special Tunnel of Terror for children in addition to other activities.
The schedule is from 5.00 pm.
8.00 pm – Exhibition at the Alora Museum
Exhibition with figures, decoration and the well-known Mexican catrinas or decorated skulls.
7:00 pm to 0:00 am – Terror Passage in the Arab Castle
Get ready to feel the horror in the Passage of the Terror in Alora. It is located where the old cemetery.
The price of the ticket is 1€.
In addition, will be celebrated a party with games, workshops, storytelling and many other activities aimed at children from 6 pm onwards on the Friday before Halloween at the Centro Sociocultural de la Barriada El Puente.
---
Terror activities in other municipalities
Halloween in Benalmadena is celebrated in Plaza de la Mezquita with a 'terror passage' from 9 pm to 2 am. Price for the ticket is 1.5€ and it will be available from 31st October to 1st November.
In the Plaza de las Tres Culturas there will be a contest of costumes, make-up and shouts from 6 pm. There will also be music, food and drink.
Fuengirola celebrates Halloween at Plaza de la Constitución from 9 pm until midnight.
Cruz de Humilladero (Updated), district of Málaga, organises free activities for children and teenagers who want to have a good time from 6 pm on 31 October. There will be a "Trick or Treat" route, a cooking workshop, a gymkhana and a magic show, not forgetting a tour of the House of Terror.
Puerto de la Torre has a Terror Passage in Parque Artesanal from 8 pm until midnight. There will be make-up workshops, animation and a photocall.
Campanillas and Centro Cultural Beltrán de Lucena prepare their Halloween party between 8 pm and 11 pm. You will find scare workshops for children and a passage of terror among other terrifying activities.
Ciudad Jardín organizes in the Parque de la Alegría the Passage of Terror from 6.30 pm to 9 pm. In addition, children between 2 and 7 years old will be able to enjoy thematic workshops. There will be a costume competition and a Panic Mansion.
Do you know more events I forgot? Feel free to comment if you want to recommend it.
---
More ideas for celebrating Halloween
If you want to invite your zombie friends home, nothing better than a good brain cake. Browsing Internet I have found a tasty recipe, wanna try?
It is just an idea, there are many more ideas you can use, so feel free to suggest yours in our comments area.
For the brain recipe you can check this website:
https://howtocakeit.com/blogs/recipes/brain-cake-recipe
Halloween in Malaga, Andalusia and Spain
The growing interest in this celebration is unstoppable in Spain, especially in Andalusia and Malaga. Both show the largest number of Internet searches looking for upcoming celebrations.

Transportation
If you want to have fun without worries, then a good option is taking a transfer. For this I recommend malagatransfer.co.uk, but you can check many others transfers websites here. You can choose a vehicle according to your needs, in case you want all your family or friends to fit.
Another option is using your own vehicle, but remember not to drink, as there use to be many alcohol controls on road during the special dates.
For using public transport, please read our other guides.

Halloween and ghost stories
Paranormal activity looks like to happen more usually by the end of October or beginning of November…do you agree? Did it happen to you or anyone you know?
Some people also say during this night the living and dead world are closer…should we be afraid? Seems like not a bad idea to be, at least during the Halloween Night.
Finally, you can read more mystery and ghost stories that happened in Malaga.
Comparte este artículo: