If you are planning to come on holiday you might be interested in a list of places to visit and things to do in Marbella all year round. This list will be enlarged with your contributions, do not hesitate to recommend what you like the most about your visit in the comments or by contacting us.
First of all I will make a small introduction to Marbella, which you can expand in our guide.
The recommendations are accompanied by a link to the location on the map and a small summary of the latest opinions of its visitors, so you can get an idea of what you will find there. I also propose where to park your car; by the way if you are thinking to hire a car in Malaga, you might want to check our guide.
Introduction to Marbella
Located between Estepona and Fuengirola, Marbella is a cosmopolitan city. It is known internationally in part thanks to Puerto Banus.
Its climate is mild and it is protected by the mountains of Sierra Blanca, a great natural space. Together with its proximity to the coast they create a pleasant climate at any time of the year.
Regarding the accommodation you will find everything. If you are among the rich and famous in Marbella, you will be interested in visiting the Golden Mile with its prestigious coastal villas. If that's the case, don't forget to register your super-yacht in Puerto Banus. During the summer it is quite a busy place and your exotic car will match the Ferraris or Lamborghinis that usually are along the avenue.
In this article however I will focus on places that are accessible to the average tourist. If you want to know more about the city, you should visit our Marbella guide, from where you will have access to more complete information.
1. Strolling the Old Town of Marbella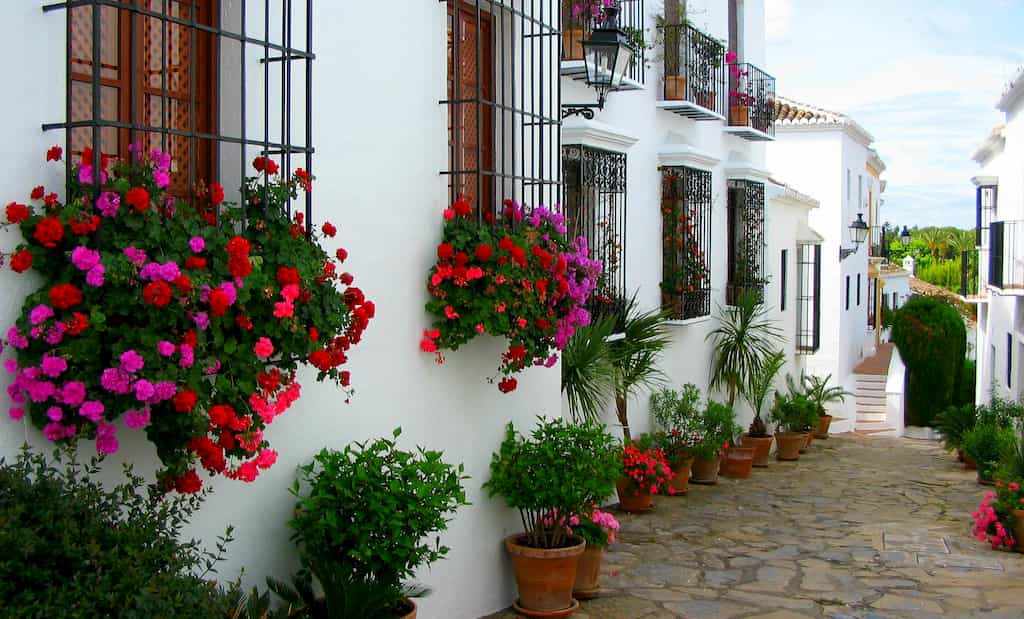 Narrow streets typical of the old Moorish layout and Andalusian architecture. We recommend a visit both during the day and in the evening. There are many bars, restaurants and terraces where you can have a drink.
You will find many shady spaces where you can rest during a hot day and the atmosphere is very pleasant.
The Naranjos Square (Orange Trees Square) and the Museum of Engraving are two of the places you should not miss when you visit this area of the city.
Where to park
If you are visiting the Old Town I recommend to try finding a parking place in the area of the Represa Park. There is a public parking here and according to the comments there is quite a lot of vehicle rotation.
From this area you will be able to walk to almost all the places we recommend in this article. I will also tell you about closer parking places if there are any.
If you don't find parking here you can try with the paid parking at Avenida del Mar, in the centre of Marbella.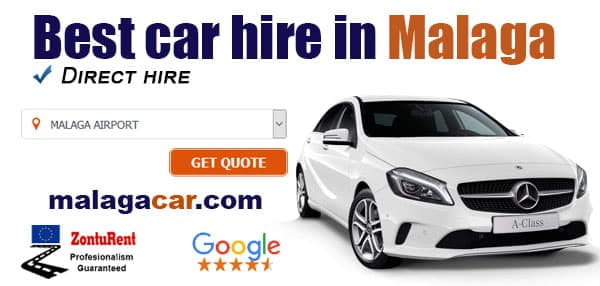 ';
2. Plaza de los Naranjos
Plaza de los Naranjos is one of the most emblematic places in the Old Town. It is an urban space since 1485, surrounded by the typical white houses and several historical buildings.
Being there you may wonder about the buildings surrounding the square:
Town Hall
The Marbella Town Hall is located in this building. Its style is Renaissance and it was built in 1568, although it has undergone transformations during the 20th century.
House of the Corregidor
A stately building from the mid-sixteenth century with Gothic and Renaissance elements.
Chapel of Santiago
A 15th century Catholic temple and the oldest religious building in Marbella.
The square is named after the orange trees that are located around it. This square played an important role some time ago, being the place where the prison was located, as well as the administrative and civil power of the city.
What to do at Plaza de los Naranjos?
Visitors usually enjoy the bars in the square where they can eat delicious chocolate with churros or tapas, although they point out that the price is excessive. In any case, they recommend your visit as much as we do. It is a unique and refreshing space in the centre of Marbella.
Map: https://goo.gl/maps/hgXgJnNTQapxW6RFA
3. Alcazaba and Castle Wall
Next to the old town you can visit the Fortress, which has been declared a Site of Cultural Interest. It is in a very good state of conservation and its origin dates back to the 10th century, during the Arab period; although the base is built on Roman remains from the 2nd and 3rd centuries BC. (Want to know how much would cost to visit Malaga in Roman times?)
These walls once contained the nucleus of the city of Marbella. Today it is an occasional venue for live music concerts and other cultural activities.
If you visit the Old Town you can add to the list a walk along the walls and some selfies with them on the background.
What do visitors think about visiting this place?
Visitors highlight the emblematic place and its good conservation, as well as the pleasant views from the Church of the Incarnation. It is a perfect place to take a few photos.
If you take a look you will see the remains of Roman columns.
Map: https://goo.gl/maps/wXrFi5CPYkgF6cpn9
4. Engraving Museum
The Contemporary Spanish Engraving Museum was opened in 1992 in Marbella and is located in the heart of the Old Town. It is situated in the old Bazán Hospital; built following the civil renaissance architecture of the 16th century.
The building itself is a Cultural Heritage Site and is listed as a monument. Currently the museum's collection includes more than 4000 works and carries out many activities, from exhibitions to printmaking awards and workshops among many others.
The visitors feature the interesting works of art and that the entrance is at an affordable price. The building and the location are also two of the things that catch their attention.
Location: Calle Hospital Bazán s/n.
Phone: 952 765 741
5. A walk through Represa Park
North of the Old Town and of the Castle Wall is the Represa Park, built in 1993. This park was built where the old Presa stream used to run; it has abundant flora and an artificial lake.
It is an ideal place if you decide to travel with a dog, since there is a space dedicated to them. Children will enjoy the playground and the animals in freedom, among which are turtles, fish, ducks and other birds.
How do the visitors rate it?
Visitors think it's a perfect place for a family walk or a drink. It's nice to walk around while listening to the birds singing and the sound of the water.
There is a small Bonsai Museum inside, although at the time of writing it is closed due reformation.
Map: https://goo.gl/maps/2bxdyGzT4JtpTfce6
6. Alameda Park
Located between the Old Town and the Avenida del Mar is the Alameda Park. A space where you can relax under the shade of the trees or take a walk through the beautiful vegetation.
This park was built during the 18th century in the centre of Marbella. It has many benches, shady areas and some activities for children.
What to do in Parque de la Alameda?
Those who visit it think that it is the perfect place for a little walk; it is also a pleasant place to go with children and enjoy the shade provided by the trees.
You can have an ice cream or enjoy a refreshing drink while sitting under the shade of a tree. Afterwards you can continue your way to the promenade or Avenida del Mar, which I write about below.
Map: https://goo.gl/maps/sqJrfFmqDPspVdp96
7. Art in Avenida del Mar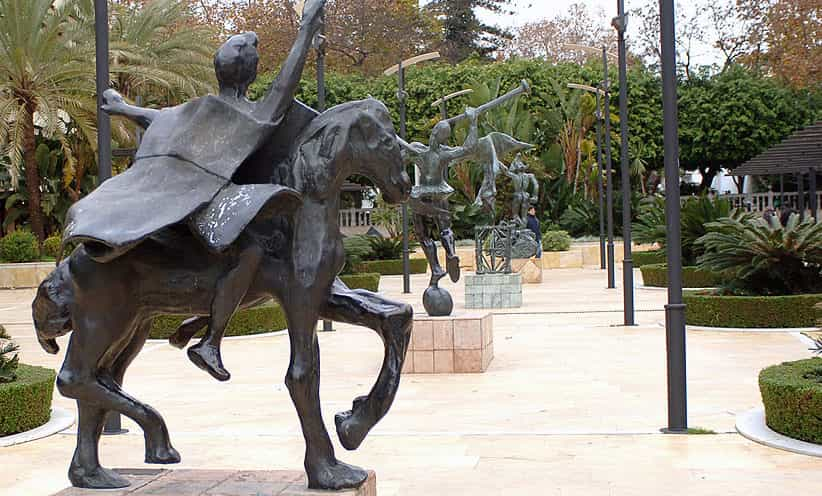 From the Old Town if you head to the promenade you will find Avenida del Mar.
It is a very lively avenue, with people walking around and terraces where you can sit and have a drink. The avenue acts as an open-air museum, as it houses 10 sculptures by Salvador Dalí; some artists choose this place to exhibit their works outdoors.
What to do at Avenida del Mar?
Those who visit it think that it is the perfect place to walk and enjoy art. You can have some selfies next to a sculpture of Dali or rest on a terrace while having a drink.
It is also the intermediate step until you reach the promenade, a perfect place for a walk.
Map: https://goo.gl/maps/Dp96juKj44sfi7qi9
Where to park
If you can't find a free parking space nearby, there is a paid parking lot under the same avenue that can be accessed from this link.
From this area you will have access to most of the places I recommend in this article until you reach the Port, otherwise I will specify a recommended place to park your car.
Another much cheaper option (1 euro) is to try your luck here. This is the car park indicated in the Old Town section, located next to the Parque de la Represa.
8. Marbella's seafront promenade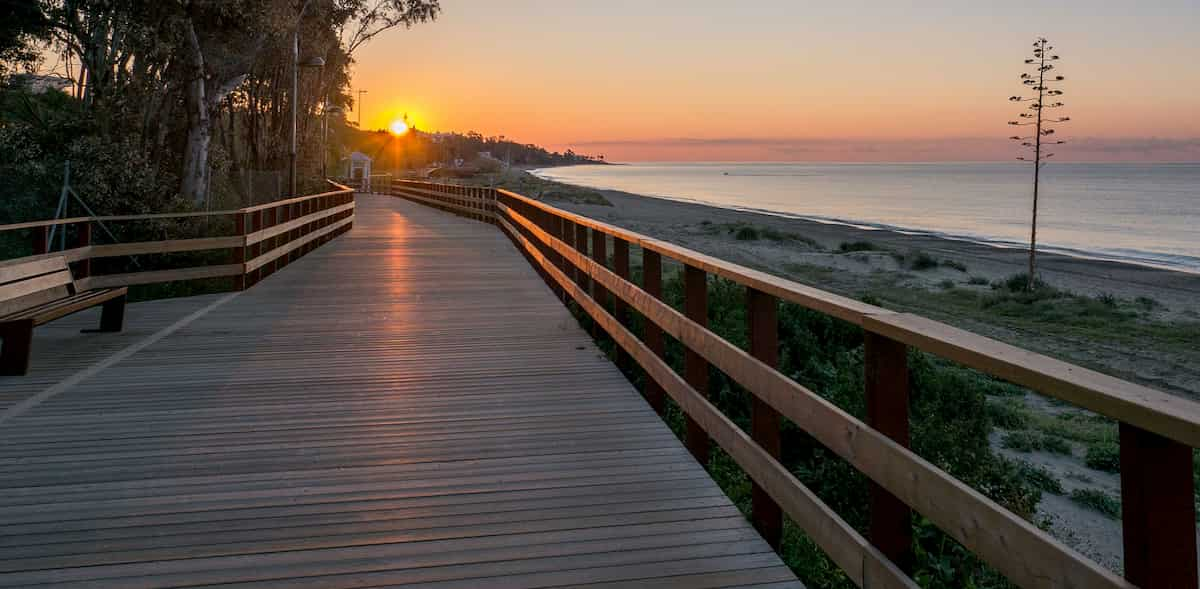 The seafront promenade is free and pleasant, especially at sunset or sunrise. Have you ever seen a sunrise over the sea? It's a sight that everyone will enjoy.
A walk by the shore is also a good idea, there is nothing like feeling the sea breeze and the waves caressing your feet.
The total length of the promenade is 17 kilometres from Marbella to San Pedro de Alcántara.
Many people choose to run at dawn along the promenade. It is a good way to exercise while enjoying the fantastic views.
9. Puerto Deportivo de Marbella
The Marina is a beautiful and charming place to walk or go for a drink in one of its bars. This is the last point of the first proposed route, as you will have to travel by car or public transport to the next place.
Eventually there are activities and events for everyone on the Terraces of the Marina.
In the surroundings you can take a picture of the Marbella Lighthouse or practice water activities on Venus Beach.
Map: https://goo.gl/maps/sysCG6CrB5pSesF86
What visitors say
They recommend going for a walk and highlight how beautiful and pleasant the place is. You will find luxury and they emphasize that during the weekends it is a very popular place, so it is possible that there are queues.
If you like to see big yachts and exotic cars you should not miss the opportunity to visit Puerto Banus, which I recommend a little further down.
10. Dunes of Artola
Walk in nature by the sea on one of the quietest beaches on the coast of Malaga.
In this natural monument there is a seafront wooden path that runs through the pine forests. Along this path you will pass the Sand Dunes, a naturist beach and the Artola Dunes Viewpoint.
What do people think of Artola Dunes?
Those who visit it say that it is a perfect place to disconnect or to run in the morning. Visitors love the fine sand and the cleanliness of the beach, although some complain about the overcrowding during the high season.
It can be an ideal place to enjoy nature while sunbathing, or to take a nice walk.
Map: https://goo.gl/maps/xZUr91qzgqZqJ23KA
Where to park
You can leave your car in the parking lot of Cabopino. From there you can go on foot to Torre Ladrones and the Artola Dune Trail. The car park is outdoors and is located here.
You are also very close to Calahonda Beach and Cabopino Port, if you would like to take a walk in the area. There are plenty of bars and restaurants for you to go and spend the day.
11. Torre Ladrones
If you go to Dunas de Artola it is possible that you will find this great defensive tower. In its day it was used for spotting enemies and today it is a great monument on the coast of Marbella. Ideal for a nice picture, don't you think?
What to do around here?
Visitors say it is the ideal place from which to start a walk with the family and that it is perfect for nature lovers. According to the comments read, you should bring your camera to immortalise the sunset from this place.
Map: https://goo.gl/maps/B1xNru4eV6XZzZpg9
12. Ralli Museum of Contemporary Art
Near the mouth of the Rio Verde, 6 kilometres west of the city of Marbella, is this free museum 50 metres from the promenade. It has a permanent collection and temporary exhibitions.
You can find works by Dalí, Miró, Seoane, Stanley…all courtesy of Harry Recanati, art collector.
It is possible to go on foot along the promenade from the city.
Opening hours: Tuesday to Saturday from 10.00 to 3.00 pm.
Entrance: Free of charge and it is accessible for disabled people.
What visitors say
They emphasize the free entrance and recommend getting lost among the works of art, which they find fascinating. If you like art, it is not out of place to visit this museum in Marbella.
Where to park
There is no paid parking in the area so you will have to find a free space to leave your vehicle or go on foot along the promenade.
13. Roman Villa of Rio Verde
If you like history you will love to visit the ruins of the Roman villa at the mouth of the river Río Verde.
You'll find the remains of an ancient villa with its flooring in fairly good condition; the culinary details in the main room are especially noteworthy.
The villa was abandoned in the fourth century after our era as the remains tell us.
What do the visitors think?
According to the visitors, the site is very well preserved and they recommend its visit. Visitors feature the state of conservation of the flooring and its culinary details; many of them found this place by surprise as they went down to the beach because of its proximity.
Map: https://goo.gl/maps/W2hMYNch3f1RJ57a8
14. Visit a Pre-christian Basilica
This Visigothic church preserves only the bases of its walls and is located in San Pedro de Alcantara. Its construction is very rudimentary with little specialised work.
It was built between the IV and VI centuries, before the Muslim conquest of these territories.
If you decide to visit the Pre-christian Basilica Vega del Mar in San Pedro de Alcantara, you will find a baptismal font carved in the shape of a cross and 180 tombs.
What do the visitors think?
Visitors find its location next to the beach and the baptismal font fascinating. They recommend your visit and advise you to read a little of its history. That said, if there is interest I will write an article about the history of this Basilica.
Opening hours: Thursday to Sunday, 11.15 am to 1.30 pm.
Where to park
You'll have to find a free parking lot in the area; check the map link above to find out how to get there.
15. Roman Baths Las Bovedas
Located in San Pedro de Alcántara is this archaeological zone that possibly formed next to the Basilica a Roman city or some kind of complex, according to the remains found.
Nearby is the Tower of Las Bóvedas.
Opening hours: Saturdays and Sundays until 10.00 to 11.00. It is especially open on Andalusia Day from 10.00 to 12.00.
What visitors say
They recommend your visit and emphasize the good conservation and the vaults. They also indicate that unfortunately it is complicated to access them because of their schedule and lack of indications.
Where to park
You'll have to find a free parking lot in the area and get there walking.
16. Have fun at Aventura Amazonia
If you want to have fun with children or friends, you can visit Aventura Amazonia. This is a theme park in Marbella where you can demonstrate your skills with games and zip lines from the trees.
The entrance fee allows you to do as many circuits as you want for 3 hours.
We highlight the 250 meter super zip line, the largest in Andalusia. Also, if you like to burn adrenaline, you will be able to do jumpings.
Also next to the park there is an interesting Garden Museum with all kinds of plants, highly recommended for your visit.
What do the visitors think?
The users of this place find the treatment and care of the park positive. Some complain about the queues during the high season, but hopefully it depends on the time and day.
They recommend it for both children and adults and highlight the great variety of activities.
Schedule: From 10 am to 6.00 pm – Consult link for more information.
Where to park
Around the park you should find free parking spaces.
17. Spend a day in Puerto Banus

You can't leave Marbella without visiting Puerto Banus. It is a very popular destination and known for its luxury and exclusivity. Puerto Banus is perfect for visiting brand name shops like Versace, Ralph Lauren among many others.
If you like the nightlife, you will find exclusive clubs like Pangea or Seven with good reviews.
What to do in Puerto Banus?
Those who visit it think that it is an ideal place to stroll and watch the yachts. They also point out that it has a good beach of fine sand. It is an option to take into consideration if you want to sunbathe or take a bath in the sea.
They recommend it for a drink, to go shopping or simply to go for a walk and spend the day.
Map: https://goo.gl/maps/dUTJbTTJLjpFXXxy9
Where to park
There are many streets around Puerto Banus where you can try to park. During the low season I don't think it's too complicated to find parking; in high season you can always use the Parking Saba in Camino de la Ribera (link)
18. Meeting with nature in Marbella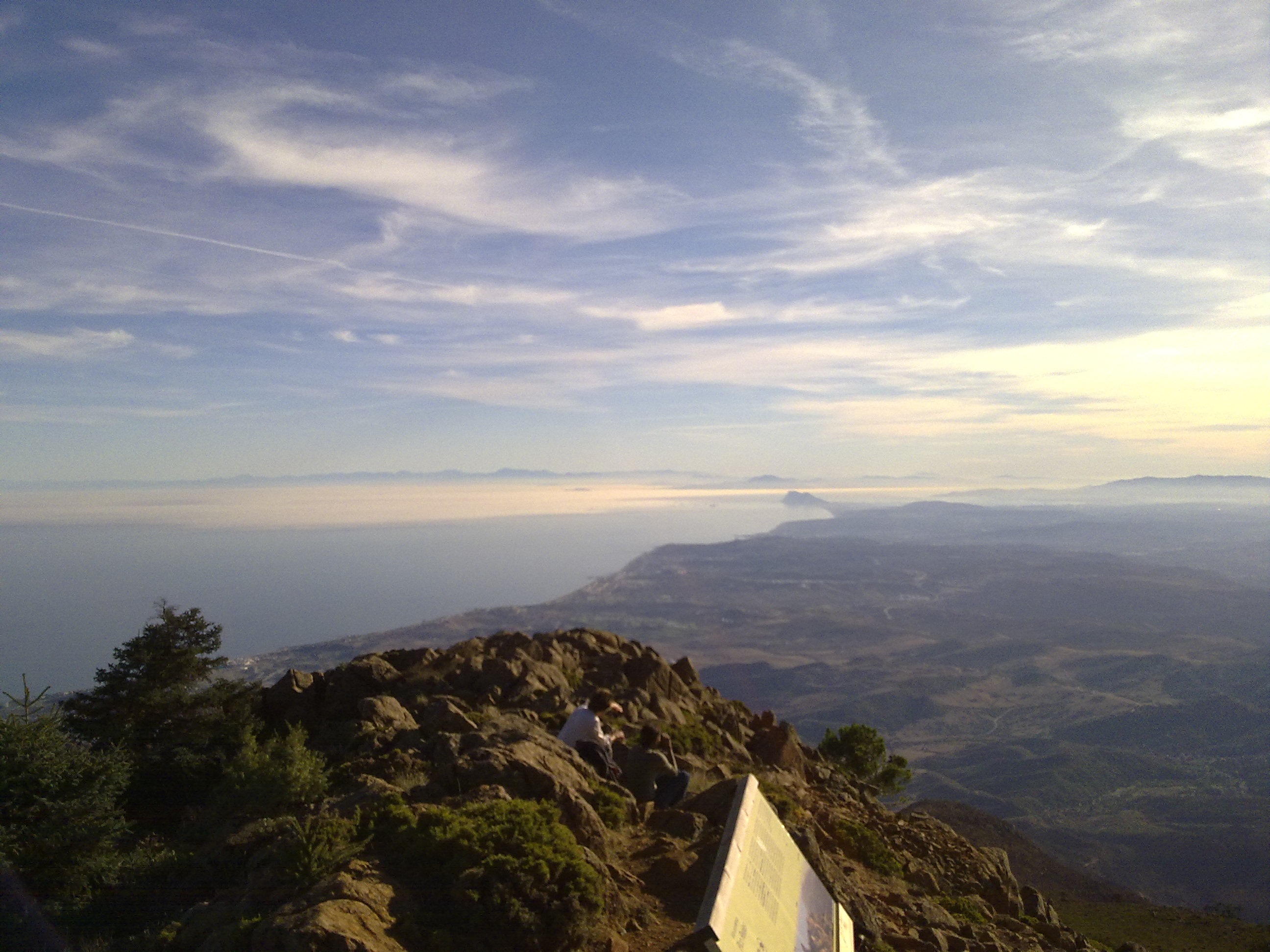 The village of Ojen is worth a visit, but you can also access the signposted path "El Juanar" in Sierra Blanca from there. This path is of low difficulty so it is suitable for most visitors.
The best views of the coast of Marbella from Sierra Blanca are from two viewpoints. (https://goo.gl/maps/hFVyYiJsM8RzHLL6A)
One way walking: 1 hour and 15 minutes
What do the visitors think?
Visitors tell us that they found spectacular views and that it is the perfect place to take a few pictures. Ideal for a quiet walk while enjoying nature.
Where to park
If you stay at the Hotel El Refugio del Juanar, you can park at the same hotel and walk from there. Otherwise, you will have to pass the detour to the hotel and continue until you find an open space where you can park your vehicle.
19. Enjoy the nightlife in Marbella
If you're looking for fun at night, you'll have plenty of options at your fingertips. We can highlight the exclusive clubs where dancing and drinking. You will however, be able to find some that matches your likes as there is enough variety.
Olivia Valere is one of the most popular entertainment venues at night. They organise many events throughout the year.
If you are looking for exclusivity during the day, perhaps one of Marbella's well-known beach clubs is what you are looking for. Nikki Beach and Ocean Club are two of the most popular and exclusive clubs, although there are a few more.
For more information you can visit the Marbella nightclubs or the leisure clubs in Puerto Banus.
20. Walking around Marbella in 4k
If you want to walk around Marbella but you can't, here is a high quality video that will make you feel as if you were visiting it in person.
As you can see the video is recent and made after Covid-19, because of the masks people are wearing.
And what do you think of Marbella?
We would like to know your opinion and the places or things you recommend to do in the city. I am sure you will have great recommendations for future visitors.
I will compile the suggestions I receive here with special mention. Whether you send them by mail or to our other blogs in different languages, I will share them across all of them.
Finally and for completing your reading you can check some photos of Marbella here.
Comparte este artículo: