Andalusia has attracted over the last decades artists, royals and dignitaries from around the world, including some linked to the White House as the Clintons.
The former presidents Jimmy Carter and George Bush or the former first lady of the United States Jacqueline Kennedy, visited places like the Alhambra in Granada, the April Fair in Seville and the Costa del Sol.
Tourist boom in Costa del Sol
Back in the year 1965, in the establishment of the Costa del Sol as a tourist destination. Senator Edward Kennedy and his wife visited Marbella invited by Prince Alfonso Hohenlohe.
By that time the Costa del Sol was a fashion destination for the celebrities. Brigitte Bardot o Ava Gardner among many others choose Malaga for a break and thus many others followed them afterwards. Hollywood focused in Malaga and many actors would choose Malaga as a favourite destination.
Michelle Obama is another celebrity who spent with her daughter Sasha and some friends a few days of vacation in a luxury hotel in Benahavís, a municipality near Marbella (Málaga).
The tourism corporation says that this choice is not random, but answers to the quality and safety of the destination.
Marbella was for many decades a popular resort for celebrities. It experienced its zenith during the years in which King Fahd of Saudi Arabia, with a large entourage of 2,000 people, had here his annual summer residence.
Since the death of the king the Arab tourism has been, however, oriented more towards Dubai. However this may change now, not only Michelle Obama was a guest in Marbella, but also Sheikh Abdullah Al-Thani, the nephew of the Emir of Qatar, who is interested in various local investments.
The summer in Marbella therefore is becoming very interesting and the presence of these personalities from both the eastern as well as the western world will certainly arouse a new interest in Marbella as an international world-class resort.
Some more celebrities visiting Marbella
Many more celebrities visit Costa del Sol every year. Some of them like Tom Jones and Michael Jackson visited Marbella for live concerts. In addition Michelle Obama,  Kate Moss or Eve Longoria among many others were found enjoying the beaches or strolling the streets.
Some famous people less known in this country benefit from the anonymity in Malaga and enjoy a quiet holiday. However sometimes a fan discovers them with a selfie as proof, this did happen to Samuel L. Jackson in Fuengirola.
On the right photo you can see famous Bruce Willis strolling Marbella old district. I don't know exactly about the place but I bet it is near 'Plaza de los Naranjos'.
Other popular celebrity like Tom Cruise filmed in Marbella some scenes from the film 'Knight and Day'.
Celebrities living in Marbella
Many celebrities arrived to Marbella for some holidays. Some of them loved it much enough to even buy a residence:
Sean Connery built 'villa Malibu' next to the sea, however he ended moving to Bahamas.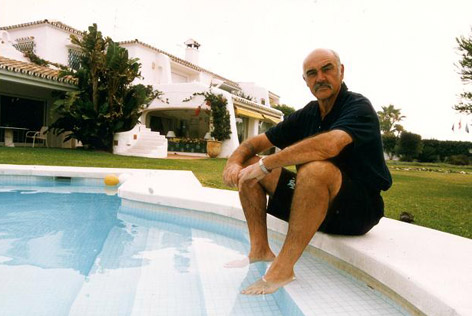 Simon Cowel, from 'Mr. Nasty' TV show, bought a villa in Sierra Blanca, Marbella.
Antonio Banderas who decided to buy his home in Malaga, next to the Alcazaba.
Vladimir Putin built a 'very modest' second residence as you can see in the photo below: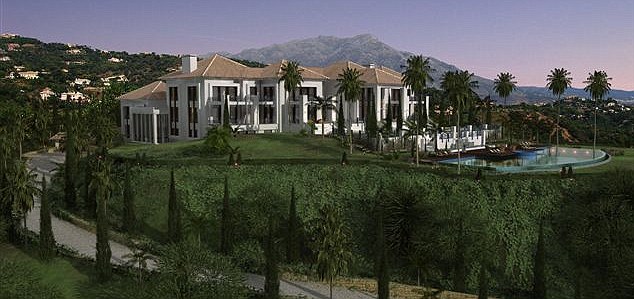 There are many more celebrities living or visiting Marbella and the Costa del Sol every year. Seems like they love Marbella for a reason, do you want to find it out?
If you have a big budget like these personalities you might want checking our guide about beach clubs in Marbella, prices might be expensive if you are not coming in private jet, yatch or exotic car.
Comparte este artículo: