Beach clubs in Malaga
The up-market non-locals are increasingly looking for a little more modern-day sophistication and in fact, Marbella has gained notoriety for being one of the most luxurious destinations in the world and sumptuous beach facilities are on the increase.
The Beach clubs in Marbella have been consolidated in the Costa del Sol as one of the favorite places for the international jet-set crowd and the very rich and famous to enjoy the summer in an exclusive environment with a distinguished service, chill-out music, cocktails and sushi… Treatments, yoga, massages and other health and beauty options… and a cosmopolitan party mood by night.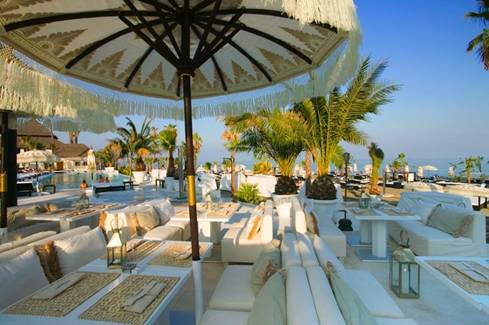 Beach Clubs offer their distinguished guests sheer and stylish luxury, fashionable, trendy crowds, designer sun beds, fine restaurants and endless exuberance.
Not necessarily you need to have a long vacation to enjoy. Increasingly popular are also the "City breaks" during a weekend.
Given the well developed infrastructure along the Costa del Sol, this purpose is quite viable. Marbella is located 60 km from Malaga airport, with which it is connected by a direct bus shuttle, or for major convenience Malaga airport transfers picking you up at the airport and one hour later and you can enjoy the Mediterranean breeze and a Cocktail or a massage...whatever appeals to you.
If you want to utterly spoil yourself, check out the following Beach Clubs:
Marbella Beach Clubs
Below are the most exclusive beach clubs in Marbella and Puerto Banus:
Suite del Mar
Situated on the beach front with wonderful sea views in a tropical and sophisticated ambiance, next to the Hotel Puente Romano in Marbella. At night Suite del Mar converts into a nightclub with a blend of R&B and Latin House.
The Beach Club opens the summer season in June and is one of the most popular openings of Marbella next to Nikki Beach and Ocean Club.

Buddha Beach
Located in walking distance from the Marina of Puerto Banus, the club is easily accessed from the beach or the main highway. Famous events of this Club are the legendary Lime Light Party, the Pink and White Party and the Love Juice Party.
Further information at www.buddhabeachbanus.com
Nikki Beach
Situated in Elviria, Marbella, Nikki beach is synonymous with luxury and sophistication and one of the hotspots for celebrities and celebrations. As the sun sets Nikki Beach becomes one of the best party scenes in Marbella.
The club holds events on a regular basis. In May are held as well a Hawaiian Party, Night Club Party, Moroccan Charm Party and all Sunday Soiree.
Further information about Nikki Beach
Puro Beach
Located in Laguna Village, a brand new stylish Asian inspired shopping center located directly on the beach between Marbella and Estepona. The beautiful setting invites for relaxation; practice some Yoga or dance the night away to music from the resident and guest Djs.
Further information at:
Ocean Club Marbella
Ocean Club Marbella is one of the largest and most exclusive in Europe and offers pure luxury on 9,000 m2 (see as well our article), situated in walking distance from the Marina of Puerto Banus.
Further information at :
Marbella beach clubs in Puerto Banus
Official Marbella website with information about beach clubs in Puerto Banus and Marbella.
marbellaexclusive.com beach clubs information
Don't forget to share!