The Port of Malaga is a stopover on many luxury cruises and super yachts sailing in the Mediterranean. These cruise ships and mega-yachts, unlike mega cruise ships (as Symphony of the Seas), do not carry thousands of passengers, so those who travel on these ships generally have a high income level.
Have you ever wondered what luxury cruises or superyachts are like? Are you planning to travel in one of those luxury cruises?
Wind Star Cruise
The Wind Star is a great 4 mast sailboat that has all the comforts that any traveller needs for a pleasant cruise in style. There is a restaurant, library, spa, fitness centre, casino and even a swimming pool with bar among its services. Other sailboats of this company are the Wind Spirit and the Wind Surf.
The WindStar sailboat will visit the port of Malaga up to 17 times during 2018. Another of the company's ships that was already in Malaga during the year 2012, was the'Wind Surf'.
Curiosities of the cruise
Windstar has a capacity of 148 passengers and 101 crew members. The cruise ship is registered in the Bahamas.
If you want to have dinner under the starlight, you just need to reserve the space in advance.
The cruise ship has a platform from which you can enjoy water activities.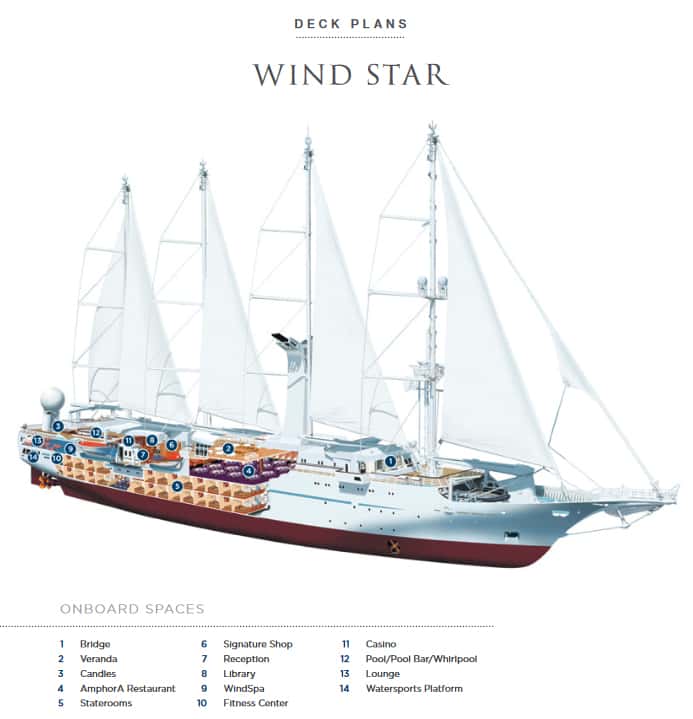 Features
As a good luxury cruiser, you won't lack anything in your cabin. There are two types of cabins inside this sailboat, the most exclusive one has 220 square meters for your enjoyment, a size that is even larger than my house.
Queen Size Bed
Flat screen with DVD player (no Blu-ray in 2018?)
Safe box
Telephone
WI-FI Payment
Flowers and fruits
Private bathroom with hairdryer
The price is between 2000€ and 5000€ per passenger.
https://www.windstarcruises.com/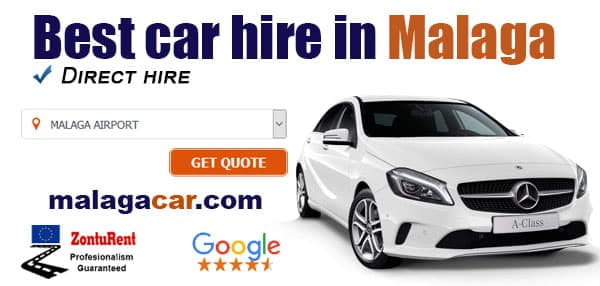 ';
Ocean Majesty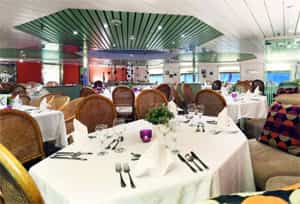 The Ocean Majesty is a veteran cruise ship that has aged well with time. It was built in 1966 in Valencia to operate as a ferry, although it was eventually refurbished as a cruise ship, currently registered in Greece.
It has a largest capacity of 621 passengers in 274 cabins and space for 257 crew members. There are 185 cabins with outdoor views and 16 suites. All cabins have air conditioning, shower, satellite TV, safe and mini bar.
The dining room does not have windows, although it does have an attractive retro look.
It has musical and magic shows, among others.
There is a small gym and a sauna.
The last renovation of the ship was in 2012.
Among the customers' opinions, the great friendliness of the crew and the cleanliness of the boat stand out.
The average price is between 1500€ and 3400€ depending on the route chosen.
It is expected that during the year 2018 the cruise will visit the Port of Malaga again during the month of September.
https://www.majesticcruises.gr/ocean_majesty.html
Seadream II
Seadream II is the cruise chosen by those who want to discover the world's most select ports in a luxurious and personal atmosphere. The crew of this ship attends in a personalized way to the 113 passengers that can accommodate the ship.
The cruise ship is registered in Oslo and has a base port in the city of Malaga.
The chef will prepare dishes with fresh products bought in the markets of each port. This is something that cannot be done on mega cruise ships with more than 2000 people on board, but it has a price.
The slogan of this cruise is "sail on your own yacht", it is intended that the passenger feels as if he were on his own boat.
Features
This cruise ship has 4 types of cabins. The smallest one is 18 square meters while the largest one has 42 square meters and 2 private bathrooms with bathtubs. All cabins have ocean views.
Among the curiosities of this boat is a Nespresso machine in each cabin. The cabins are very luxurious with a wooden decoration.
There is a swimming pool, jacuzzi, bars, main restaurant and buffet-restaurant.
Balinese beds and hammock area for sunbathing.
Spa and gym.
Library and Internet room
Activities on the sea: kayaking, skiing, canoeing, etc….
Casino.
The price ranges from 3000€ to 6700€ for a basic cabin.
Those who have no financial worries can book the Owner's Suite for as little as €17,000 on a 7-day cruise. If you think it's expensive, continue reading, it's what a cheap super-yacht costs a day.
No doubt after watching the promotional video you want to live on the boat:
It is expected that during 2018 the Seadream II will make up to 6 stops to disembark and pick up passengers at the Port of Malaga.
If you want to show the world your purchasing power, you don't have time to spend the money you earn monthly or the money burns in your pocket you may be interested in renting a yacht with its crew.
Rent a private yatch: Superyachts, megayachts or gigayachts?
It is quite common to see superyachts and megayachts docked at either Puerto Banus or Puerto Marina, consequently with a luxury sports car parked in front of them.
If you want to show the world your purchasing power, you don't have time to spend the money you earn monthly or the money burns in your pocket you might want renting a superyacht.
Why share a cruise with strangers? In Puerto Banus and Puerto Marina in Benalmádena I have been able to see some of these superyachts for rent.
How much does it cost to rent a private superyacht?
The price is undoubtedly popular (among the rich people), for only 650,000€ per week (93,000€ per day) you can have at your disposal a luxury megayacht with its crew. The space available is usually between 10 and 15 guests.
A megayacht such as 'Anastasia' will have all kinds of toys such as jet skis and another small boat inside.
This superyacht also has a gym, a swimming pool, a party room and a private cinema. When you pay such a large sum, it's not in the plans to get bored.
In addition other options such as the megayacht 'Silver Fast' for the same price include space for your vehicle or helicopter. At this economic level there are no restrictions.
¿What is the difference between superyachts, megayachts and gigayachts? The size matters!
Superyachts and boats for rent on the Costa del Sol
There are more affordable options you can find docked on the Costa del Sol. For about 64000€ per week you have at your disposal a superyacht for 12 people departing from Sotogrande, also from Puerto Banus for a small extra fee of 1200€.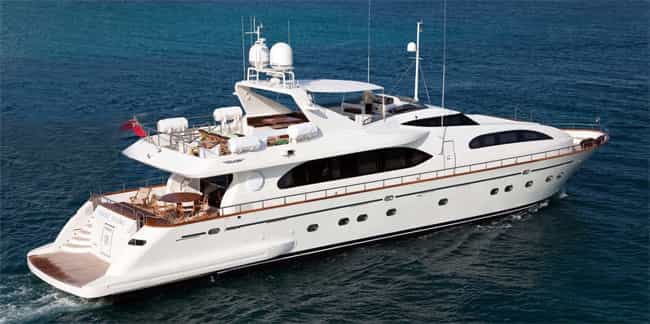 If you don't need that much space or your pocket isn't that big there are much cheaper and less glamorous boats that include the captain on board. Renting a zodiac in Malaga can cost around 350€ per day, a sailboat around 500€ per day, a small fishing boat around 170€ per day and a small yacht between 1500 and 5000€ per day.
Some boats like 'Junco Chino' in Benalmadena offer the possibility to rent it privately for about 1000€ a day. In the case of sharing it in any of their scheduled trips along the coast the price is about 18€ per person.
Luxury cruise from Malaga?
If you are planning to board a luxury cruise ship from Malaga or the cruise ship you are travelling on makes a stop at our port, you should consider visiting the city.
The port of Malaga is very close to the old town and the main monuments. I recommend you take a look at Malaga's main tourist attractions.
If you don't know how to get around and have limited time you can take a look at the means of transport you can book online:
If you can afford a trip on one of these boats I think the best thing to suit your needs is a private vehicle with a driver at the same level. You can choose the Luxury option and opt for the top-of-the-range models.
If you prefer to drive yourself you can rent a car at Malaga Port.  With the booking you can pick up the car and return it at the same port before boarding back. Needless to say, you can also book a top-of-the-range car if that's what you need.
So finally what are your thoughts? Feel like booking a luxury cruise from Malaga or maybe a mega-yacht for your holiday?
Comparte este artículo: