Benalmadena is a very popular destination during the summer months; its proximity to the beach, the centre of Malaga and its wide range of leisure activities make it a desirable place for those planning their summer holidays.
Benalmadena has a stable population throughout the year. Its three population centres are Benalmadena Costa, Arroyo de la Miel and Benalmadena Pueblo.
First of all we recommend the visit to the above mentioned 3 population centres. Each sector of Benalmadena has a unique and differentiated charm.
Read some curiosities of Benalmadena
First, visiting Benalmadena includes knowing a little bit about its origins and history; we will do it next with 2 curiosities, although there are many more:
Benalmadena Pueblo originated from a Muslim village with a wall and a fortress.
The history of Arroyo de la Miel goes back to an old farmhouse from the 18th century together with cardboard factories and other agricultural facilities. Its name comes from the large number of honeycombs that were in the area to obtain honey.
There are many interesting things in this municipality of the Costa del Sol, let's see below more than 25 things to do in Benalmadena.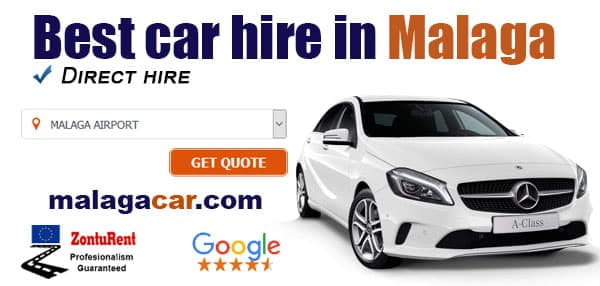 ';
Plaza de la Mezquita in Arroyo de la Miel
It is undoubtedly the most popular square and where most of the events and activities take place during public holidays in Benalmadena.
The square has shops and restaurants so that you can spend a pleasant afternoon. If you decide to travel with children to Malaga, there is a playground next to the square which is quite popular and has many activities.
You can check its location and other pictures in the following link: https://goo.gl/maps/TAA58iQb623BLUvJA
Plaza de la Tribuna in Arroyo de la Miel
A typical square that offers a welcoming atmosphere and from which you can walk and stroll through streets full of bars, restaurants and local shops. It offers a special feeling, refreshing during the summer and pleasant, so it is a recommendable visit.
The streets that surround this square connect it with Avenida Blas Infante and Avenida de la Constitución, two of the main economic axes of the town.
This square is perfect for strolling, it is crossed by a multitude of streets and its proximity to shops and places to eat make it ideal for spending the afternoon.
You can find it together with photographs and visitors' opinions in the following link: https://goo.gl/maps/iYTZtTnV9NiDquRG7
Get off at Pinillo train stop and walk to Arroyo de la Miel
If you plan to use the commuter train, you can plan to visit the surroundings on the same day. How about getting off at El Pinillo (Torremolinos) and walking to Arroyo de la Miel?
It is a quiet and relaxing walk, with shady places; a not very touristic and pleasant atmosphere. It takes less than 30 minutes to walk to Arroyo de la Miel, and to tell you the truth, it does not feel like a long walk; I do it often.
In this street you will find schools, private houses, the Benalmadena police station and many other businesses where you can stop for a drink, including chocolate with churros if it is still early.
If you want to know the walking route visit the this link.
If you want to extend the walk, I can recommend the following route for walking in Benalmadena. Although Google says it takes more than an hour, if you go at a brisk pace and are in good physical shape it takes considerably less. It includes walking from El Pinillo train station to Puerto Marina, passing by the Parque de la Paloma and finally arriving at Arroyo de la Miel.
Plaza de España in Benalmadena Pueblo
This square keeps the essence of a typical Andalusian village. White washed facades and a place where you can taste the typical Andalusian gastronomy.
This square is located in the most traditional environment of Benalmadena, very close to the Church of Guzman and a viewpoint.
In the centre of this square is the Statue of the Child, created in 1968.
You can consult its location and the restaurants of the area in the following link: https://goo.gl/maps/cAf3rJY1snyiTSZ46
Solymar Square in Benalmadena Costa
Right at the entrance of Puerto Marina is the Plaza Solymar, a central place with many shops and places where you can eat or drink.
It used to be the main nightlife area in Benalmadena, today it has more activity during the day.
Nearby there is a supermarket, in case you need to do some shopping.
You can check its location and nearby businesses at the following link: https://goo.gl/maps/drxaDKtTrbUMcv69A
Skate on the ice in Benalmadena
Arroyo de la Miel has an ice rink for skating all year round. It also has a swimming pool, organises children's camps, has a gym and personal training.
Whether you like skating on ice or want to learn how to do it, the Benalmadena Ice Club is a good option.
You can check the timetables, prices and other activities they do at the following link: http://clubdehielobenalmadena.com/
Walk through the Parque de la Paloma
This is an ideal park to go with the family and offers the visitor a pleasant walk in a natural area within the town centre. There are animals in freedom and others in semi-freedom.
Throughout the park you will find a large pond with ducks, swans and turtles in freedom.
The park has a play area for children, with slides, sand and swings. While walking you can see rabbits, roosters and chickens in the wild.
In the park there are several areas where you can have a drink or a meal.
The park is located halfway between Arroyo de la Miel and Benalmadena Costa. It can be reached on foot from the train station or from Puerto Marina.
If you go by car, it is advisable to take special care, because on the road around the park there might be wild animals.
You can find timetables, how to get there and more information in our section dedicated to playgrounds in Malaga. You can also visit the map to know its location in the following link: https://goo.gl/maps/qJo1EWe8RiGetbuC9
Buy something interesting at the Benalmadena flea market
It is located next to the Parque de la Paloma and Selwo Marina. A space where you can buy almost everything at a very good price.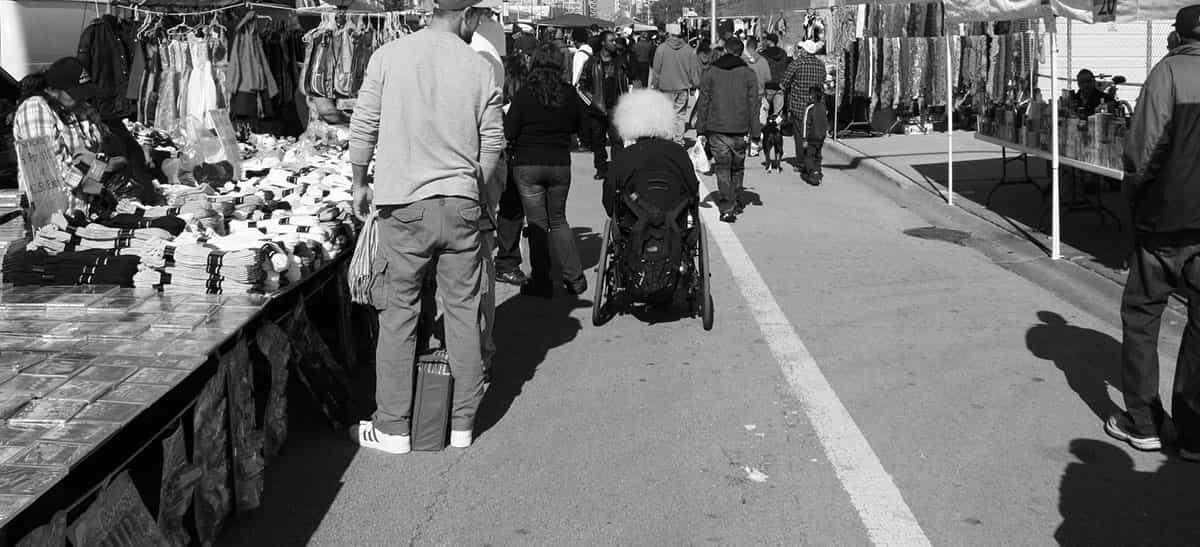 The opening hours are from 9 am to 2 pm on Wednesdays unless there is a change.
Visitors are recommended to visit because of the variety of articles and remember to take sun protection when you leave in summer, because of the high temperatures.
You can check pictures and other visitors' opinions at the following link: https://goo.gl/maps/TE9jHZ7HzXctApMH8
Play golf in Benalmadena
This golf course has 9 holes and beautiful views. It has a school for children and adults, as well as golf tournaments.
Because of its short number of holes and its difficulty it is a perfect course to train the short game. In only 1 hour you can play the whole course while you marvel at the wonderful sea views.
If you are interested in spending a full day on this golf course, you may be interested in eating at their Baboo restaurant. There is also a shop, a grass bowling alley, changing rooms and parking.
Visitors highlight the lack of crowds, the views and the great food.
To get there you can take the A-7 motorway, in any case you can visit their location on the map, as well as opinions of other visitors and photographs: https://goo.gl/maps/9NtRbU8NV8ZvKmv57
Another option is the popular golf course of Torrequebrada, which has very good opinions and you can find here: https://g.page/torrequebrada?share
Ride the Benalmadena Cable Car
The Benalmadena cable car connects Arroyo de la Miel with Monte Calamorro, where there are also many activities.
If you want to know more about the Benalmadena Cable Car, I recommend you to visit our main article. There you will find schedules, dates, activities and prices.
In the complex situated at the top of Monte Calamorro there are shows, astronomical activities during the summer and a restaurant.
Visitors can also enjoy the hiking trails that can be accessed from Monte Calamorro. The beautiful views from the cable car and its fast ascent to the top are also worth mentioning.
Consult how to get there, photographs and other opinions in the following link: https://goo.gl/maps/JZtkR85DEWfSJ1836
Feed the eagles
Once you have reached the top of Monte Calamorro after taking the cable car, you can attend a show of birds of prey.
This show includes a flying exhibition and is highly recommended for children, although it is also interesting for adults.
Find out more about its location and the opinion of other visitors here: https://goo.gl/maps/7qxWnV1iQJoeC6Jp6
Visit Monte Calamorro
It is 771 meters above sea level and although it is not the highest, it is the best known due to the cable car that connects it to Arroyo de la Miel. The biggest is Cerro del Castillejo with 967 meters above sea level.
The Cueva del Toro, discovered in Monte Calamorro during the 1960s, is the most important archaeological site in the municipality. It has cave paintings and was occupied more than 15,000 years ago.
In Monte Calamorro you will have access to the Mirador Sur, with impressive views of the Costa del Sol; there are also hiking trails with beautiful views and other activities for everyone.
You can find the location of all these places in the following map: https://goo.gl/maps/w83cSYSwXRpaco6TA
Visit the amusement park Tivoli World
The Benalmádena amusement park is a very popular space and has a multitude of attractions for all ages. Children will love this place and it has a fairly large car park.
In this amusement park you will find concerts, mechanical attractions, places to eat and many other shows. If you want more information, to know how to arrive, prices or the schedule, you only have to visit our article of Tivoli World.
A day of leisure in Puerto Marina
Shopping, boat trips, beach trips or eating out. You can do all of these things in Puerto Marina and it is a place that is highly recommended that you visit.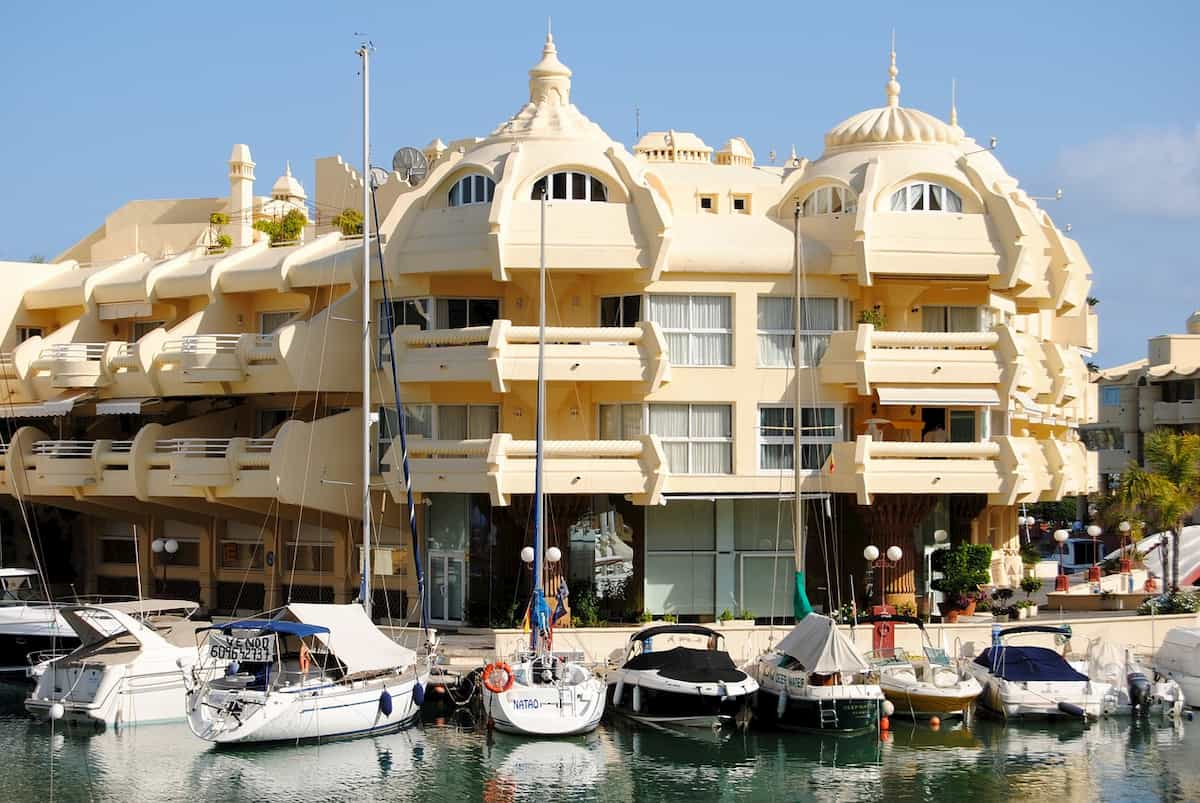 This marina, built in 1982, is one of the most beautiful on the Andalusian coast and has been nominated twice as the best marina in the world (1995 and 1997).
The history of Puerto Marina begins at the end of the 60s of the 20th century. It has been a place of leisure and the backbone of nightlife until relatively recently.
The port has several private car parks and two popular beaches with many water activities.
Take a picture from the Lighthouse
This is a privileged view of the Costa del Sol. A place to relax watching the sea and listening to the sound of the waves.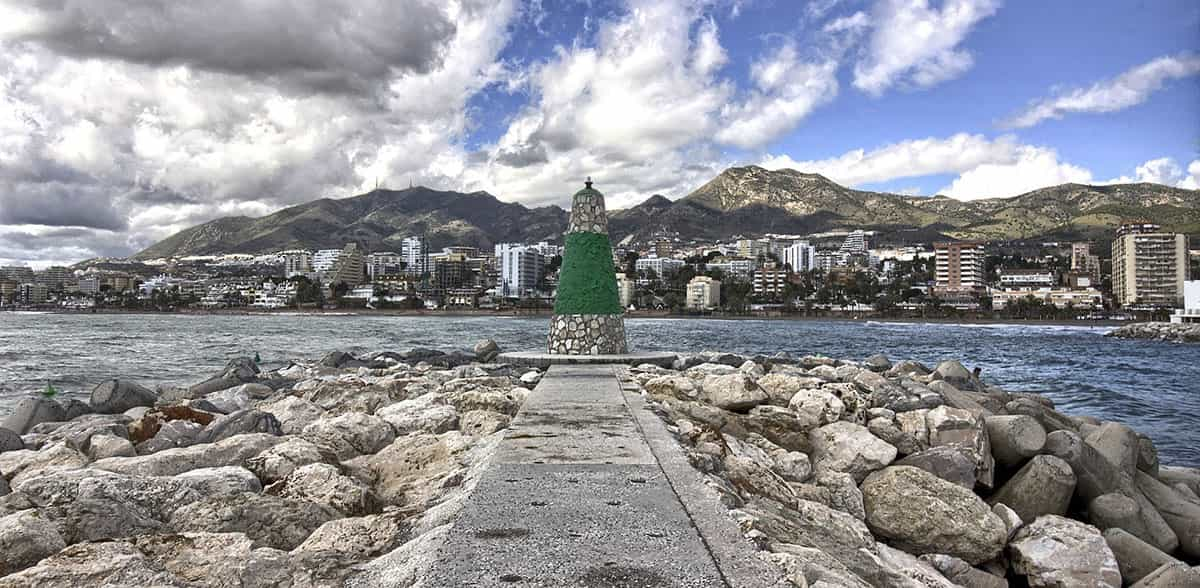 Along the walk to get here you will see various boats, some as emblematic as the Mississippi Willow; a steamer that was born in Mississippi and ended its days as a pub in this port of Malaga, although today is in abandonment and may not last much longer in that location.
This place is ideal to visit at sunrise or sunset.
You can find other opinions, photos and how to get here: https://goo.gl/maps/6s5YPbmydTTWPTRa9
Discover the marine life at Sea Life
Inside Puerto Marina you will find Sea Life, an aquarium specially designed for children. If you are visiting Benalmadena with children you might be interested in visiting this aquarium.
It has underground passages surrounded by a large screen; dive into the depths of the sea safely.
It has a timetable for activities, different aquariums and a very friendly staff.
You can learn more about Sea Life by visiting the link in our article or the following map: https://goo.gl/maps/ia6esThJ1i85x7bWA
Bet 1 Euro in Benalmadena Casino
This casino was built in 1979, being one of the first in Spain. It is currently one of the most popular in our country and has very good reviews.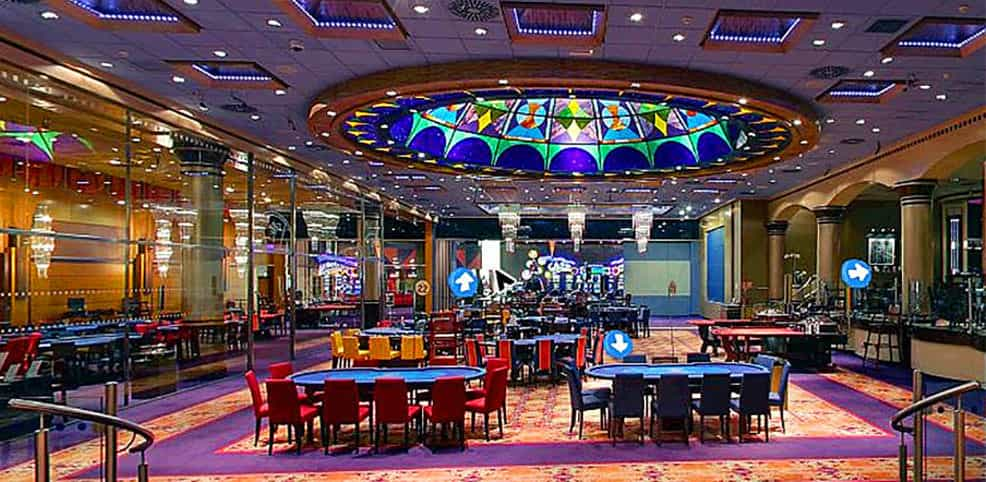 It also holds poker tournaments and has accommodation, bar, restaurant and live performances.
The bets for what I have been able to read range from 1 euro a game. Would you like to try your luck?
You can find other opinions and their location here: https://goo.gl/maps/iG5199FbxFcL1TTJ8
Visit Bil-Bil Castle
Whether you go to the beach in front of the castle or walk around the area, you will see a large Muslim-style building. It dates back to 1936 and is now a landmark in the municipality.
Its construction was intended to be the residence of the Hermann couple, who were never able to live there due to the outbreak of the Civil War. The couple returned to France and left their longed-for castle in front of the sea. An American family, the Schestrooms, bought the castle and lived there for 30 years, giving it its current name.
Later it would be acquired by Gerard Saintmoux, a mercenary from the Belgian Congo who had it in a state of abandonment. Finally it was acquired during the 80s of the 20th century by the city council.
It appeared in Boris Karloff's film shot in 1967, 'Cauldron of Blood'. (Blind Man's Bluff in USA)
Nowadays, weddings and official events are held inside it. You can check its location, more pictures and opinions here: https://goo.gl/maps/8zv5HrTAcT8UFumm8
A Dolphinarium in Selwo Marina
Dolphin shows, aquarium, exotic birds, penguinarium and different scenarios in this aquatic fauna park in Benalmadena.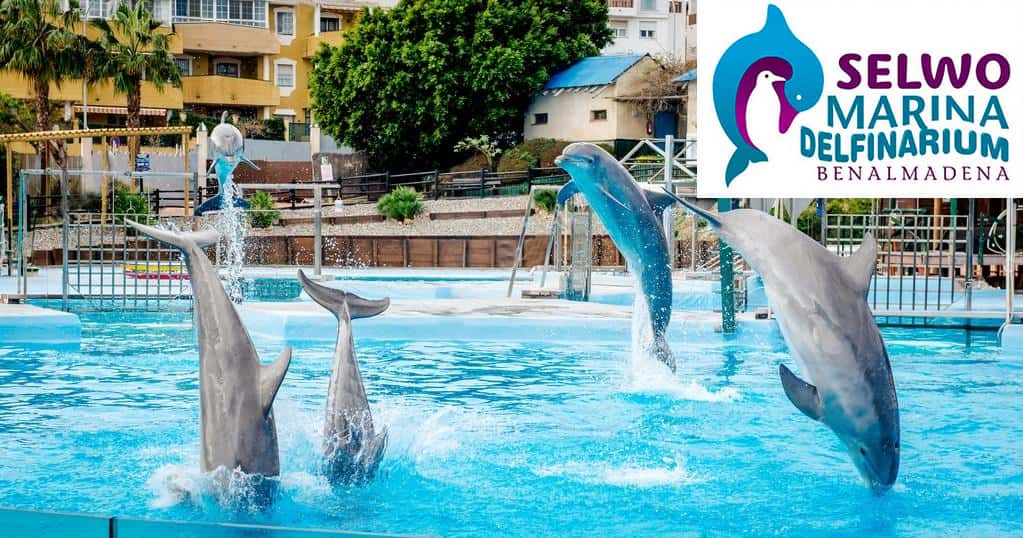 Selwo Marina is the biggest dolphin and ice penguinarium in Andalusia; it is located in Benalmadena Costa. To know schedules, prices and to find more information we recommend you to follow the link of our article.
You can find its location on the following map: https://goo.gl/maps/kkdkF588G1aehRUYA
Enjoy the beauty of the Benalmadena Butterfly Park
If you like the beauty of the nature, with flowers and exotic species of butterflies you can visit the Benalmadena Butterfly Parkl.
It is located next to the Buddhist Stupa, so you can spend a morning visiting both places.
It is a place that the youngest will especially like, so if you travel with children you may be interested in visiting this place.
Know the place, its location, opinions and more photos here: https://g.page/mariposariobenalmadena?share
Meditate in the Enlightenment Stupa
The largest Buddhist temple in the west is in Benalmadena. If you want visit the Enlightenment Stupa you will have to go to Benalmadena Pueblo; once you arrive, you will be able to meditate inside or with the wonderful views of the coast that it has from its viewpoint.
As a main feature of this temple, it has a meditation area inside. Outside there is a small car park and a viewpoint from where you can see the Costa del Sol from a great height.
There are weekly activities, so if you want to visit it and you are interested in reading more information you can visit our dedicated article or the map page, with more photos and visitors' opinions: https://goo.gl/maps/pu29MDQJGiMw6Yjs6
Visit the Hermitage of the Virgin of Lourdes
Retamar Park is special because of the activities that take place there. It is very close to the Buddhist Stupa and the Butterfly House, so you can pass by here when you visit any of the other places. In this park you can find the Hermitage of the Virgin of Lourdes.
During the Holy Week in Benalmadena, exactly on Good Thursday and Good Friday, takes place this representation called "El Paso".  The entrance is free of charge for watching the play which takes place at 11.00 in the morning.
The park has a surface of 7000 square meters and in the past the pilgrimage of Benalmadena was celebrated here.
Know its location on the map and more opinions here: https://goo.gl/maps/351EYrQ57sYkZGQY6
Take a selfie next to the Colomares Monument
This castle monument despite its appearance is of recent construction. It was built to tell the story of the discovery of the new world by Columbus.
The construction represents the 3 ships used and was built at the end of the 20th century.
Those who visit it highlight that it is an ideal place to take photographs. It is a castle-monument that also offers beautiful views due to its location. It is recommended to go with children, as they will have a good time.
You can find more information on the official website: http://www.castillomonumentocolomares.com/
Visit a museum in Benalmadena
The museum is located in Benalmadena Pueblo and has an important collection of pieces from Pre-Columbian America.
Its collection exposes the Mayan and Andean culture; the visitor will be able to know domestic articles of these two ancient civilizations in addition to other archaeological remains found in the town. There are pieces more than 5000 years old that show us the utensils of the first inhabitants of Benalmadena.
The entrance is free and has audio-guides in Spanish and English.
You can find more information on the official website or at the location of Google maps:  https://goo.gl/maps/toyE7Ex16cirejmS7
Make a selfie with each of the watchtowers in Benalmadena
In Benalmadena there are 3 watchtowers, you can get a selfie in each of them.  These towers were built near the sea in strategic places to watch the coasts and communicate with others by means of smoke signals.
Torre Bermeja: Located at the entrance of Puerto Marina. It is a Muslim construction probably from the 14th century that lost its privileged view of the sea after the construction of the Benalmadena marina.  (Map)
Torre Quebrada (Broken Tower): The tower retains its ancient name, according to 15th century writings. It was rebuilt during the 16th century and there were two guards inside for long periods of time watching over the coasts. (Map)
Torre del Muelle (Quay Tower): It is located near where there used to be a Roman quay for the transport of goods, very close to a Roman villa. This tower is not of Muslim origin, but was built after the Christian conquest during the 16th century. It gives its name to the local train station, which is located to the south of it. (Map)
Take a swim in the sea or dive
Benalmadena has 17 beaches of good quality. These are popular beaches of fine golden sand which are located in the eastern area.

If you are looking for quieter beaches, you can discover those beyond Torrequebrada. They are rocky and little visited beaches with crystal clear water, which offer a quieter and more relaxed atmosphere; they are also ideal for diving.
If you like naturist beaches, you will find Benalnatura the ideal place to go for a swim, as it is the only nudist beach in Benalmadena.
Read our guide of Benalmadena for more information.
Comparte este artículo: