Let's know more about the Enlightenment Stupa, the largest Buddhist temple in Benalmadena and Western world, but let me first add an introduction.
A couple of weeks ago, the good weather during the weekend invited for a relaxed stroll along the seashore; one of my favourite occupations on Saturday mornings when not visiting Benalmadena during my exercise routine of the weekends. This weekend was different, I had a drive through the highway A-7 for visiting a friend who lives in Benalmadena Pueblo.
While driving I let my eyes wander over the close by Mijas mountains; I could see in the clear weather even the golden cone of the Stupa in Benalmadena. I finally made my mind up to make a little excursion to that place before getting to my friend. The Stupa always catches my eyes when I am passing by, so this day was good enough as any other to visit it.
A Buddhist temple in Benalmadena
This Budhist temple in Benalmadena is on the viewpoint of El Retamar in Benalmadena Pueblo and overlooking the Mediterranean Sea with fantastic views.
The monument itself is beautiful; it seems that in Buddhist tradition this kind of monuments is normally sealed, but this one here has inside a large meditation hall. Here are being held all kinds of activities, lectures, symposia and courses in relaxation and meditation.
Downstairs there is another room with books and an exposition about Tibetan Buddhism. The whole thing definitely has something. I am not into Buddhism; nevertheless, I find it transmits some very interesting viewpoints, together with the Stupas privileged location, surveying the hustle and bustle of our daily existence.
There is a shop where acquiring handcrafted traditional Buthan pottery; all benefits from the shop are used for the conservation of this temple.
What is a Stupa?
The Stupas are primarily spiritual buildings which are "working at different levels of the mind, generating and transforming the power of nature and then redistribute it and protect with the same transformed positive energy, removing dangerous or negative forces." Which means, those who meditates in a Stupa, have assured their protection and at the same time it will increase their spiritual development. Sounds interesting, doesn't it?
Stupas were originally places of pilgrimage illustrating Buddha's life. There are different types of stupas according to their characteristics:
They contain relics or remains of Buddha or his disciples.
Buddhist Doctrine Exposed
They function as sanctuaries.
There are 8 types of Tibetan stupas for Buddhists, each representing a key moment in the life of Buddha Siddharta Gotama. The Enlightenment Stupa of Benalmádena represents a spiritual and mental state of total understanding, such as the one Buddha is said to have experienced after 49 days of meditation under the bodhi tree.
The 8 types of Tibetan stupas:
From the lotus flower
Lighting
To turn the dharma wheel
Of the great miracle
From the descent of Tushita's sky
Of Reconciliation
Of Victory
From Parinirvana
The Enlightenment Stupa is the only one that has an interior space for meditation and was built thanks to the donations of Western disciples.
Well I enjoyed my peaceful morning up there and can definitely recommend the excursion to experiment by yourself other views and perspectives of life.
Weekly activities
There are some weekly activities in this Buddhist temple in Benalmadena:
Meditation on Fridays
Every Friday at 6 pm you are invited to take part in a guided Tibetan Buddhism meditation called Karma Kagyu.
Conferences on Sundays
Sundays at 6 pm there are conferences about different aspects of the Tibetan Buddhism philosophy.
The Enlightenment Stupa is located next to the Butterfly Park in Benalmadena, so you  can take the opportunity to visit both places.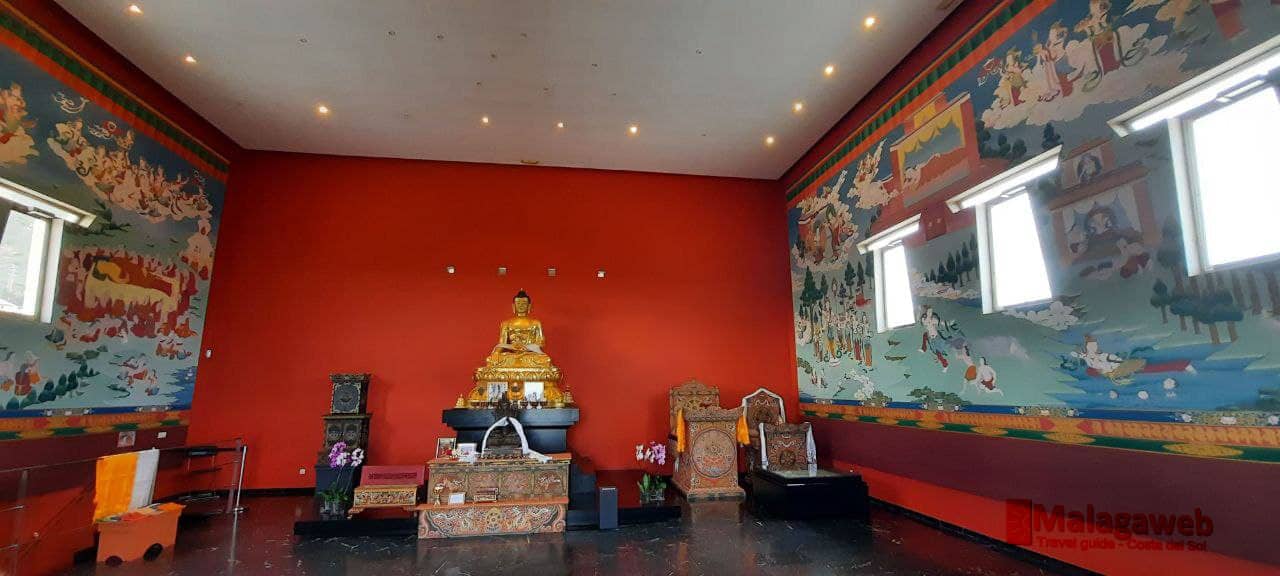 Opening hours
For your information, the Enlightenment Stupa close on Mondays.
Tuesday to Saturday
10 am to 2 pm and 3.30 pm to 6:30 pm
Sunday
10 am to 2:30 pm and 3.30 pm to 6:30 pm
The opening time could change according to the season.
Where is the Budhist temple in Benalmadena
If you are thinking in visiting this place and can't use a car, it is also accessible by public transport; you can combine the Stupa with a stroll through Benalmadena or visiting the Butterfly Park.
By car you can take the Mediterranean Highway A-7, then the exit to Benalmadena Pueblo. Head to Benalmadena after the exit and you will find the Stupa on your right.
You can also can get there using the commuter train, just take the bus L2 outside the Arroyo de la Miel train station; this bus leaves normally every 30 minutes.
The following buses stop at "Estupa Tibetana": L2 (Benalmadena), M112 (Malaga – Mijas) and M121 (Torremolinos – Benalmadena – Mijas)
The Stupa is located next to the Butterfly Park in Benalmadena so you can take the opportunity to visit both places. Check also other attractions in Benalmadena.
My recommended choice if you do not rent a car in Malaga is a transfer, for this malagatransfer.co.uk is a good option,  I have used them in the past and it was a good experience but there are some other options for transfers in Malaga if you want to check.
Information
More information about this and other stupas on the official website:
https://www.stupabenalmadena.org/en/stupa/introduction/
Comparte este artículo: