Planning your holiday with kids and wondering what to do or where to go for them to have fun and enjoy? Continue reading to find the best playgrounds in Malaga for children and parks.
With or without kids on your charge, you can enjoy most of the parks and playgrounds in Malaga from this list!
List with best playgrounds in Malaga
I'm going to recommend parks and playgrounds in Malaga where taking your children. Some of the parks have playgrounds while other are public parks  or botanical gardens suitable for children. With or without kids in your care, you can enjoy most of the parks from this list!
You will find a link to the map to know the exact location and photos from each of them.
Paloma Park in Benalmadena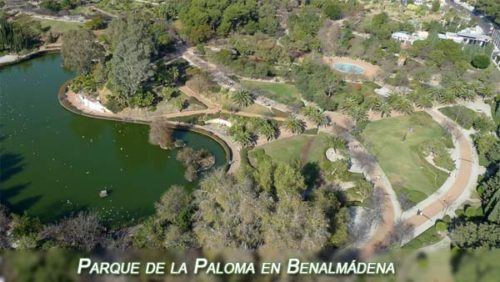 Paloma Park in Benalmadena is one of the most popular public parks. It is ideal for a family plan and for making a picnic.
You will find animals in freedom while walking this park. Roosters and hens, dwarf rabbits or even peacocks roam around the park. The artificial lake has a population of swans, ducks and turtles. Latter you will see them dipping and peeping its small head out of the water. While walking the gardens  you will see some enclosures with animals like the mountain goat, ostriches and other birds.
Among the services of the park there are coffee shops, toilets, kiosk and a swing area.
The main entrance to the park is on the ascent road that goes from the roundabout called 'Rotonda de los Molinillos' in Benalmadena Costa.
There are many activities you can take part along the year in Parque de la Paloma. Check for activities in Benalmádena or follow this blog to find activities during all the year.
Opening time: Open daily from 9 am to 11 pm.
How to get there, location and reviews at: https://goo.gl/maps/RR69YnXczf12
Parque de la Bateria in Torremolinos
'Parque de la Bateria' (Battery Park) is in Montemar (Torremolinos), just on the other side of the bridge crossing the railroad. We can highlight the artificial lake with boats and the extensive playground area for children at the end of the park on the oriental side.
This natural space has many walking trails, benches  where resting and bike lanes that run through the entire park.
The name of the park 'The Battery' comes because there was an Anti-aircraft battery during the Spanish Civil War. Actually the battery and the bunker are restored and it is a curious place you can visit.
The large playground has attractions for all ages. Among the recommended attractions there is a merry-go-round and the called Pacifier Tree, a perfect place where children can climb on and get rid of theirs.
There are boats which you can rent for a short time, the availability is subject to a schedule that you can consult below these lines.
In the park you will find exercise machines for adults and a tower-viewpoint overlooking the coast. You can get access to the tower by stairs or using the lift.
There are many activities along the year in this park, specially during the summer.
You can get there by car and use the public parking or the commuter train. Take in consideration that you will need patience for parking on weekends. Maybe prefer getting there by train? It is next to the train stop.
Opening time: From Monday to Sunday from 9 am. to 8 pm.
Merry-go-round and boats:  Fridays from 4 pm. to 7 pm. Weekends and festivities from 12 am. to 2 pm. and from 4pm to 7 pm.
Location map and reviews of the park at:  https://goo.gl/maps/8aifmFGC8K92
Playmobil Park in Rincon de la Victoria
The old playground at Plaza de la Constitución has been renovated to become the first Playmobil playground in the municipality.
The theme is west and is open to children over 3 years. The park has the representation of a western fort with capacity for 40 users and composed of rope nets, cabins, towers, slides, climbing walls and of course all the required security elements.
The decoration typical of the west aim that children let their imagination fly and can live the best adventures. If you are looking for West themed playgrounds in Malaga, then this is one to consider.
If you go by car you may be interested in parking in the public car park in the same Plaza de la Constitución: https://goo.gl/maps/pfwBNwZKsW82
Playground Parque de Poniente in Fuengirola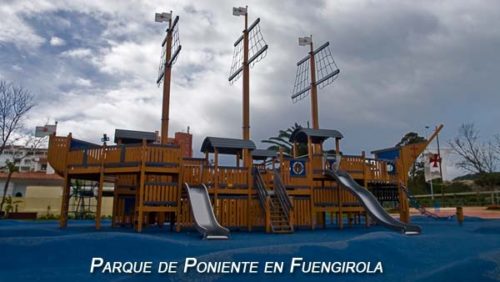 If you are in Fuengirola area near the Sohail Castle with children, you can't miss a visit to the Playground Parque de Poniente.
Among the highlights of this park is the simulated pirate ship with slides, ropes and runways all over the structure. Parents can watch children from the coffee shop while having a break.
The park has bike lanes and is next to Fuengirola River Park and the promenade.
Opening time: This park is open 24 hours.
Location and reviews at:  https://goo.gl/maps/oS2dX9cnj7s
Cinema Park in Teatinos, Malaga
¿Are you visiting the Teatinos district with children? Want to enjoy a colourful walk? Then nothing better than heading to Cinema Park.  A walk over a path simulating a film roll and a playground that children will enjoy.
The park offer activities for different ages, from a zip line to ping-pong tables and swings. This park is one of the playgrounds in Malaga you shouldn't miss.
Opening time: 9 am. to 9 pm.
Location and reviews:  https://goo.gl/maps/L2GC17AFVX22
Playground Parque Litoral in Malaga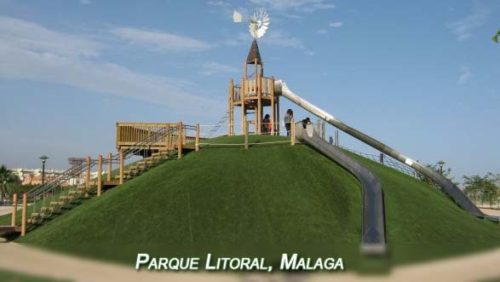 Without any doubt the eye-catcher for children will be the hill and the large sliders.
There are three children areas inside this playground, each of them for different ages.
The park is close to the subway station next to Palacio de Deportes (Sports Palace) and the private Quiron Hospital.
Opening Time: 8 am. to 11 pm.
Location, how to get and reviews at: https://goo.gl/maps/vBBJuXZsJaK2
Playground Parque la Negrita in Antequera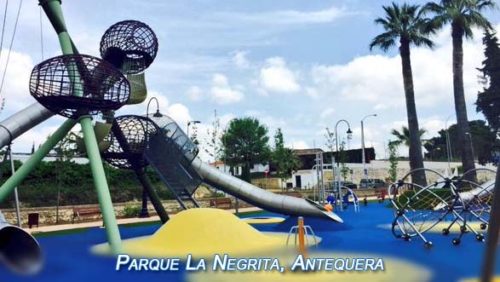 La Negrita Park in Antequera is awarded as the best playground park in Spain. If you are visiting Antequera with children you can't miss a visit.
Among the highlights of this park are the big slides with up 11 meters height and 8 meters long, elastic mats, springs for jumping, swings for children with reduced mobility and even a zip line among other attractions.
There is a green exercise area for adults.
Opening time: 24 hours
Location, how to get and reviews at: https://goo.gl/maps/216za2RZnSs
Other natural parks children will enjoy
If you are looking for something more than playgrounds in Malaga you will enjoy some of the best parks and botanical gardens in our province:
Amazonia Aventura in Marbella
This theme park in Marbella is ideal  for children from the age of 4. Who doesn't like to climb trees and jump down a zip line?
Aventura Amazonia is the largest adventure park in Andalucia and offers activities with an adjusted difficulty to the skill of those who practice it.
The entrance fee grant you access to the activities for 3 hours. You can find out the prices and timetable by visiting the link above.
Oriental Garden Bienquerido in Alhaurin de la Torre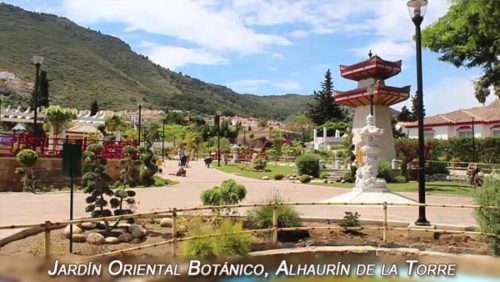 This park of around 12000 square meters has a Japanese style. There is an artificial lake, playground, children area with slides and exercise machines for adults.
The park is closed on Mondays.
Opening time:
Monday to Friday from 8 am. to 1:30 pm and from 5 pm. to 10 pm.
Weekends from 10:30 am. to 1:30 pm. and from 5 pm. to 10 pm.
Location, reviews and how to get:  https://goo.gl/maps/9QJpDx3wbo32
Nagueles park in Marbella
If you are looking for a place in the middle of the nature, then the Nagueles park is the place.  A pine forest surrounds it; this park is the perfect place for a barbecue or a day of picnic day (barbecue requires reservation the day before at the park)
This natural park has a playground area with slides in form of pipes and a soft floor to prevent children of being injured after falling.
Location, how to get and reviews at:  https://goo.gl/maps/1ZWdSaKzXm82
Botanic Garden Molino de Inca in Torremolinos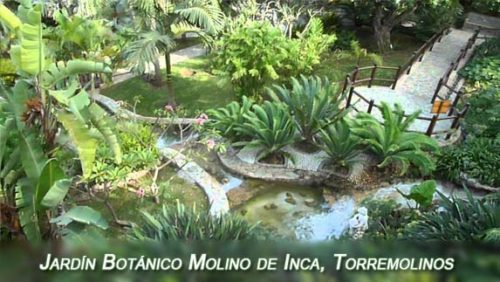 Even without a playground area for children, this botanical garden in Torremolinos is interesting enough for you and for them to enjoy the visit. A windmill that survived the medieval age when it was built. Actually it is reformed and there is a museum inside.
The artificial creek furrows the interior of the botanical garden flowing into 3 ponds with different varieties of plants and fishes.
One of the elements that are an eye-catcher for children is the natural shrubbery labyrinth with 50 meters in diameter, don't get lost.
This garden was built in 2003 surrounding the old Inca windmill.
Opening time
It closes on Mondays during all the year.
From November to February: From 10:30 am. to 2 pm. and from 4 pm. to 6 pm.
From May to September: From 11:30 am. to 2 pm. and from 6 pm. to 9 pm.
October, March and April:  From 10:30 am. to 2 pm. and from 6 pm. to 7 pm.
Location and how to get there:  https://goo.gl/maps/5WajSTPSf2v
Alameda Park in Malaga

Paseo de la Alameda in Malaga is a place with a marked historical character. A green space in the heart of the city with many subtropical and tropical species.
This park is located next to Malaga port, a place which is usually very interesting for children. Check my other entry about Pier 1 in Malaga port.
This park is on the land that by the end of the 19th Century was gained from the sea.
Location, how to get there and reviews:   https://goo.gl/maps/DVw7eezQAxA2
La Concepcion Botanical Garden in Malaga
Although this botanical garden does not focus exclusively on children, is a place they will enjoy without any doubt. A walk within a park with more than 250.000 subtropical species brought during 150 years.
It is worth to know the history of this botanical garden in Malaga before visiting it so you can understand better its origin. A history that begins by the half of the 19th century, years in which the park was a meeting point for high aristocracy and other famous personalities from Malaga.
Inside you will find a museum and a typical home-palace which represents, to a large extent, the typical home decoration from the beginning of the 20th century.
Numerous events take place in this park during all the year, especially relevant is the terrifying Halloween night event (recommended for children) but also others like street markets or theatre performances.
Opening time:   9:30 am. to 7:30 pm.
Location, how to get and reviews at:  https://goo.gl/maps/EEYPNSJ8V7N2
Parque del Oeste in Malaga
Parque del Oeste (West Park) in Malaga offers a great family attraction to go and spend the day.
In the artificial lake you will find ducks, carps and even the Japanese Kois. Over the years other animals such as mountain goats, reptiles or a small colony of Bennet's ualabi, from the kangaroo family, have been brought from Australia.

Throughout the year different events are organized in this park.
Opening time: 8 am. to 11 pm.
Location, how to get and reviews at:  https://goo.gl/maps/wHNnTDKEf612
More information
If you want to read about other natural parks in Malaga and Andalusia you can read our guides.
Maybe you are more interested in malls in Malaga for spending the day?
Comparte este artículo: