Travelling with total freedom is a dream come true for many people. Who hasn't planned a holiday and gone mad packing? Those who decide for a campervan hire in Malaga, know very well what they expect from their holiday.
The campervan or the motorhome will allow you to discover Malaga in depth; it will give you the possibility to travel all over the territory and discover magical places and moments that otherwise would be more complicated. Do you want to sleep under the stars?
Travelling with the house on your back will give you a lot of freedom and comfort on the road. In addition to the advantages I want to talk to you about some recommendations; if you are interested I will also tell you where I think, it is the best place where you can hire a campervan in Malaga.
With motorhomes and campervans, size does matter.
Furthermore during the situation of the Covid-19 in Malaga many more people have decided to move from the hotel to the motorhome. For this and other reasons we are going to propose a complete guide about campervan rental in Málaga. At the end of this article I will provide recommended links for those who want to enjoy a holiday without limits and in total comfort.
Advantages of a motorhome and a campervan
Renting a motorhome during your holiday will give you a lot of freedom. You can travel with everything you need and always have it with you.
Do you want to dive in the sea at dawn, take a refreshing swim in the river or are you one of those who need a early walk in the mountain?
My childhood memories include travelling with my parents to a summer Campsite. These are unforgettable memories that will always be with me. I remember bathing in a mountain river in the morning, its water was so cold and I enjoyed it so much that it stuck with me; a nostalgic picture of my past. A past that we build every day with those around us, especially during our holidays.
From what I have just said, a motorhome or a campervan will provide you with many good memories and adventures. Are you up for it? Well, let's get to know this world a little better and I'll explain a few basic rules along the way.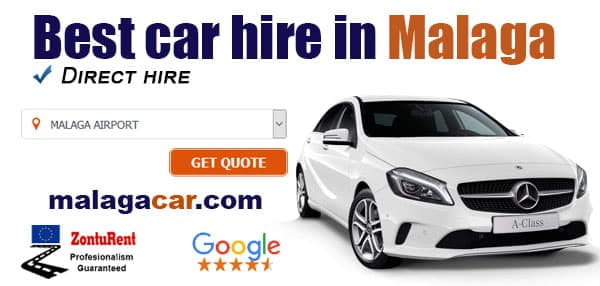 ';
Tips for motorhome or campervan rental in Malaga
No matter if you choose a motorhome or a campervan, the procedure is very easy; similar to a car rental.
In order to know how to choose the model you need I will give you a series of recommendations.
Don't be afraid to take a few laps around the place before leaving for the adventure.
Wondering about the best season to hire a campervan in Malaga? You can read our other article about when is the best month to visit Malaga. Campervan rental is a recommended option all year round.
Choose the right size and model
With motorhomes and campervans size does matter. You can find very cheap options, but when it comes down to it, they hardly have room for two people.
If you decide to travel with children or if you have a lot of luggage, the ideal is to look for a model with a suitable size. The Fiat Ducato Maxi Camper has space for 4 people, two double beds, a bathroom with shower and a gas cooker.
Website: https://www.fiatcamper.com/en/product/fiat-ducato-camper-van
The Volkswagen Beach Tour, although smaller in appearance, has space for 5 people, 2 chairs, a table and an awning. The main bed is located on top, and has special springs so it is quite comfortable. It also has an automatic gearbox, so you can forget about gears.
Do you want the pros and cons of a California Beach Tour? This link tells you all about them: https://www.parkers.co.uk/volkswagen/california/review/
The official website with more information:
https://www.volkswagen-vans.co.uk/en/new-vehicles/california.html
Essential equipment for a motorhome or a campervan
Equipment is important when renting a campervan or a motorhome; there are essential needs that you will need.
Sheets and pillows.
Towels and bathroom utensils.
Baby seats when needed.
Camping chairs and table.
Small refrigerator.
The models we recommend come with chairs, awning and camping table, so they are already well equipped.
Don't forget the outdoor towels, if you feel like bathing on route. Diving equipment, hiking shoes or anything else you think you might need.
Ask about no excess-insurance and extras
A motorhome is much more expensive than a car, so damage can cost more to repair. If you are going to rent a motorhome or a campervan in Malaga, I recommend you to do it with a fully comprehensive insurance without excess.
The place where you rent the motorhome should offer you several options, being the cheapest one the insurance with excess. If you want to avoid problems and scares at the end of your holiday, it is advisable to pay a little more to remove it.
By eliminating the excess, you will surely include other extras such as a second driver free of charge, road assistance or unlimited mileage. The difference in price compared to the most basic option for a week can be around 300 euros or a little less; it is certainly advisable to invest in peace of mind.
Other extras that might be available:
Electric scooter.
Baby seat.
Lift with a capacity of more than 15 kg.
GPS.
Driving a motorhome or a campervan
It is not the same to drive a minivan as to drive a campervan or a motorhome. The latter may be more like driving a small truck than a car.
My advice if you have never driven one, is to arrive in good time and make sure you are familiar with its measurements. Especially height is important when entering places where the roof may be lower than usual.
Don't be afraid to take a few laps around the place before you leave for your adventure.
Difference between campervan and motorhome
A motorhome is larger so it has more living area inside; it usually also has larger water and waster tanks, allowing for longer routing or camping in the wild periods.
Campervans are also useful as second vehicles, because of the smaller size when compared to a motorhome. Campervans are also a lot of cheaper than a motorhome.
Usually campervans have a rise top-roof, useful at night for making extra space.
Maintenance of a campervan or motorhome
Renting a car is not the same as renting a motor home when it comes to maintenance. There are more tasks than checking the petrol and oil level, although they are not many:
Get rid of waste.
Recharge water, electricity or gas.
Water from the shower or sink of a motorhome or campervan cannot be dumped anywhere, as it is forbidden and you may be fined. Anyway it is not complicated, since the camping areas for autocaravans have specific places for it.
When you rent a motorhome, it is usually given to you with gas capacity for a long journey. The gas policy is usually the same as for petrol, you get a full tank and return it empty or full, depending on the rental policy.
You can refill the water at the service stations and some camping areas.
Create an itinerary for your motorhome or campervan trip in Malaga
As a final point, the ideal is that you have an itinerary for your adventure. Have enough food and water to enjoy without any inconvenience before embarking on a long route.
Don't be afraid of the unknown, the best places you will remember will surely be the ones you find out about without planning it.
Where to hire a motorhome or a campervan in Malaga?
Renting a car is easy; campervan hire in Malaga is easy as well.
At Malaga airport you can find motorhomes and campervans for rent. The model we recommend, the Volkswagen Grand California 600, includes many extras and a canopy to protect you from the sun.
The only requirements are to be 27 years or older and to have a valid driver's license.
You can have a look at what it would cost you to rent this motorhome in Malaga by following the link: https://www.malagacar.com/uk/car-hire/152/Fiat-Ducato-Maxi-Camper.html
Camping places for motorhomes in Malaga
Now that you have decided to hire a campervan in Malaga, you will wonder where you can enjoy a campsite that allow campervans and motorhomes.
There are camping sites for campervans in the middle of nature, others are next to the sea. Which one do you prefer?
Choosing the perfect campsite for our campervan
A good campervan site should offer a place to rest and dispose of waste in a safe area at night. You can also count on other services such as wifi (1 euro / 4 hours approx.), toilets and showers, bakery, bar or shops.
Seafront parcels usually cost a little more. They can also have a dog beach, ideal for travelling with pets.
In the area you choose there may be routes to take on foot or by bicycle, or there may be monuments or towns worth visiting.
The camping areas sites I'm going to list have good opinions.
Prices are usually between 16 and 30 euros for waterfront areas with electricity, depending on the season. You can get promotions by booking a week or a month.
Recommended places to camp with your campervan
I think I will make an entrance dedicated to places where you can camp with a motorhome; this way I will be able to better focus on the destination and the things that can be done around it.
For now I leave you a small list based on their location:
Camping near the sea
There are many beachfront camping areas, one of the most popular being Almayate Costa, although all are well rated:
Camping in Natural Parks
If you enjoy natural spaces, hiking or swimming in swamps or rivers, these camping areas for motorhomes in Malaga and surroundings may interest you:

Map with camping areas for motorhomes in Malaga
On this map you can locate the main camping areas in Malaga and other  provinces in  Andalucia for campervans and motorhomes.
I tried to add those places for camping with good reviews and facilities.
Ready for adventure and sleeping under the stars?
Comparte este artículo: