Until November the 15th there is a new appointment for those who enjoy tapas. The called 'Ruta de la Tapa Erótica'  will be celebrated again this year ¿will you join?
This event had a great success among the locals and foreigners visiting Fuengirola in past editions.
This is an original way for bringing the tapas with an erotic, sensual and funny touch. It offers the visitor a wide range of tastes in imaginative small dishes which catch the attention from the first moment.
This year the 'Ruta de la Tapa' event have many bars participating where you can go to try the tapas. The price this time its 2,5€ per tapa and drink.
Tapas contest
If becoming an expert taster sounds interesting to you now you can be one. This year the passport for stamping the tapas is online, so you won't have to print it out.

Passport is available in Spanish and English. This popular event receives visitors from different countries so you don't have to worry about not speaking Spanish. You can register and find out about all the tapas at the following link:
With each passport you will take part in a raffle with some prizes. There is a cruise, smart tv, dinning, hotel nights…and more.
Restaurants participating
You can see the participating restaurants and their tapas in this list, or the map where they are located here.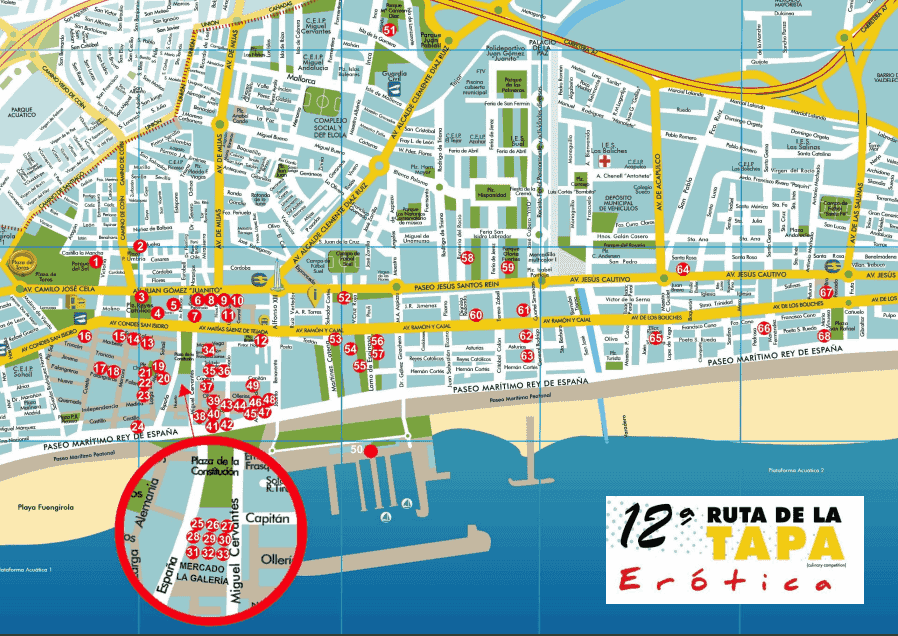 Are you going to miss it?
Among the available tapas you will find names like 'Chipirón Picantón', 'Memorias de una Geisha', 'Tetanic', 'Tu rollito nos va'…
You can share your epic moments and photos using your favourite social media.
In past events they sold near half a million of tapas, will you miss yours?
Official information in Spanish in the following PDF:
Comparte este artículo: