White Villages and towns of Malaga
The villages of Málaga shape the province. Each one of them has its own history and cultural festivities. The individual visit to each village in Malaga is a recommended suggestion for those who want to immerse themselves fully in our culture and traditions.
How many villages are in Malaga?
Malaga has a total of 103 municipalities, to which we could add others that have already disappeared and of which we will speak. The enormous number of villages in Malaga means that we will have to add them gradually. But you can find a complete list in alphabetical order below.
List of towns in Malaga
Alameda
Alcaucín
Alfarnate
Algarrobo
Algatocín
Alhaurín de la Torre
Alhaurín el Grande
Almáchar
Almargen
Almogía
Álora
Alozaina
Antequera
Archidona
Ardales
Arenas
Arriate
Atajate
Benadalid
Benalauría
Benamargosa
Benamocarra
Benaoján
Benarrabá
Campillos
Canillas de Aceituno
Canillas de Albaida
Cañete la Real
Cartajima
Cártama
Casabermeja
Casarabonela
Casares
Colmenar
Comares
Cómpeta
Cortes de la Frontera
Cuevas Bajas
Cuevas de San Marcos
Cuevas del Becerro
Cútar
El Borge
El Burgo
Faraján
Frigiliana
Fuente de Piedra
Gaucín
Genalguacil
Guaro
Humilladero
Igualeja
Istán
Iznate
Jimera de Líbar
Júzcar
La Viñuela
Macharaviaya
Moclinejo
Mollina
Monda
Montecorto
Montejaque
Ojén
Parauta
Periana
Pizarra
Rincón de la Victoria
Riogordo
Salares
Sayalonga
Serrato
Sierra de Yeguas
Teba
Tolox
Torrox
Valle de Abdalajís
Vélez-Málaga
Villanueva de Algaidas
Villanueva de la Concepción
Villanueva de Tapia
Villanueva del Rosario
Villanueva del Trabuco
Yunquera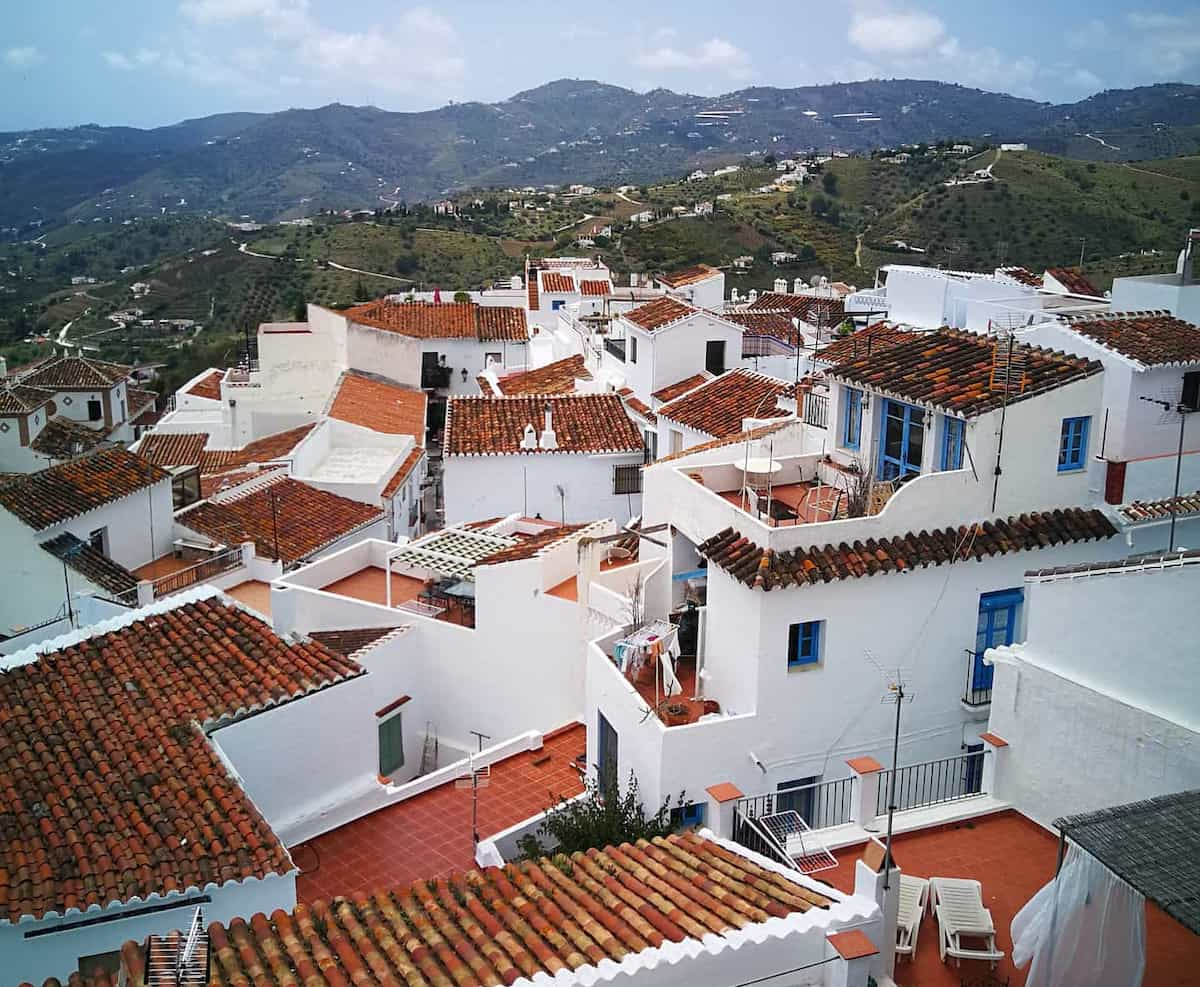 Disappeared towns of Málaga

Among the towns of Malaga there are some that for one reason or another have even disappeared; but they are still places of tourist interest.
Benaque
This town of Malaga was independent until 1877, during which it was annexed to Macharaviaya
Bobadilla
Throughout 1857 Bobadilla was annexed to Antequera, and another of Malaga's towns disappeared.

Chilches
Originally from Macharaviaya, it gained its independence in 1821, but finally in 1868 it was annexed to Velez-Malaga.
Churriana
This town of Malaga was independent until 1905, when it became part of Malaga.

Corumbela
The history of this population is not clear, it seems that its origin is far beyond the Muslim presence. Its origin is possibly related to the first Iberian tribes; nowadays it belongs to the municipality of Sayalonga.

Daimalos
With a small population, it currently belongs to the municipality of Arenas.

Olías
Olías, characterized by its narrow streets, is currently a district of Málaga. In the past it was another of Malaga's towns.

Peñarrubia
This village was inhabited until 1971, although because of the construction of the Guadalteba reservoir it had to be evacuated and lost its status as a municipality. These lands now belong to Campillos.
Villanueva del Cauche
This ancient village of Málaga, which even had a castle, is now a district of Antequera.
Villages in Malaga with lesser number of inhabitants

Visiting small white villages with few inhabitants is an enriching experience. Let's see some of these small towns in Malaga, in case you decide to visit them.
According to the data I have access to, the villages with the least number of inhabitants in 2019 are the following:

Atajate with 168 inhabitants.
Salares with 169 inhabitants.
Benadalid with 215 inhabitants.
Júzcar with 232 inhabitants.
Cartajima y Faraján, both with 253 inhabitants.
Malaga towns with the highest number of inhabitants
The towns with the largest number of inhabitants are usually those that are most popular throughout the year. They usually have all kinds of activities and resources, so they are a more than recommendable option where to stay.
Let's see, according to the data I have, some of the most popular towns in Malaga. The census is taken into account, because during the month of August in Malaga the populations can vary greatly, even doubling as in the case of Torremolinos.
Malaga with 574.654 inhabitants.
Marbella with 143.386 inhabitants.
Mijas with 82.742 inhabitants.
Vélez-Málaga with 81.643 inhabitants.
Fuengirola with 80.309 inhabitants.
Torremolinos with 68.661 inhabitants.
Estepona with 68.286 inhabitants.
Benalmádena with 68.128 inhabitants.
White villages video
White villages
tourist tips
We would like to remind travellers that whilst areas off the beaten track enable visitors to see another side of Spain it should also be remembered that locals are far less likely to speak English. Road signs are also less prominent and the roads themselves are often much narrower and in worse condition. It's a good idea to go equipped with an up to date map and a Spanish phrase book in case of emergency.
Whilst most towns and villages have small shops and petrol/gas stations it's a good idea to make sure that the car is full and to take a bottle of water, especially if you have children or elderly people with you.
Most establishments will be operating on Spanish hours. This means that many places will open from 10:00-2:00 and from 4:30-8:00. Most places are CLOSED from 2:00 until 4:30, so bear this in mind.
The smallest villages are often the ones that can offer us the most. A rich gastronomy next to a friendly population, in a natural environment that invites to walk and discover the nature.
Don't forget to share!