Carratraca village
The parochial church of Ntra. Señora de la Salud (Our Lady of Health) is one of the main buildings of architectural interest, even though it only dates from the beginning of the 19th century. The Town Hall is also of interest because of its neo-Arabic style. The small bullring, dug out from the rock of Sierra Blanquilla, is also worth seeing.
Of special interest to travellers and visitors, is the sulphurous spa waters, with an enclave developed around the fountains and a hermitage from the 18th century. One can also find craftwork objects and tools made from esparto grass, carved wood and wrought iron. One of the more interesting traditions is the Passion in Semana Santa (Easter) in which a hundred amateur actors participate.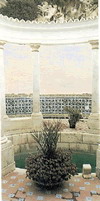 Original dishes from this village of Malaga are el jarrete a la campera, callos (tripe), chivo a la pastoril (baby goat). Typical pastries are tortas de almendras (almond tarts), roscos de manteca (doughnuts made from lard), cubiletes (basin-shaped pies filled with minced meat), bizcochos (sponge cakes) and tortas de aceite (olive oil pancakes).
Carratraca video
Carratraca
Number of inhabitants: 751
Public festivals: 13th - 15 of August - Virgen de la Salud
White villages
Don't forget to share!