Sedella village
Like the other towns that are part of the cornice of the Axarquia, it is likely that the settlement of Sedella has very ancient origins and that this area was known by the Romans, judging by the remains found like coins, ceramics, etc.. It is possible that its name comes from the Latin word sedili that in the late roman empire meant rural site, or possessions.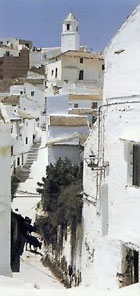 In the seventh century before the arrival of the Arabs, was cited on the map of bishoprics commanded to do by the Visigoth King Wamba, with the name of Sedille, and previously by the bishop in his Teodulpo Malaga as Sedilla Episcopal congregation. After the Christian conquest in 1487 the town is know as Xedalia. In the past Sedella was also known as Villa Castillo, because in one of the heights near the present town there are the ruins of a great castle, with a tiny village located at the bottom of it.
In Sedella, apart from visiting the ruins of a fort, it is worth seeing the parochial church of San Andrés Apostpol (the Apostle Saint Andrew) dating from the 16th century. Its square two-part tower and octagonal top are outstanding. Inside, one finds statues and religious artifacts of the 17th and 18th century. Close to the church is the Casa Torreón, which is the old mansion of the Lord of Sedella. It is now a private residence and still has its Mudejar tower with Moorish-style decoration and on one of the sides, Moorish-style artwork.
For those interested in nature, the Sierra Tejada offers plenty of places to visit, such as the old way of Arrieros, the Horeada Cave, the peaks of La Maroma and Salto de Caballo.
Sedella Video
Sedella traditional dishes
The most typical dishes of this town of Malaga are el chivo al ajillo (goat with garlic), el choto al vino (baby goat in wine), el pan de pobre (a type of bread), tomates secos (dried tomatoes) and potaje de coles y de hinojos (cabbage and fennel hot-pot). Also worth trying are the local wines.
Sedella Map
Sedella weather
Sedella Temperature:
Average temperature in Sedella: 17 ºC
Sunny days per year: 2880 hours/year
Rains in Sedella:
Fore more information about Sedella weather forecast:
tourist tips
Number of inhabitants: 625
Public festivals: 1st week of August - Nuestra Señora de la Esperanza
White villages
Don't forget to share!