I found this old blog entry which I was going to delete initially. Then I thought I could complete it by talking about the best hotels of the Vincci chain in Malaga.
A tourist usually wants to feel at home, so if the stay in a hotel has been good, they are very likely to repeat. This is something that also happens to me, although I have never used a Vincci hotel I thought it might be useful to know the basic options this chain offers for accommodation in Malaga.
There are four Vincci hotels in the province. Of the four, only 3 are 5-star hotels, the fourth being a 4-star hotel. There are two in the city centre, one in Marbella and also one in Benalmádena.
I have included a minimum price that has been taken at least 2 months in advance. The price will increment exponentially the closer  to the reservation date you check prices.
Hotel Vincci Selection Posada del Patio
The Vincci Posada del Patio Hotel became the first 5 star hotel in Malaga centre in 2010. It's a recent hotel that is situated in the heart of the capital, next to the Guadalmedina river bed. It is very close to the main monuments so it's an ideal location if you're looking to stroll the city centre.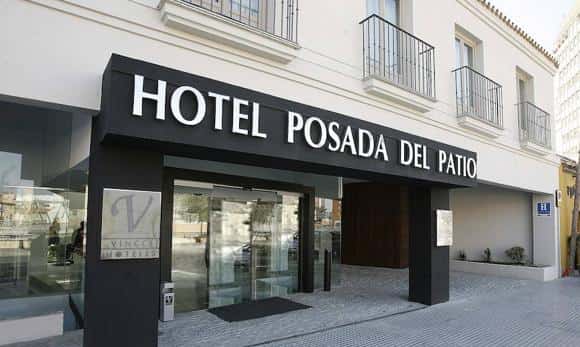 In addition to being a 5-star hotel with all that this entails, it has been built using a 19th century building as a base with a restored façade. It is therefore visually attractive, but what else does it offer?
During its construction were found important archaeological remains of an Arab and a Roman wall. Both of those walls have been partially restored and are arranged so that you can see both sides.
One of the features of this hotel is the cafeteria, located above the archaeological remains with a glass floor. Any client can enjoy having a coffee with the remains of the walls at their feet, a very curious contrast.
The hotel's gastronomy offers traditional cuisine and is open to the public. The buffet restaurant is reserved for hotel guests.
There is also has a fitness center; is a popular hotel for couples and of modern construction.
*The average price for 6 nights in August for 2 people is 230€ per night.
https://www.vinccihoteles.com/eng/hotels/spain/malaga/vincci-seleccion-posada-del-patio
If you like the area but there is no availability you can try the 4 star Vincci Malaga hotel:
https://www.vinccihoteles.com/eng/hotels/spain/malaga/vincci-malaga
Pros and cons
This is a hotel that, due to its proximity to the centre of Malaga, is ideal for visiting monuments and engaging in activities.
If you are in Malaga during Easter Week, Christmas or any other big event this hotel has a privileged location.
Among the main places you might want to visit the Carmen Thyssen Museum, Picasso's birthplace, the Roman Theatre, the Alcazaba and the Cathedral of Malaga among many other places of interest in Malaga.
It is very close to large shopping malls.
I recommend visiting the Port of Malaga and the Paseo del Parque among other places.
It is not especially close to the beach but you can go on foot.
Map of the area and customer reviews: https://goo.gl/maps/9ggzaZCWpAr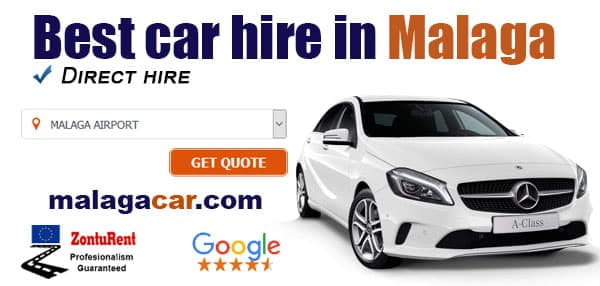 ';
Hotel Vincci Estrella de Mar Selection
5 star hotel located in Elviria, Marbella. It is practically in front of the beach and is a perfect accommodation for those who want to enjoy the sea. It has a private club, gym, swimming pool and free WIFI.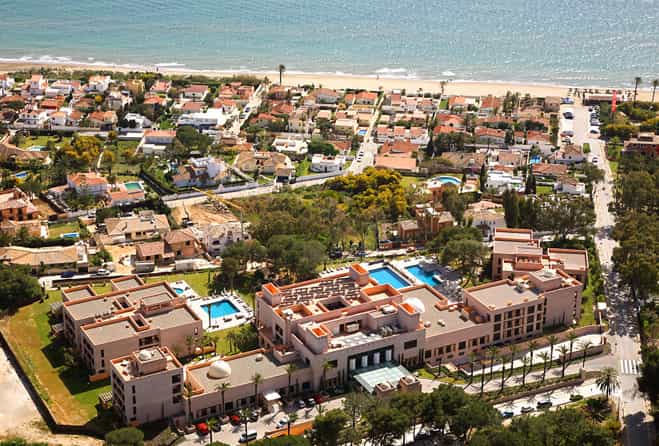 This hotel is well appreciated by guests travelling with their families or as a couple. It is 13 km from La Cañada shopping centre, 23 km from Puerto Banus and 43 km from the airport. If you choose this hotel it would be advisable to rent a car or a transfer from the airport.
The club also has a bar, restaurant, spa area, gardens with Balinese beds and a fitness center. Everything you need to relax during the holidays.
*The average price for 6 nights in August for 2 people is 500€ per night.
https://www.vinccihoteles.com/eng/hotels/spain/malaga/vincci-seleccion-estrella-del-mar
Pros and cons
It is an ideal hotel to enjoy the beach at any time of the day because of its proximity to it.
Among the features of this hotel is its Nammu Spa with different massage circuits.
There are 2 large grocery stores near this one.
There are bars and restaurants in the area.
You won't find monuments near this hotel.
Better to have your own vehicle.
Map of the area and customer reviews: https://goo.gl/maps/o6RyuQh57PF2
Hotel Vincci Aleysa Boutique
This 5 star hotel is located in Benalmadena facing the sea. It is a popular choice among couples during a romantic getaway. The proximity of this hotel to the sea and the city centre with just a bus ride makes it a good option all year round.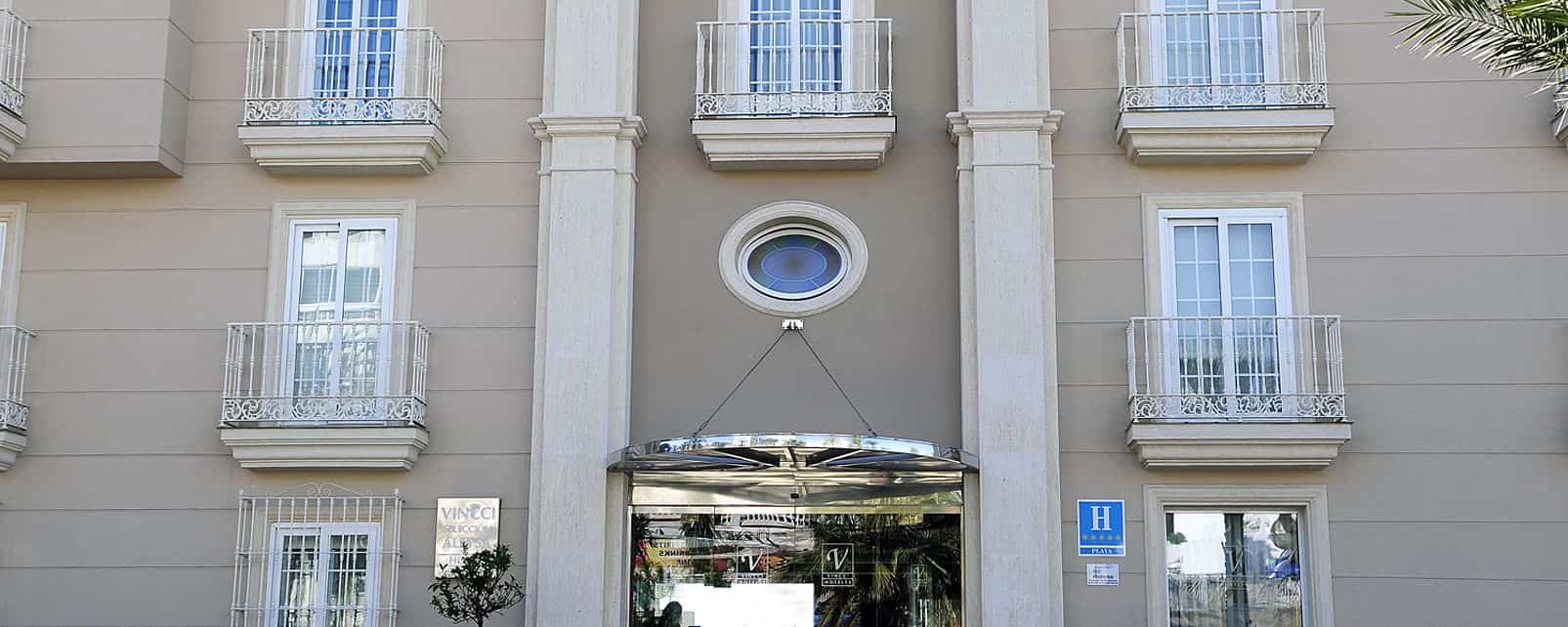 It is close to Malaga airport but you will still need a means of transport.
They offer courtesy car, if you want to use it you will have to contact them to get information about the conditions of use. The courtesy bicycle is free for hotel guests and requires reservation.
Exclusive use of hammocks at Aleysa beach in front of the hotel. They also offer massages on the beach. The outdoor swimming pool, although not very large, has beautiful sea views and a heated Jacuzzi.
The hotel's restaurant offers a good service while you can enjoy the fantastic views of the Mediterranean.
*The average price for 6 nights in August for 2 people is 388€ per night.
https://www.vinccihoteles.com/hoteles/espana/malaga/vincci-seleccion-aleysa-boutique-spa
Pros and cons
If you are staying at this hotel you will be interested to know that it is very close to Puerto Marina and the Paloma Park.
It's a perfect hotel for going to the beach every day.
It is also close to the town centre of Arroyo de la Miel, where Tivoli World and the Benalmadena cable car are located. Although it is possible to go on foot it is advisable to use some means of transport.
There are plenty of restaurants, bars and nightclubs in this area.
Map of the area and customer reviews: https://goo.gl/maps/GAU7Gn6b1M52
Other 5 star hotels in Malaga
I don't know if I will expand the post or create a new one. There are many more 5-star hotels on the Costa del Sol and a few others in inland areas, ideal for those who want to enjoy the peace and quiet of rural tourism.

Some 5 star hotels to enjoy a rural and quiet atmosphere:
Villa Padierna Thermas Carratraca, Hotel Convento La Magdalena and La Bobadilla, Royal Hideaway Hotel
Other 5 star hotels on the Costa del Sol are:
Grand Hotel Miramar Malaga, Guadalpin Banus, Villa Padierna, Hotel Puente Romano, Senator Banus, Kempinski, Elba Estepona, Gran Melia Don Pepe, Los Monteros and Hotel Don Carlos.
Have you ever been at any 5 star hotel in Malaga? Do you have a recommendation?
Comparte este artículo: