Malagacar.com review
Malagacar.com is a car rental company located next to Malaga airport with shuttle service for your arrival and departure from Malaga airport.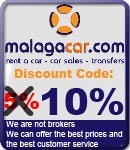 Malagacar.com with over 20 years offering cheap car rentals in Malaga, is considered the industry leader in quality regarding rental vehicles and prices in Malaga and as well in the opinion of customers.
When looking for car hire in Malaga with a company that has behind it the trust of thousands of customers, no doubt, Malagacar.com is the company you need.
Malagacar.com: What you need to know
The user must have valid driver's license for more than a year and must provide the international driving permit if he comes from outside the European Union.
The minimum age to rent a car with Malagacar.com is 23 years for standard rent, 25 for the minivan and people carrier and a minimum of 27 years for vehicles in the luxury range.
You will need a flight number when booking online. Malagacar.com focuses exclusively on providing the best service to users arriving at Malaga airport.
If you have any questions, feel free to use their phone service, they always respond friendly, very quickly and concisely.
Extras like GPS or child seats are not included in the price.
Trust level and personal review
Let's see our review of this company and if you can trust your holiday when visiting Malaga: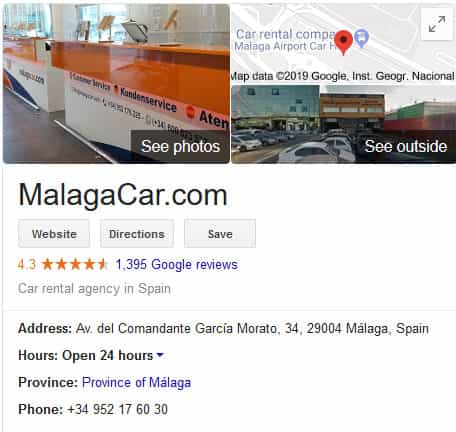 Malaga car hire
From €5.43 per day

Telephone: +34952176030

Address: Av. del Comandante García Morato, 34, 29004 Málaga

Rating:

5

stars - of 5

"

Car hire at the airport

"

By

Raul G.T

Good prices and service in your own language. The rating of this company is excellent as can be seen in this image shown above of the customers reviews. This rating and others found online provide a great confidence and guarantee when using this car rental company.
Car hire Malaga airport without credit card
Malagacar.com is one of the few companies that will not ask your credit card number when booking online. This is a great benefit for anyone looking to rent a car without a credit card in Malaga.
Malagacar discount voucher code
To find discount vouchers and useful information about hiring a car in Malaga, follow the next link for the facebook of Malagacar.com, where are distributed online discounts fo customers and newsletters, so we recommend visiting the page and becoming a fan in facebook or sign up for newsletters.
With Malagacar.com it is easy to save money without sacrificing quality of service.
Visitors of Malagaweb can benefit from our discount voucher for Malagacar.com: HELLOFAN, follow us and them in Facebook for further voucher codes.
Contact Malagacar.com
You can use the following information to contact Malagacar.com:
Address and information:
Av. del Comandante García Morato, 34, 29004 Málaga, Spain
+34 952 17 60 30
See inside of Malagacar
Don't forget to share!