Centauro Malaga airport
Centauro rent a car is located outside Malaga airport and the Malaga train Station and has offices at the most popular tourist destinations in Spain, Italy, Portugal & Greece.

Requeriments for car hire with Centauro in Malaga
When you hire a car with Centauro in Malaga you will need:
Extra insurance (Premium pack) or a leave a deposit for possible vehicle damages.
Minimum age for car hire in Malaga is 19 years old.
If you are 75 or over, then you will be required to select an additional supplement. This is mandatory regardless of the type of insurance contracted.
Full tank of fuel is paid in advance.
Visa or Mastercard credit card is required.
You are not allowed to drive outside of Spain from Malaga.
If you are going to travel to Portugal, Andorra or France then you will need to add a special cover.
*Prices and details about hiring a car with Centauro were valid at the moment of writting this article.
Contact Centauro in Malaga
Near the airport:
Address: C/ de Pascal, 42 Pol. Ind. Villa Rosa. C/ de Pascal, 42 Pol. Ind. Villa Rosa. 29004, Málaga.
Near train station:
Address: Calle Mendivil 10, Local 1. 29002, Málaga,
Phone: +34 966 360 360
Schedule: Seven days a week from 7:00 to 23:00
Website: https://www.centauro.net/en/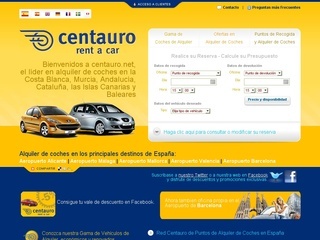 Centauro rent a car Málaga
Don't forget to share!