Centauro Malaga airport
Centauro rent a car is located outside Malaga airport and has offices in Spain: Costa Blanca, Murcia, Andalusia, Catalonia and Canary Islands.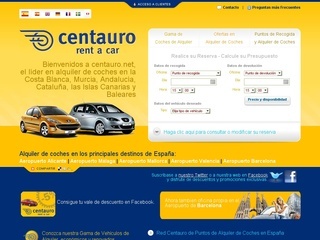 Centauro rent a car Málaga
Requeriments for car hire with Centauro in Malaga
When you hire a car with Centauro in Malaga you will need:
Extra insurance or a 300 Euro deposit for possible vehicle damages.
Minimum age for car hire in Malaga is 21 years old and the maximum age is 79 years old.
Full tank of fuel is paid in advance and it is not reimboursable.
Visa or Mastercard credit card is required.
You are not allowed to drive outside of Spain from Malaga.
*Prices and details about hiring a car with Centauro were valid at the moment of writting this article.
Contact Centauro
Address: Calle de Pascal, 30 Poligono Industrial Villa Rosa, 29004 - Malaga
Phone: +34 952 177 450
Schedule: Seven days a week from 7:00 to 23:00
Website: http://carhire.centauro.net/
Centauro car rental Malaga reviews
If you want to rent a car in Malaga without a problem, we recommend using our own system where we choose the best company for Malaga car rental.
Don't forget to share!