Car hire Malaga airport
When it comes to choosing a good car hire at Malaga airport it is important to do it well. Making mistakes choosing the company can bring headaches or uncomfortable situations, all during a period in which we seek tranquillity and facilities, such as holidays.
Malaga is a very popular tourist spot in summer, this is the main reason why we recommend you book before coming. It is important to do so with enough time, as last minute availability may be scarce depending on the season. We will analyse on this page some of the best websites where you can reserve a car hire at Malaga airport; there are economic options if what you need is a simple means of transport, luxury cars for escapades through Andalusia or even minivans if you travel with family or lots of luggage.
The best option for car hire at Malaga airport

What makes an airport car rental company worthwhile and suitable for your holiday? A friendly service and a transparent policy are details that every company should have, after all its our holidays and the last thing we need are problems. Once you see that you have rented the car and the company has satisfied all your needs with a professional service, it is certain that you will repeat with the same one. They should know, but some seem to give no importance to this fact, providing a poor service and turning the beginning of our holidays into an unwanted situation.
The following websites have been checked by malagaweb so they are to be trusted. We consider that during the holidays we should have no worries, much less with our company of car rental in Malaga. Vacation means tranquillity and enjoyment, doesn't it?..why don't we start off on the right foot?
Top 3 websites with free pick-up for Malaga airport car hire
Below what we consider the websites with the best value for money when deciding to rent a car at the airport; they also are designed to work correctly from your mobile phone:
---
Companies for car hire at Malaga airport - terminal
Car hire at Malaga airport is a very competitive business, so we will have no problem finding offers among companies outside or inside the airport. On this website we have made a selection above where you can book the car with the best value for money, although there are many more alternatives. Brokers abound on the Internet, who are resellers and although the price may seem tempting, you will end up paying more than choosing a local company.
Read further if you are looking for information about in-terminal companies offering car rental services. Take in consideration that the companies below are not the only one offering rental services at the airport, but the ones present inside the airport building.
List of car rental companies at the airport
There are many other companies next to the airport, in case you want to check just click here.

Avis
One of the big companies in the world offering their rental services at the airport.
---

Europcar
Offering rental services in over 160 different countries.
---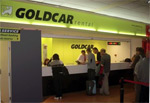 Goldcar
You can find Goldcar heading to AENA parking, visit the dedicated page for more information about how to get to Goldcar.
---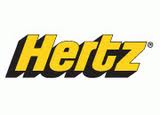 Hertz
Another of the big companies available at Malaga airport terminal, you can book online or directly at their rental desk.
---

Record Go
National brand present at the most important airports in Spain.
---
Sixt
Sixt is available at the most important airports in Spain, you can check prices and book online.
---
Whatever you decide, be sure to check always their latest terms and conditions directly from their website as they may be different from one year to another.
Recommendations when hiring a car at the airport
There are many companies offering car hire Malaga airport; some of those companies inside the airport have offices where you can collect the keys to your car. Others are situated outside but with a collection service for customers. In a survey, most customers prefer to rent outside the airport building and thus avoiding overcrowding and queues at the time of the return or when arriving at Malaga airport.
Remember that if you rent a car inside the airport, you will have to deliver it back to the same place.
As we have said before but it is always good to remember, if you are thinking about renting a car at Malaga airport it is best to book well in advance. This way you will not only ensure availability but you will surely pay a significantly lower price.
Don't forget to share!