Goldcar Malaga
Goldcar is available nationally in the main tourist areas of Spain.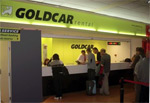 Directions to get to the meeting point and Goldcar location:
We find Goldcar located at Malaga airport: Customers coming from both Terminal 2 and Terminal 3 should head for the parking of AENA, take the elevator to the floor -1 and go to the drop-off area where our office is located.
Malaga - Airport Office at Arrivals Terminal
Goldcar Malaga terms
The minimum driver age to rent a vehicle with Goldcar in Malaga is 21 years and possession of a driver's license for at least one year.
Drivers under 25 or with a license between 1 and 4 years old, will pay 3€ extra per day to a maximum of 42 € per rental.
Goldcar payment terms
Credit card: VISA and MasterCard.
Debit Card: Electron, 6000, Maestro and EC card. If you pay by debit card you have to hire an additional insurance with a price of 30 € for contracts of up to 6 days, from there, every extra day costs 5 € to a peak of 60 € for contracts up 28 days.
No payment shall be accepted from Diners Club, American Express, Postepay or cash.
The credit or debit card must be in the name as of the person named as principal driver of the car lease.
What is included in the Goldcar terms
VAT, Tax Rates and Local Taxes.
Unlimited mileage.
Damage insurance (CDW) without excess, personal accident insurance and theft insurance. For rentals originating in the offices of Ibiza,Menorca, and Faro (Portugal) there is a franchise for damages to the vehicle produced as a result of accident or theft. The amount of the allowance varies depending on the category of rental vehicle. It is possible to reduce the amount of those franchises to zero with the hiring of a special extra insurance. Those customers who do not want that insurance contract are required to leave a deposit for the value of that franchise.
What is NOT included in your rental car
Additional Driver, 3 € per day each, up to 36 € for hire and driver and up to 3 additional drivers per contract.
Baby Seat, 4 € per day and up to 48 € per rental.
Extra charge of 35 € for rental return in a different office to the delivery office (one-way). It is not possible to 'reserve one-way ' between different offices in the Canary Islands and Balearic Islands. Nor is it possible to 'reserve one-way ' in the office of Faro (Portugal). If the office of origin or destination is Barcelona, the cost is 60 €.
In the airports of Alicante, Malaga, Palma de Mallorca, Gran Canaria, Lanzarote, Tenerife Sur and Faro there is a surcharge of 30 € for all vehicle deliveries made outside office opening hours. The flight number is essential.
Fuel is not included in price. You are required to pay a full fuel tank and return it empty.
*Prices and details about hiring a car with Goldcar were valid at the moment of writting this article.
Goldcar Malaga reviews
If you want to rent a car in Malaga without a problem, we recommend using our own system where we choose the best company for car hire.
Don't forget to share!