Tag:
Benalmadena

- Page number 4
January brings cold temperatures from the past Monday 8 until; this cold bring snow in Malaga to lower altitudes. Snow in Malaga is an exceptional situation that you can take advantage of. How about a snow getaway this weekend? Continue reading for an update at the bottom of this page...I will continue posting the latest information about cold and snow Malaga this week.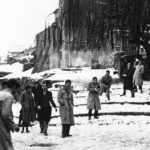 ---
Anyone who has experienced the Terral wind in Malaga knows this phenomenon very well, a hot wind that make us think about different ways to cool us down. The Costa del Sol just went through these hottest days of the year, so it is a good time to talk about this hot wind and propose some cool ideas. Let's analyse why it happens and what effect it brings in addition to the big increase of the temperature.
---
Who wants to find out more about the huge variety of cuisine in the province of Malaga, has a date this weekend in Benalmadena and Arroyo de la Miel. Tivoli World welcomes during May 26 and 27 the first market of Malaga, where visitors can sample and purchase farm products and food from the province of Malaga.
---
Very close to the popular Parque de la Paloma (Paloma Park) in Benalmadena has been created a new space for urban culture. In an area of 11,000 m2 with green areas are located several facilities dedicated primarily to the youth of the municipality, with outdoor activities, and a Youth Auditorium.
---
Everything you need to know if you are looking for a boat trip or catamaran excursion from the Port of Malaga, Benalmadena or Fuengirola. From dolphin watching to a romantic sunset with champagne on a boat or even a barbecue. There are many options in Malaga to enjoy the beautiful views of the coast. Want to know more?
---

Tourists consider the Costa del Sol superior to its rivals regarding the ambience, way of living, the people´s hospitality and the climate
---