The infection known as 'Survival Zombie' is getting wild in Spain and there are fears that the next outbreak will occur in La Cala de Mijas (Malaga) the next Saturday 18th of August in 2018.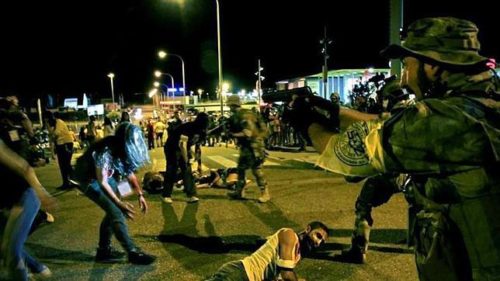 Only those who can pay a vaccine will have a chance of survival. They will have to accomplish a number of missions  before the end of the night. If they are not bitten in the process they might escape infection by a rescue means not yet specified…but let's face it, nobody will survive.
being a zombie has its own good things, there are many brain recipes online!
To which group do you belong? If you do not understand a word of Spanish you will be one of the first who get lost and cornered by a zombie horde, not being able to complete missions unless your friends do understand their requests. Do not worry if this is the case, being a zombie has its own good things, there are many brain recipes online!
On Saturday 18th of August, from 9pm to 6am close the doors and windows if you are neither a survivor nor a zombie; although many choose to watch the event, foolish…
Everything about Survival Zombie in Spain
'Survival Zombie' is a known event in Spain because of its originality and active participation throughout the Spanish territory.
Those who choose being a survivor in Mijas will have to accomplish several missions provided by actors during the night while trying to survive…something that will not be easy. If a zombie touches you , you will become part of the horde.
The story presented to participants is original. There are actors, special effects, streets decorated as an apocalypse with hospital and military camps. You will feel your favourite series of living dead.
For each success mission you will receive a stamp on your ration card, in earlier events it is known there were up to 14 missions. You can choose to collaborate with other players or go solo. Perhaps you prefer to fool them when they are asking if an area is safe? The goal is to survive and that could give enough time for you to avoid a horde and continue your adventure.
Living dead can't run, except the called Z, those are actors who other zombies follow…and those run fast, if you see one better you run or hide, he will go after you.
Past events and Survival Zombie
At the beginning of the night some military at a camp might provide instructions for survival, pay attention and listen carefully, danger lurks.
Some of the past missions included entering a dark building noiselessly to retrieve an amulet; causing noise would attract the attention of a creature inside.
Survivors must use a green scarf while the undead go with a red one.
If zombies caught you, then you can join the horde or pay 5€ for an emergency vaccine and continue doing missions.
Mijas sightseeing being a survivor or a zombie
If its your first time in Mijas you can take advantage of this experience and visit the city while or after walking dead chase you.
This municipality has a strong Muslim past; you will find the typical white Andalusian houses, narrow streets and beautiful views of the Costa del Sol from the viewpoints. Mijas is a beautiful tourist destination during all the year that has ended up being the source of undead infection in 2018.
When visiting Mijas you cannot miss:
Mijas Pueblo
Mijas Costa
La Cala de Mijas
Las Lagunas
Visiting Mijas while infested by zombies? Definitely an original proposal that might appeal many of you.
Rules and information about Survival Zombie
The event will begin with an introduction to story made by actors.
Children from 10 years old in advance can take part always if accompanied by an adult.
Those who come infected and already did make up at home will pay only 5€ for being a zombie. Those who let being infected at event and choose to make up by professionals will have to pay 15€.
Cost of vaccine for survivors is 30€. If bitten during the event and want to continue doing missions you will have to pay for an emergency vaccine of 5€.
Those who want to take part on this event from outside Malaga could book a bus from Madrid, Ciudad Real and Granada from the official website at past events, so you should ask if there is any available.
Date: Saturday, August 18th, 2018
Hours: From 9pm to 6am
The event will end with the rescue of the few remaining survivors if any in an amazing and secret scene…including helicopter maybe?
If you remove the participant identification prematurely you will be disqualified so you can safely leave the event without zombies biting you.
The infestation will be in October so you still have time ahead to get ready. If you are someone who want a vaccine, you can reserve it at the official website.
Good luck, you will need it.
Promotional Video of Survival Zombie
Short film ' Walking dead Revelation' based in Malaga
The history of the event is based on the book and short film below:
More information and tickets for Survival Zombie
If you are planning to participate you should check the website below:
Official website in Spanish
http://survivalzombie.es/survival/la-cala-de-mijas/
Comparte este artículo: