Medieval Fairs and markets are in vogue all over Spain and fortunately are nothing like the ones that really existed during the Middle Ages. How was it then and how is a medieval market now? Let's find out.
Medieval markets probably stood out for their bad smell since the food on offer could not be kept fresh; usually the animals were kept alive until they were sold, which contributed to an unhygienic environment. In addition to surviving the bad smell, we would hear traders trying to sell their products at full throttle. Beggars and musicians cannot be absent, demanding some attention in order to earn the livelihood of the day.
In the current medieval markets or Fairs that take place all over Spain, there are many activities and shows with music, crafts and food. In Andalusia, medieval fairs usually have a Moorish atmosphere, because of the past that unites us with the culture that dominated these lands for so many centuries.
Let's take a look at the medieval Fairs that take place in Malaga:
Medieval Market in Benalmadena
The Benalmadena Medieval Market takes place during a weekend in May. It can be found in the Austria Square in Arroyo de la Miel and has up to 50 stalls.
They usually put the date on the official website of the town hall:
http://www.benalmadena.es/contenido.php?m=benalmadena-ayuntamiento&s=noticias
When: A weekend in May. (In 2019 from Friday 3)
Where: Austria Square in Arroyo de la Miel in Benalmadena (Map).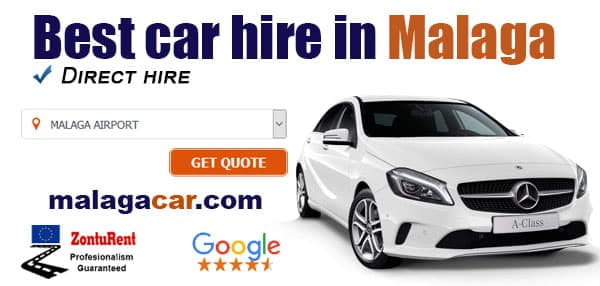 ';
Festival of 3 Cultures in Frigiliana
In late August the long-awaited Three Cultures Festival will take shape in Frigiliana. You will find music, gastronomy, crafts and many activities for all the family.
There are parades and other performances on the streets of this town. If you want to know it better just have a look to our other article linked above.
When: Late August.
Where: Plaza de las 3 Culturas in Frigiliana (Map).
Medieval Fair & Market in Fuengirola
Fuengirola has many activities and markets throughout the year, one of the most popular is the International People's Fair. Also during the month of August or September, there is a medieval market in the grounds of Sohail Castle or surroundings.
The Medieval Fair of Fuengirola takes the visitor back to the past in a space with around 80 booths where you can find handicrafts and other typical products of a previous era.
It is an event for all audiences with music and jugglers among other performances.
When: August or September.
Where: Castillo Sohail in Fuengirola (Map)
Schedule: From 7 pm to 2 am
Luna Mora Festival in Guaro
The Luna Mora Festival is one of the most popular. Perhaps the decoration with thousands of candles, the many booths and street performances are an important attraction for tourists.
You'll find a bit of everything, from a Moorish souk with handicrafts to varied activities for all ages, jugglers, parades and live concerts. You will also be able to enjoy the gastronomic offer at a good price during these days.
If you want to know more about this popular medieval festival, have a look at our other article linked above.
When: We can expect it will be from Friday 6th to Saturday 7th of September.
Where: Guaro (Map).
Schedule: From 5 pm until midnight.
Medieval Fair & Market Nights of the Beautiful Jarifa
The Bella Jarifa Nights Festival takes place in Cartama during the last weekend of September.
If you are in Malaga at the end of September it is a good time to visit Cartama and enjoy the many activities available in this medieval festival.
When: Last weekend on September.
Where: Cártama (Map).
Nasrid Market in Antequera
Over a weekend you will find an inaugural parade with musicians, belly dancers and Saracen warriors. There are representations of epoch camps with costumes, weapons and utensils of daily use.
Kids will find fun in a children's tournament with jousts, catapults and other eco-friendly games.
Live music, games, street theatres and much more throughout the weekend.
When: Early October.
Schedule: Friday from 7 pm to 11 pm; Saturday and Sunday from 11 to 3 pm and from 5 pm to 11 pm.
Monfí Fair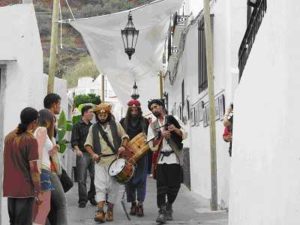 The Monfí Fair takes place during two days in October in the town of Cútar. This Fair is an annual event where the Moorish origins of the municipality are lived with decorated streets, crafts and a varied gastronomy.

Monfí in Andalusian, a lost language,  means "the outcast". This Fair pays tribute to the first neighbours of this town.
During this medieval market there will be exhibits of falconry, Andalusian music, donkey rides, leisure games and many other activities recommended for all ages.
Medieval markets and Fairs in August
There are many other events during the month of August in Malaga with Moorish shows, medieval markets and many activities.
Benalauria Fair: First Sunday in August.
Nasrid Night in Montejaque: Second or third week in August.
Festival of the Moorish Rebellion in Istán: Last week of August.
Douglas Day in Tebas: During 3 days at the beginning or end of August.
Sailing Market in Torre del Mar: Generally the last weekend in August.
Visit the link above to know more about those events and others celebrated during August.
Comparte este artículo: