This month arrives loaded with festivals, activities and fairs in Malaga. I have decided to write this article about the most popular fairs in August so that whoever thinks fit can decide which one is of interest.
If you do not come in August but found this article, it means you plan to do it sometime, so you may also find this entry interesting. You can decide which fairs or festivals interest you more so you can better plan the range of days to take the deserved vacation.
If you are wondering about August in Malaga, just check my other post.
Festivals and fairs in August
There are many festivals and fairs in the province that you should not miss. If you want to learn more about the culture and customs of your tourist destination, visiting this kind of events is a very good choice.
Fairs in the province have a historical character and long tradition. In Andalusia the fairs in general were in their beginnings cattle markets. Other fairs like the one of Malaga were acts of celebration after que conquest of the city.
The following list is sorted according to the date they celebrate the event: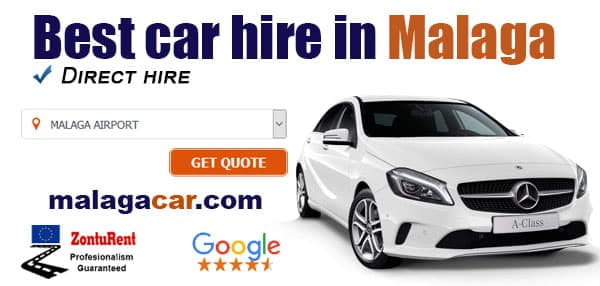 ';
First week of August
Fairs and other events that take place during the first week of August:
Los Alamos Beach Festival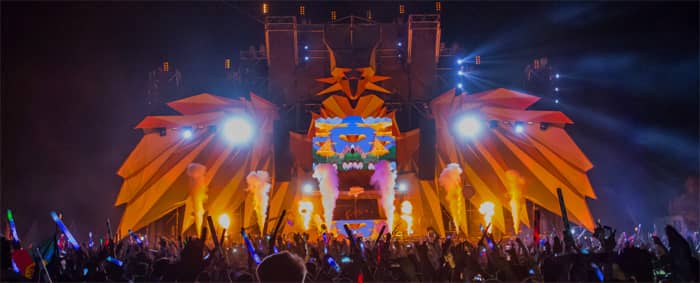 Are you ready to dance and have fun at this popular electronic festival? As every year it will take place in early August. You can read more in our dedicated article by following the link below.
Alora fair
The first Wednesday in August begins Alora Fair with the official lighting at night and the festival ends the following Sunday with fireworks.
You will find live concerts and activities for all ages. In 2017 as example, they organized a water slide in the middle of a street during the Friday Fair, while on Saturday it was the Perotas Soup Day, a typical recipe of Alora.
The first Day Fair for those who want to visit the fair during the day is on Thursday at Plaza Fuente Arriba from noon.
When: 31 July to 4th in August in 2019.
Where: Alora (Map). You can arrive by car or train, keep in mind that last trains are usually crowded.
Noche Viva en Fuengirola (Live night)
Activities for everyone in the streets of Fuengirola from the afternoon of Saturday 3 August until dawn.
Shopping and cultural activities in Fuengirola.
When: August 3, 2019 from 8 pm until dawn.
Where: Fuengirola
More information: When available at www.fuengirola.es/agenda
Celtic Night in Mijas Pueblo
A magical night to share with live Celtic music concerts and a flea market with products, food and drinks typical of the Celts. Free entrance, so if you are interested in spending an interesting evening on Saturday in Mijas, you can not miss it.
When: Saturday 3 August from 8.00 pm
Where: Around the auditorium of Mijas, at "Jardines de la Muralla" (Gardens of the Wall) (Map)
The Celtic flea market is from 2nd to 4th in August from 7 pm to 1 am.
Gaucin Fair
On the first night of the Fair at 11.00 pm, a parade is held from the convent to the fairgrounds, where the official lighting and opening of the Fair will take place.
There are usually activities for children, from a children's water park to a bouncy castle and sports competitions with awards.
The morning of the last day of the fair is called "Domingo Rociero", with popular Paella for attendees, horse parade, activities and awards ceremonies. At 2 in the morning there are fireworks that close the Fair until the following year.
When: The Gaucín fair takes place on the first Thursday of August and ends on Sunday of the same week. (1st to 4th in August 2019)
Where: Gaucin Fairgrounds. (Map)
Benalauria Fair: Moors and Christians event
The fair of Benalauria mixes tradition and present in an event that make use of the urban centre to recreate theatrical confrontations between Moors and Catholics during the sixteenth century.
This representation can be seen the first Sunday of the month, at midday and at 6 pm.
During the four days there will be concerts, activities for children and parades.
When:  The theatrical event is until the first Sunday of the month. (1st at 6 pm to 4th in August 2019)
Location: Benalauria (map)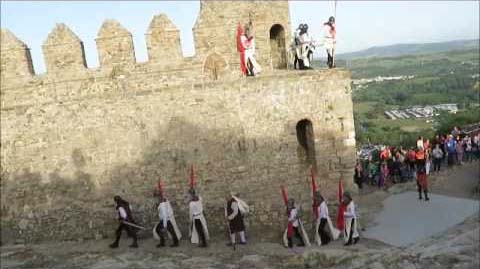 Fiesta del Gazpacho in Alfarnatejo
Who does not fancy a cold gazpacho drink during a hot summer day? Although it seems a lie, many tourists are afraid of this delicious drink, they use to think of it as a cold soup. If you are one of them I bet that you are one of those who have the fear in their face when trying this typical drink, that is not considered as a cold soup in Spain but a summer drink.
The gazpacho festivity is a good opportunity to take away your fears and try this delicious recipe. There are many kind of gazpachos I recommend you to try at least a few of them, nobody should reject such a healthy drink made of vegetables.
There is also a flamenco evening with guest artists so it is an event with great tourist attraction.
If you want to make your own homemade gazpacho you can visit the link.
When: First Saturday in August.
Where: Alfarnatejo (Map)
Iznate gastronomic festival: Muscat grape day

On  the first Saturday in August Iznate will offer many typical dishes to all visitors who come to any of the various stalls located in its streets. A good excuse to walk around this nice town on foot and eat free on the way.
The neighbours of Iznate turn over during this day to offer to the visitor a varied supply of the gastronomy of the town along its different districts.
As it could not be otherwise there will be the typical wine and grape of the region.
When:  First Saturday in August from 7:00 pm.
Where: Iznate (map)
Second and third week in August
Fairs and activities during the second and third week of the month.
Teba Fair
In the region of Guadalteba, a small municipality in the province of Malaga celebrates the August fair during the first half of the month.
When: In 2019 the Teba fair is held from 7 to 11 August.
Where: Map of Teba and how to get there here.
Pueblos blancos Music Festival
This music festival is held in different Andalusian municipalities during the second week of August.
When: 8 to 11 August.
Where: Ronda, Montejaque, Grazalema and Villaluenga del Rosario.
Further information: Visit our article about Pueblos Blancos Music Festival.
White Nights in Vélez-Málaga
Cultural activities, live music, children's area, craft workshops and gastronomy among the more than 40 activities proposed over two days in Velez-Malaga.
The inauguration will take place in the Plaza de la Constitución on Friday.
When: Friday 9 and Saturday 10 August 2019.
From 8.30 p.m. until 3 a.m.
Cultural spaces will close at 0.30 am.
Where: Historical centre of Vélez-Málaga
Nasrid night and Cultural Week in Montejaque (Not confirmed)
In August it is already common in this municipality to lit the streets with candlelights and celebrate medieval activities.
Musical performances, dance or shows with fire are some of the activities that you will find in Montejaque if you decide to visit during this night on August 10.
When: Second or third week in August.
Where: Montejaque (Map)
The Cultural Week is a week full of activities, concerts and events for all ages in Montejaque
When: the week after the first Saturday in August.
Where: Montejaque (Mapa)
Fair and Water Festival in Jimera de Libar
As you can deduce by the title of this festival, water is the protagonist of this festival. In addition to the water festival there is a great gastronomic tasting of roasted chorizo at 1:30 pm.
The water party is a battle between all the assistants, so if you plan to go better be ready.
Where: Jimera de Libar. Calle Fontana, 10. (Map)
When:  Second weekend in August. (11 August in 2019 from 2 pm to 5 pm)
There is also another event called ' Night of Terror' the first Saturday in August.
Malaga fair
I could not talk about events happening in August without naming Malaga fair. An experience that extends over a week in both the historic centre of Malaga and the fairgrounds.
This year the fair takes place from 15th to 24th of August.
If you want to know the fair program or many other details you can visit our dedicated section to Malaga fair.
When: From 15th to 24th of August.
Antequera Fair
Antequera fair is divided like the one in Malaga, day and night fairs.
The inauguration of the fair this year begins with the lighting on August 22 and ends with fireworks the night of August 26.
The Saturday before the end of the fair takes place the 'Dia del Caballista' with a popular parade.
When: 21st to 25th of August in 2019.
Where: Fairgrounds and Old Town (map)
Guaro Fair
The Guaro Fair in 2019 is from 22 to 25 August and begins at 6 pm, there will be fireworks and many activities.
There are special events for children on Friday, August 23 at 5 pm.
As every year, the previous day is dedicated to honouring the grandparents of the town in a big dinner with the performance of local artists.
When: 22 to 25 August in 2019.
Where: Guaro (Map)
4th week in August
Fairs, markets and other activities happening within the last week of August.
3 Cultures festival in Frigiliana
This beautiful east municipality celebrates just before August ends a meeting between the different cultures who settled in Andalusia: Catholic, Jewish and Arabian.
There is a souk with all kinds of handicraft products and musical performances.
Festival of Moorish Rebelion Istán (Not confirmed)
If you are near Marbella or plan to visit it at the end of August you can stop by Istan. In this municipality there is a festival called ' Rebelion Morisca', a theatrical representation in the streets that shows the fight of the Moorish against the strong repression to which they were subjected in the middle of the 16th century.
There is a medieval craft market and other activities of the historical era it represents.
When: Last week in August, usually the last Friday and Saturday.
Where: Istan (Map)
Douglas Days in Tebas
This festival celebrates one of the historical battles during the capture of the Nasrid fortress of Tebas. A Scottish knight 'Sir James Douglas' participated and died in the conquest of this fortress while bringing the embalmed heart which belonged to the dead King of Scotland, who in life longed to take part in some epic battle.
During those days a medieval atmosphere is recreated in the streets of the municipality while actors do a theatrical performance of the great battle.
You will find a medieval market with handcrafts typical of the region.
When: During the first or last week in August. (23, 24, 25 August in 2019)
Friday at 8.00 pm and will last until 2.00 am.
Saturday from 1 pm to 2 am.
Sunday from midday to 8pm.
Where: Fortress and streets in Tebas (Map)
Foodtrucks Xperience in Rincón de la Victoria
If you like eating and free live shows you can't miss the new edition of Foodtrucks Xperience in Cala del Moral. (Map)
There will be live performances from 22nd to 25th August at the Paseo Marítimo Llano de Las Palmeras.
There will be a kids zone, live music, craft market and 8 chefs on wheels from 7 pm on Thursday 22 to Sunday 25. ¿Do you love street food?
Thursday concerts

9 pm – Linda Rodrigo
10 pm – Marintencionados
Friday concerts
9 pm – Alice Ray
10 pm – Los Ejecutivos
Saturday concerts

9 pm – Denice Daley
10 pm – Another F Band
Sunday concerts
9 pm – Leyla
10 pm – 40 millones
Medieval market in Torre del Mar (Moved to June)
Variety of stalls in a medieval market offering all kind of products related in some way to the sea. There will be shows so it is a good option for spending a family weekend.
Are you going to visit any of the recommended activities in August?
Comparte este artículo: