You'll probably wonder where to spend the New Year at some point, how about Sierra Nevada? You may even want to find an unforgettable place to go with someone special. If you like snow, skiing, hiking and discovering new destinations you might like the idea of spending New Year's Eve  Sierra Nevada, Granada.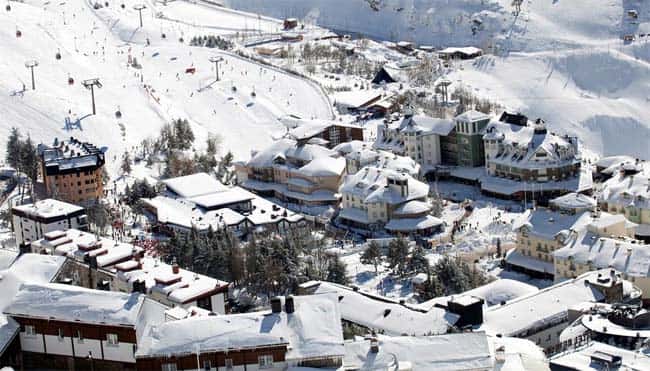 About Pradollano ski resort
The ski resort Pradollano in Sierra Nevada is one of the best in Spain, located only 25 kilometers from the city of Granada and is the preferred destination for many Europeans, combining the snow with a visit to the Alhambra World Heritage Site.
The ski resort Pradollano is at an altitude between 2,100 meters and 3,300 meters above sea level. The snow is guaranteed during the winter months; despite being in Andalusia, the snow season is usually the longest in Europe (until end of April).
Pradollano has a total of 62 kilometers of ski slopes, perfect for skiers of all levels. The options are many, whether we are athletes, we love to ski or simply want to enjoy a new experience. If you like nature and high mountain ranges landscapes, here you can find it.
New Year´s Eve party in ski resort
For the New Year´s Eve party Pradollano is busy with tourists, better to book well in advance. There are many activities to celebrate the end of the year.
It is a special opportunity to be with the family and also to celebrate with friends or relatives. There is a good supply of pubs, clubs or places for entertainment; in addition the city of Granada is less than 1 hour by car to enjoy the historic centre and 2 hours for getting to Malaga.
Perhaps the most attractive aspect of Sierra Nevada is its magnificent weather. Over 70% of sunny days during the skiing season, allowing you to ski with excellent conditions. Thus, it is not uncommon that in spring skiing can be enjoyed at temperatures which even permit the use of a swimsuit for skiing.
New Year in Sierra Nevada
So what do you think about the idea to spend the new year in Sierra Nevada? A place where you will have many things to do and where enjoying as well sunny weather?
The prices of Sierra Nevada are reasonable according to quality and services. They are the only skiing station in hundreds of miles and the most southernmost in Europe, so it is a good option.
So Andalusia is not only a region to be enjoyed during the seasons when temperatures are mild and warm, but also we find here one of the best ski resorts around the Spanish territory, just 120 km from Malaga and the Costa del Sol.
Comparte este artículo: