Malaga train station RENFE
It´s centric location and it´s excellent communication with other means of transport have converted the Malaga train station María Zambrano into an interesting reference point for both travel and leisure. The Train Station is situated next to the Bus station, 2 km from the Malaga harbor and 9 km from Malaga Airport with which it is connected by the suburban train (Cercanías) C-1.
From María Zambrano railroad station leave the before mentioned suburban train, middle and long distance trains and the high-speed Train AVE, with destinations to Córdoba, Madrid and Barcelona.
The bus station with a wide range of services to the whole province is conveniently situated just across the street.
Train station services
In 2004 opened the VIALIA Station in Malaga, which is with 63.000 square metres the major one in Spain. VIALIA has an underground parking and all the railway services of its category, such as VIP lounges, Travel centre, check in etc, and as well a four star Hotel (Hotel Barceló Vialia).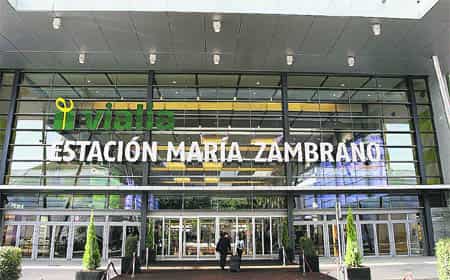 Vialia Shopping centre in train station
30.000 square metres are dedicated for commercial surface with a total of 121 shops, including as well a cinema with ten movie theatres. The majority of the stores open as well on Sundays.
You might find useful the following information:
Address: Explanada de la Estación, 29002 Malaga
Opening hours: 6:00 to 23:00 h
Information: +34 902 24 02 02 Information for physically handicapped: + 34 952 36 02 02
Bus Lines: 1, 3, 4, 5, 10, 12, 16, 1 9, 24 and 27.
Information about the train station in Malaga
The train station Malaga Maria Zambrano was constructed over the old railway station, refurbished and also has AVE High speed train; it is situated very close to Malaga city centre and is very well connected with the entire Costa del sol; furthermore it has a commercial centre Vialia and a four star hotel.
Among the services offered by the commercial centre are an underground parking, 10 cinemas and more than 100 shops.
Timetables of the Train Station
The station is opened from 5 am to 12:45 am.
Tickets can be acquired from 6 am to 9:30 pm and can be collected during the same timetable when they have been purchased over the phone.
The automatic ticket machines open from 6 am to 11:30 pm
The baggage rooms are available from 7 am to 11 pm.
Bus connections
The train station in Malaga has connections with Torremolinos, Benalmadena, Fuengirola, Churriana and many other destinations from the closeby Bus Station.
The urban Bus lines with a stop next to the train station are:
Lines: 1-3-10-16-19-24-27-C2
Webpage: http://www.emtmalaga.es/
From the Train Station to Malaga Airport
The distance is 9 kilometres; you can take the suburban train in the Train station which will bring you directly to Malaga Airport.
From the Train Station to Malaga Port
The port is situated only 2 kilometres from the train station. The bus lines connecting with the port are: 1, 3, 16, 19, 24
Contact Malaga train station Maria Zambrano
If you need information, book tickets, change or cancel them:
912 320 320
Disabled passengers
912 140 505
General information
912 432 343
Car hire Malaga train station
Malagacar.com is offering from this year in advance car hire at Malaga train station, so if you are coming to Malaga through AVE and looking for car hire at Malaga train station, check for prices at Malagacar.com
Don't forget to share!