Are you planning to visit Malaga in October? In that case you might be interested in this article about how is Malaga during the month of October with details such as the water temperature, the weather, the clothes we recommend you bring and of course the most popular Festivals and Fairs in October.
---
Schedule, concerts and activities for a long weekend in the popular Fiesta del Aire (Open-Air Festival) in Arriate during the month of October. Want to know more about this popular festival?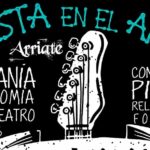 ---
If you enjoy hiking and you fancy a trip to the golden autumn on the Costa del Sol, you are still in time to sign up for the Marbella 4 Days Walking event that takes place in and around Marbella in October 2020.
---
The popular Fuengirola Fair begins on the night of October 6th. You can find out all the details about these days, the Fair programme and the live concerts that will take place in the auditorium in 2018 throughout the week.
---
In Spain there are two time changes, one in March and one in October. Know when and why we change our clocks and what is the time difference between Malaga and UK.
---

According to statistics from the major airlines operating at Malaga airport there is expected significant growth in both domestic and international flights. I thought it would be a good idea to do a review of interesting activities you can do during these months.
---
October in Malaga brings us a large number of fairs and festivals. The province has much more to offer beyond the summer months, as we proved with the recommended activities in September. Join us to discover what you can do during October in Malaga.
---
Autumn is coming, a season that on the Costa del Sol does not bring cold but pleasant temperatures that invite you to visit the province in depth. Find out what the weather is like in Malaga in autumn, what clothes you should bring if you are on holiday and if it usually rains during these months.
---