The Automobile and Fashion Museum in Malaga is a space where you can find an extensive private collection of cars that represent the artistic evolution since the late nineteenth century. You will find a huge variety of models representing major brands such as Hispanic, Bugatti, Rolls Royce, Bentley, Delage, Packard, Jaguar, Mercedes and Ferrari among many others.
There is a wealth of accessories such as upholstery in Bison, ostrich or crocodile, dashboards of pearl, ivory and silver handles, precious woods, headlights with Swarovski crystals, exotic accessories, etc. In other words, the high-range car in its entire splendor.
If you are looking for Christmas workshops in the museum you can click or tap  here.
Vehicle Collection
There are more than 80 models of vehicles between 1889 and 2010. Visitors can see a steam-driven car and a propeller-driven car. The newest member of this family is a prototype of a hydrogen-powered, eco-friendly car that represents the post-electric future.
Believe it or not, green cars were popular a century ago.
Visitors to the museum can also see a range of eccentric cars, tuned cars, British cars, cars that use alternative resources to gasoline, cars designed as art pieces, fantasy cars and many more.
The collection is distributed in thematic areas that describe the different styles that characterize the artistic development of the automobile during the twentieth century. They are also accompanied by vintage-dressed mannequins so you can let your imagination fly.
Belle Epoque
This period would be between the nineteenth century and 1914, when the automobile still generated suspicion. It was a time of transition from horse-drawn carriages, in fact the design was very similar to these.
Although these new vehicles did not generate much confidence, they evolved rapidly. In this room you will find some of the most popular models such as the Winner from USA, Minervette from Belgium (1904), Dion Bouton from France (1903), Renault AX (France 1911), Buick from 1916 (USA), Hupmobile from 1912 (USA) and a Barron Acroyd from 1912 (England) among other models.
Golden Years 20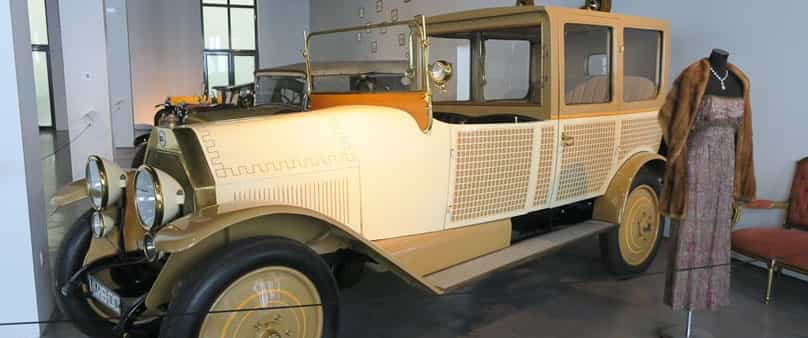 During these years, doubts had already been cleared as to whether these vehicles would have a future. The economic prosperity after the great war and the great liberation of fashion undoubtedly influences the design of new cars.
In this room you will find models such as the Lancia of 1921 (Italy), Minerva of 1923 (Belgium), Paige of 1921 (USA), Hispano Suiza of 1917 (Spain), Nash of 1930 (USA) or the Ballot of 1928 (France) among other models.
Popular cars
In the beginning, automobiles were luxury goods reserved only for the wealthiest. Eventually, they became more popular with small and economical models.
Among the models you will find in the museum are the Morris Minor of 1931 (England), Austin Seven of 1928 (England), Citronen of 1922 (France), Morgan of 1928 (England), Fuldamobile of 1955 (Germany) or Fiat 500 of 1936 (Italy) and other models.
Art Deco Room
Art Deco sets the new artistic trend in vehicles and turns them into more than just means of transport. Elegant and luxurious cars, great masterpieces accessible only for a few pockets.
Among the models in this room you will find the Mercedes 540k of 1937 (Germany), Bugatti of 1936 (France), Rolls-Royce Phantom III of 1936 (England), Packard of 1939 (USA), Pierce Arrow of 1930 (USA), Talbot of 1937, the BMW of 1938 (Germany) and other models.
Dream cars exhibition
Big brands always build emblematic models with the aim of surprising society and allowing a quick glimpse of what to expect in the future. Most of the time, however, they become timeless masterpieces.
Among the dream cars you will find the Lancia Astura of 1938 (Italy), Renault of 1930 (France), De Sotto of 1934 (USA), Peugeot of 1937 (France), Auburn of 1936 (USA), allard of 1949 (England), Kaiser Darrin of 1954 (USA), Citroen of 1963 (France), the Cord of 1936 (USA) and some other models.
Hollywood Cars show
Those typical cars from Hollywood movies were very popular amid celebrities and millionaires like Elvis Presley.
Among  the vehicles exposed we can find the typical and classic Chrysler of 1956, a Cadillac of 1947, Ford Thunderbird of 1956, the beloved Cadillac ElDorado of 1959, Excalibur of 1985 or the privileged Rolls-Royce of 1985 (England).
Classic green cars show
There are cars that aspired to provide us with a cleaner transport; between these "new" vehicles the steam or electric car have been with us for many years, however the economic interests won the fuel battle.
Among the vehicles you will find there are solar prototypes, hydrogen and even compressed-air vehicles. Believe it or not, green cars were popular a century ago.
In this room you will find 6 vehicles: Steamer Stantley steam car of 1910, Milburn Electric of 1916 (USA), Helicron 2 of 1932, Solar World of 2009, Hydrogen Prototype of 2010, another Compressed Air vehicle of 2001 and a Rosengart of 1937.
British cars Show
British cars have always stood out for their elegance and sobriety. Among them brands like Rolls-Royce, Bentley or Jaguar have evolved generation after generation, always maintaining the essence that turned them into objects of desire.
In this room you can find Rolls-Royce of different generations, 1923, 1927 or the Phantom V of 1968. Bentley MKV of 1948, 1949, or 1936, plus a 1949 Jaguar and a 1948 Jaguar Mark IV.
Dolce Vita: Classic celebrities cars

Sports cars with aerodynamic lines that suggest the power they hide under their hood. These are toys for celebrities who can afford this kind of whims.
You'll find a 1950 Maserati, 1955 Porsche, 1952 Jaguar, 1946 Alfa Romeo, 1956 Ferrari, Mercedes SL300, 1959 Aston Martin, 1952 Delahye or 1062 Jaguar E-Type among other models.
Tuning Car Show
Tuning is an artistic expression that originated in the USA but today is found all over the world. It consists of adapting old creations to a new artistic expression with more innovative and attractive elements than the original.
Among the vehicles that compose this exhibition are a Ford V8 of 1934, Ford of 1929, of 1936, a Cadillac of 1961 and a Lincoln of 1938.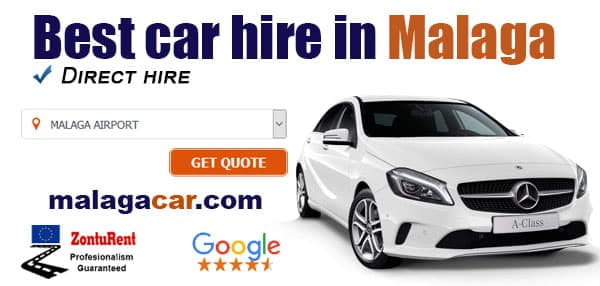 ';
Activities at the Automobile Museum
It is an innovative museum that moves away from traditional concepts and that will surely become one of the most interesting car shows in Europe. It also offers activities for all audiences throughout the year.
Exhibition from 18 December to 8 January
For the duration of this exhibition, one of the rooms invites us to discover luxurious dresses that were used during the 1940s. The clothes on display were found in a palace in Malaga; luxurious dresses created by dressmakers for an aristocracy that had no economic problems after the war.
Christmas workshops
During the Christmas season, there are free Christmas workshops for children between the ages of 8 and 12. In 2018 the date for attendance will be from 26 to 29 December and 6 January from 10 to 2.30 pm.
To register you must do so at the ticket office or by phone on 951 137 001.
The workshops aim to teach children how to acquire new vocabulary and give them a first contact with Road Safety. In addition, there are typical Christmas activities and workshops.
You can learn more about this workshop and other Christmas activities in our other blog.
Pet Day
On Mondays visitors may bring their pet. Ideal for those who want to enjoy a day with their dog in this museum.
Summer Activities and Workshops
As during the winter, summer comes with new activities and workshops for children between 5 and 14 years old.
These activities are intended to awake children's curiosity and critical thinking as they learn about road safety and the environment.
There are also excursions for children between 4 and 18 years old with workshops to introduce them into the road safety education.
More information
You can also rent a classic car in the museum for weddings and other events. If you require a rental car during your holiday, from malagaweb we recommend the best car hire in Malaga for you to choose always a safe option.
Automobile museum video in Malaga
The Automobile Museum is located in Avenida Sor Teresa Prat, 17 – Málaga.
More information at https://www.museoautomovilmalaga.com/
Comparte este artículo: