Malaga airport parking
There are plenty of companies that offer Malaga airport parking, so we're going to look over some of the things to bare in mind before leaving Malaga.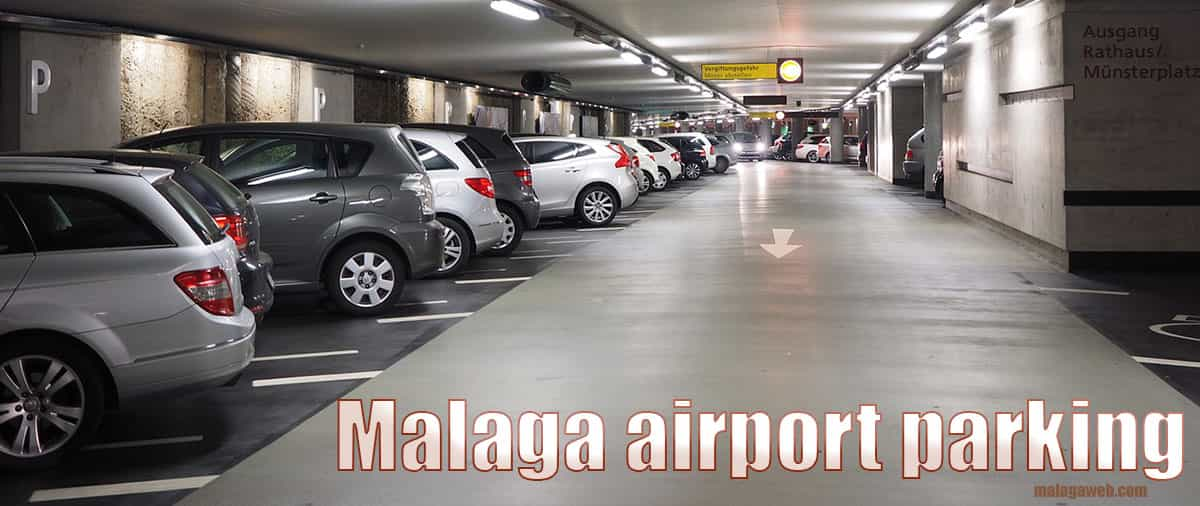 Currently the number of English, German or Dutch residents is pretty high, and many of them return to their home countries every year for different reasons, and leave their our vehicles and homes behind...but in whose hands? The ideal option is to ask someone you trust to pass by occasionally to check that everything is alright. If we're only going to be away for a week or so, no problem, but if our plan is to be away, and out of Spain, for a month or more, then then it's ideal to have everything under control.
Long and short term parkings
If you're going to travel by plane, the best option is to park at Malaga airport; the comfort of getting to the airport in your own vehicle and keeping it parked in a safe place while you're away is the best choice for your own peace of mind...however, we must consider a few important points.
Car parked outside the airport for a few days with dust.
We must find a parking that we trust and where our vehicle is guaranteed to be safe. Some people leave their vehicles parked outside, trusting that they'll find it in exactly the same conditions as they left it...I, personally, wouldn't do it; even less if it's for a long period of time.
When picking up the vehicle, take a good look all around it before leaving the parking to check out if it has any damages that weren't there before...neither the insurance or the parking companies cover anything at all from the moment you drive out of the gates .
There are discounts for leaving your car for a whole year or even for parking the car for a month, plus you'll always be able to call up and ask them to start your vehicle or ask them to recharge the battery so that it works perfectly and all ready for when you arrive.
Some Malaga airport parking companies also offer to take your vehicle to the MOT, as well as other services like valeting, pick-up and delivery, and many more that are paid separately as extras.
Recommended parking services at the airport
Below two recommended websites from where booking indoor parking with full insurance at competitive prices:
Short and long term parking prices
Prices vary depending on the duration of the parking. The longer we leave our vehicle the cheaper the parking will be.
The price for parking at the airport is from 7€* per day for short term (less than a month)
If we choose to park our vehicle for long term the, price per day is from 2€*.
Professional Car wash costs 10€.
Remember that those prices include full insurance and indoor parking in the websites we recommend. Have peace of mind when parking your car in Malaga.
*Price is orientative as could change.
Public Parkings in Malaga
Downtown, near shopping areas near the beach ... The province of Malaga has its main public car parkings in towns, parking infrastructure is particularly popular in tourists who come to the Costa del Sol with his car, and also for those who rent a car.
In most public parkings, parking your car is allowed for full days. The car park rates, depending on the municipality and the time of the day, are ranging between € 0.02 and € 0.06 per minute. An example price is in "La Carihuela (Torremolinos)", the cost for a full parking day is no less than 15€ for the summer period.
Public parkings in Malaga:
Alcazaba: Plaza de la Alcazaba, 3. Tel: (+34) 952 212 300.
El Palo: C/ Alonso Carrillo de Albornoz, 1. Tel: (+34) 952 207 684.
Andalucía: Avda. Andalucía, 4. Tel: (+34) 952 305 919.
Camas: C/ Camas, 20. Tel: (+34) 952 220 742.
Carlos Haya: Avda. Santa Rosa de Lima, 2. Tel: (+34) 952 285 362.
Cruz de Humilladero: Pza. Cruz de Humilladero, 1. Tel: (+34) 952 313 811.
Cervantes: C/ Cervantes, 2. Tel: (+34) 952 060 104.
Marina / Central: Pza. de la Marina, 4. Tel: (+34) 952 218 831 / (+34) 952 060 104.
San Juan de la Cruz: Pza. San Juan de la Cruz, 1. Tel: (+34) 952 612 642.
Tejón y Rodríguez: C/ Tejón y Rodríguez, 5. Tel: (+34) 952 224 961.
Salitre: C/ Salitre. Tel: (+34) 952 060 104.
Coin Parkings
Parking Plaza de Andalucía. C/ Maestro Serrano.
Parking Plaza de la Villa. C/ Manuel García.
Frigiliana Public Parking
Parking Cañada del Ingenio.
Fuengirola car Parkings
Plaza de la Constitución. Tel.: (+34) 952 463 381.
Plaza de España: Avda. Condes de San Isidro. Tel.: (+34) 952 589 436.
Plaza de San Rafael. Tel.: (+34) 952 921 000.
Marbella car Parking
Plaza de la Iglesia, San Pedro de Alcántara. Tel.: (+34) 952 788 469.
Marqués del Duero, San Pedro de Alcántara. Tel.: (+34) 952 783 462.
Saba: Plaza Antonio Banderas, Puerto Banús. Tel.: (+34) 952 811 345.
Avenida del Mar, Marbella. Tel.: (+34) 952 828 553.
Arias Maldonado, Marbella. Tel.: (+34) 952 902 488.
Jacinto Benavente, Marbella. Tel.: (+34) 952 924 328.
Parking in Mijas Town
Plaza Virgen de la Peña, s/n, Mijas Pueblo. Tel.: (+34) 952 485 165.
Torremolinos Public car Parking
Parking Municipal Aladino: C/ Aladino, s/n. Tel: (+34) 952 053 960.
Parking Municipal El Congreso: C/ Río Mesa, s/n. Tel: (+34) 952 051 631.
Don't forget to share!