Malaga airport arrivals
Check live the arrival time. From the arrivals hall of Malaga Airport you have access to taxis, buses to and from Malaga, a commuter train station not far from arrivals, or perhaps a taxi, a transfer or private bus waiting to pick you up in case you've rented a car at Malaga airport. It is not too hard to find your destination as there are plenty of signs.
Live arrivals
Below you can check the table with the live arrivals and delays:
The collection of luggage for low cost flights and countries outside the Schengen agreement (Bulgaria, Cyprus, Ireland, United Kingdom and Romania) takes place in the arrivals terminal T2.
The collection of luggage for most regular international flights belonging to the Schengen area takes place in the arrivals terminal T3.
In any case you will find it after landing and exiting the plane.
Terminals map
You will arrive to terminal T2 or more probably to T3, both have the same exit near bus and train station on the left area of the map. Click on the image below for more detailed information: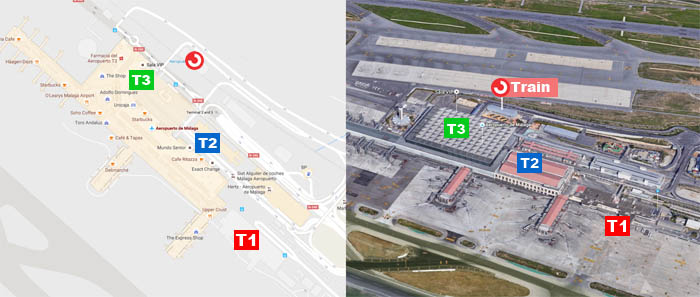 Transfer from Malaga airport
On arrival, we should have already planned in advance how to move around the city; if we are to use public transport or on the contrary we decide for transfer, taxis or car rental at Malaga airport.
Both when choosing a Transfer or a rental car, they will be waiting for you at the airport arrivals gate.
Orange: Route for pickup area of transfers and courtesy buses.
Light Blue: Route for taking a train from the airport.
Green: Arrival area and direction you have to take when exiting the airport.
Red: Buses from the airport.
Navy Blue: Stairs and lift area linking arrivals, departure terminals and public transport.
Grey: Departure terminals in first floor.
When using public transport, please note the following limitations:
Train from Malaga Airport: With direction to Malaga and Fuengirola, which are the last stops of the line. In Fuengirola you can change to the bus station to go to Marbella, Estepona and San Pedro..
Bus from the airport: There is a regular bus to Malaga and a less regular one to Marbella; every 2 hours during the winter season and every hour during the summer. There is also a coach to Granada.
Our advice is that if you have permission to drive, don´t hesitate, a car rental not only is cheap, but also gives us freedom of movement in our journeys.
Do not forget to bring your international driving license if you come from outside the European Union.
Malaga Airport Arrivals live
Malaga airport has two arrivals halls. In the arrivals hall of terminal T3 for domestic flights, European Union countries and the Schengen area, passengers can find shops, banks, magazines and newspapers, books and cafeteria. The terminal T2 as well has a shopping and restaurant area.
Due to possible problems that may arise with the graph of arrivals at Malaga airport, we decided to include an official link:
Official website: https://www.aena.es/en/malaga-costa-del-sol.html
Don't forget to share!