Are you looking for a Halal hotel in Malaga for your holiday? Although not very widespread at the moment you can find 2 Halal hotels on the Costa del Sol, one in Marbella and another in Torremolinos.
Wondering what is a Halal hotel?
Well, if you ask the term halal is a term usually used with foods that are acceptable according to Islamic law.
If you plan to stay in one of these hotels and do not know what Halal means continue reading. I will explain below some of the peculiarities that might be part of their services:
They don't serve meat from an animal that died naturally.
You can not consume blood or pork. In the same way it is forbidden the consumption of an animal that has not died according to the halal tradition.
In this type of hotels you will not find alcoholic beverages and they do not allow smoking.
They do not use certain food additives from the pig, both in cosmetic elements and in food.
The rooms usually have a mark indicating the direction to Mecca.
There is a Quran in every guest room.
They could filter television channels for making them Halal friendly.
Some Halal hotels have a special praying room.
Common areas like the spa or gym are differentiated by sex.
Alanda hotel Marbella
Hotel with Halal certification obtained from the Halal Institute of Cordoba.
Alanda Hotel is between Puerto Banus and the old town of Marbella.
It is a 4 stars hotel with 200 rooms. The hotel has WiFi, spa, whirlpool and fitness center among other services.
Costa del Sol Torremolinos Luxury Boutique Hotel
New Halal hotel open and available since January 16, 2017.
The hotel has 36 rooms, WiFi, TV and all the services you can expect from a high standing hotel. It is at about 300 meters from the beach within a tourist environment such as Playamar.
They offer Continental breakfast, Halal and Buffet options. They do not offer alcohol or pork products.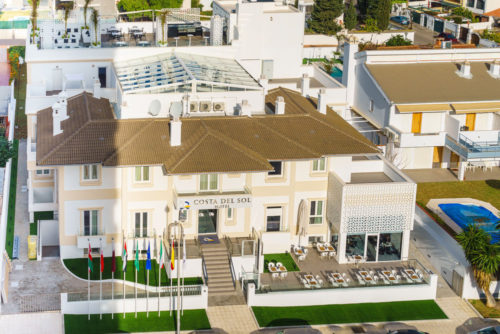 Both hotels offer free WiFi connection and have good opinions from customers. All information I have obtained from malagaholidays.com, an online travel agency offering hotels and apartments in Malaga.
Comparte este artículo: