Sierra Nevada day lift passes
There are different Ski passes (forfait in Spanish), depending on the period of validity. In Sierra Nevada you get passes for 10, 15 and 25 days and day passes for less days, including half day pass or night pass – depending on your needs.
Day lift passes and extensions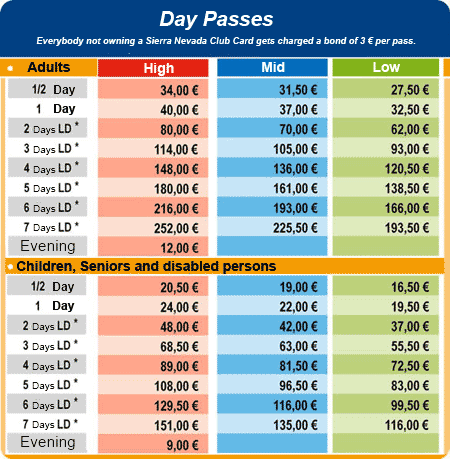 LD: Ski pass for free disposal (libre disposición) – they don't have to be used on succeeding days.
*Prices may vary every year, consider them as an approximation to the real one.
Long-term Sierra Nevada ski passes
Sierra Nevada lift passes are valid for all days of the season giving our visitors the possibility to plan their stay regarding their wishes. Special snow lift passes and long-term pass are non-transferable and the owner has the only right to use.
Ski season calendar for Sierra Nevada
Beginning and ending of the ski season depend on weather, snow and commercial conditions of the ski station.
Don't forget to share!