Ski lessons in Sierra Nevada
Never skied before? Would you like to know the skiing basics and enjoy your holidays by taking ski lessons in Sierra Nevada? Continue reading and although you won´t be able to ski yet...at least you will get an idea within what time you will be able to enjoy the snow tracks in Sierra Nevada, believe me...very soon, you will enjoy it like you were skiing all your life.
Ski hire in Sierra Nevada
You can rent skies and skiing clothes in Sierra Nevada directly, or using our recommended online internet services in Sierra Nevada:
Ski hire in Sierra Nevada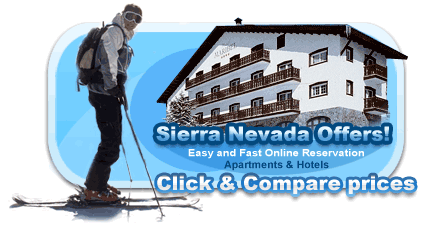 How to put skis on?
With the help of someone ... First you have to put on the floor skis in parallel, then place the tip of the snow heel of one leg against the toe of the ski. Then you push the foot and finally by pressing against a barrier that the ski has. Once that you have finished with one ski, the feeling is very strange because our foot has grown a few feet and manoeuvresbecome more complicated, and also more comical. It also happens that we slide forward or backwards unintentionally, with a panic proportional to the slope on which we are. To take off the skis, simply squat down and squeeze a botton that the ski has, the ski fixation will be released.
Before moving on, and not to discourage, you should not try to avoid to fall. It is less painful if we just relax while falling on the snow instead making a bad movement in order to avoid it. In addition, the beginners skis use to have more flexible fixations, the ski jump from its position more easily, to avoid bad moves or twists.
The first thing you learn is to "cross the skis", which is to take a position that gives us the control while skiing and allows us to stop when we want instead going faster and faster. It consists of bending legs a little and to push heels and toes inward. This will make the tip of the skis to be closer to each other, allowing us to stop, which is the most important activity of skiing for beginners. Once learned to put the skis inward, with which we can move in a straight line and stop, is taught how to turn.
With these basics, you're already able to "manage" the skis and head to where you want, supposedly.
Ski lifts
When you have learned the rudiments of the inwards skis position, how to slow down and how to double, you are ready go to the slopes and to deploy the newly acquired skills. For that are generally used three types of lifts: the poma-lift, chairs and cable cars.
The "poma" sticks are hanging from a cable car and end in a plastic disc you engage with the legs and "sit". These sticks make you ski up, ie to climb the mountain slide uphill. That's not as simple as that so generally is reserved for little more experienced skiers. Anyway, the way up is to keep the skis parallel and within the "footprint" formed by the continuous traffic and, above all, stay calm if we fall, all you need to run a bit to the side and see if we can ski down or catch another "poma" which, in general, is rather unlikely.
The second lift is known as the chair lift. In the case that you fall out, there is usually an operator who will help you up standing up. Do not worry because there is time between one chair and another. If we can´t stand up, normally the employee will stop the next chair, but if after a while on the ground we can´t stand up and the chair lifts traffic continue, you'd better try to pull one side, being careful not to hit a lift with your head.
Finally, the cable car is a sort of cabin; you must remove skis before getting in...In the larger capacity lift, it is advisable for novices to request to travel "beside the window", i.e. at the ends, because it may be easier to get out of the lifts using the banister.
Skiing zigzag
The next step in the classes, probably the next day, you will perform what is called ski trip. It consists of wide zigzag down slopes to avoid taking speeds which is not too recommended at this stage of ski training.
When you master the learned ski skills you will be able to try a more "moderate" On the snow tracks maps, the green marks are for beginners, with very gentle slopes and long distances.
The skiing is beautiful, but we should not take more risk than one is able to cope with. Do not be misled by groups who want to go to the harder tracks feeling adventurous, without even knowing how to put skis inward. The most likely consequence will be that, after seeing the slope from above (slopes are much steeper than from below) their face will become white with fear, disappointed without the skis going down again. You can take a look at the Sierra Nevada tracks.
Ski clothes and recommended wear
As mentioned before, there is no need to pull over the whole wardrobe. Moreover, if we do it is more likely to feel very hot, because we will be doing a great physical effort, in addition to the nerves ... Surely we will regret having brought the camperon, the polar, the diver and two shirts.
The amount of clothing will depend on each person but generally three or four things are required. Those are indispensable indeed:
A comfortable waterproofed jacket, which, according to the weather should include a cap or hood and skipants.
Warm but lightweight clothing, if possible, made from materials called "thermal".
Sunglasses, because the reflection from the snow on sunny days hurts the eyes.
Impervious gloves
Sunscreen cream and cocoa butter pencil for the lips, if possible, also protective.
As for the photos, although we may find many beautiful views to capture, you must take in mind that sometimes the camera can be uncomfortable. It is best to take turns with someone for taking pics.
As you see, not too many skills are required to start skiing, you will be soon able to ski and stride along the moderate and easy tracks, and that for someone who never stepped on the snow. Generally ski classes last 3 or 4 days and have 4 or 5 hours of practice, in two shifts: morning and afternoon.
You can now enjoy your snow holidays, skiing in Sierra Nevada is a wonderful experience!
Don't forget to share!